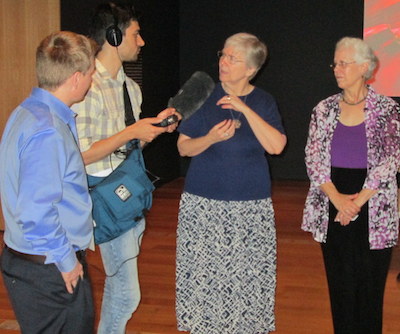 NPR interview with Brett Abbott, Barbara Bullock-Wilson,
Lynne Harrington-Bullock, & Dylan Fagan from WABE.
Photo by Gene Bullock-Wilson
In the fall of 2013, the High Museum of Art in Atlanta, Georgia, issued an initial press release describing the major retrospective (pdf) they were developing titled Wynn Bullock: Revelations. On October 19, 2013, The Atlanta Journal-Constitution published an article written by Howard Pousner (pdf) on the future show. Several other publications subsequently shared brief announcements of the planned show, including The New York Times.
During the week of opening festivities for Revelations that took place in early summer 2014, Wynn's daughters Barbara Bullock-Wilson and Lynne Harrington-Bullock participated in press and radio interviews, along with exhibition curator Brett Abbott. They also led a docent training session for more than 40 enthusiastic volunteers and enjoyed several one-on-one conversations about Wynn's work with interested staff members and security personnel.
Below is a sampling of the articles, interviews, and reviews in both print and audio formats that have been published since Revelations opened on June 14, 2014. Clicking on the links will take you to the individual features. In order to maintain this page as a stable index, some of these links open in a new browser window in front of this window.
---
"High Museum Brings Mid-Century Photography Master from the Shadows"
This thoughtful, well-illustrated article by Howard Pousner was posted online by The Atlanta Journal- Constitution on June 12, 2014. The same article was printed in the newspaper on June 14 under the title "Emerging from the Shadows: High Museum Photo Exhibit Opens Today". Download a pdf here.
"Announcement of Bullock Exhibition at the High Museum"
On June 17, 2014, ArtDaily, the "First Art Newspaper on the Net" posted an article announcing the opening of the exhibition. archived
"Light and Life: Wynn Bullock at the High"
Radio interviewer Dylan Fagan talked to Barbara and Lynne at the High Museum and posted this print and audio feature on June 24, 2014 for WABE, Atlanta's NPR station.
"Vision Quest: High Exhibit Showcases Famed Photographer's Work".
Written by Bobby Tedder and illustrated by photographer Samantha Shal for the Northside Neighbor, this article resulted from one of the press interviews with Wynn's daughters Barbara and Lynne. It was posted online as well as published in the weekly newspaper on June 25, 2014. Download a pdf here.
"Profound Meditations on Existence Define Wynn Bullock's Photographs"
Felicia Feaster wrote this review of the show which was posted online by The Atlanta Journal-Constitution on June 26, 2014. It was printed in the newspaper on June 27 under the title "Profound Meditations on Existence". (pdf)
"Altering Perceptions: Capturing beauty and terror, renewal and decay" (pdf)
Appearing in The Wall Street Journal on July 2, 2014, this article was the first national newspaper review of the exhibition. Sent to Atlanta to personally interview curator Brett Abbott as well as to see the show, author William Meyers was in attendance when Wynn's daughters Barbara and Lynne were leading a docent training in the exhibition galleries.
"Modernist Wynn Bullock's Scenes of the Unreal at the High" (pdf)
This review by Amanda Arnold was published on July 15, 2014 by Burnaway, a magazine dedicated to providing critical coverage of the arts in Atlanta and the Southeast.
"Brett Abbott Interviewed by Barbara Griffin" (pdf)
In this in-depth interview published by South x Southeast Photomagazine, Brett Abbott talks extensively about the Wynn Bullock: Revelations exhibition he curated for the High Museum. Appearing in the July/August issue, the piece also features an interesting profile of Brett himself.
"Exhibit of the Week - Wynn Bullock: Revelations"
The August 1, 2014 issue of The Week magazine chose our Revelations exhibition as its featured "Exhibit of the Week". The article references three different reviewers.
"A conversation with Brett Abbott and Tyler Green"
This is a fascinating 30-minute audio interview with
Revelations
curator Brett Abbott conducted by Tyler Green of
Modern Art Notes Podcasts
. It is
Episode 143 of the "MAN" podcasts
and the full-length 50+ minute feature also includes an interview with Jenny Watts about a show she curated of works by Bruce Davidson and Paul Caponigro for the Huntington Library.
"Wynn Bullock: Revelations" (pdf)
The September/October 2014 issue of the national magazine Photograph features a review of the High exhibition written by Stephanie Cash. "The Curators" column also has a profile on "Revelations" curator Brett Abbott written by Jean Dykstra, Photograph's editor-at-large.
"Atlanta Celebrates Photography 2014 Festival Guide".
Wynn Bullock: Revelations at the High Museum has the top spot in this guide which lists an amazing array of shows and activities for this annual month-long festival.