---
NEW UPDATES AT LONG LAST!
With California wildfire events, a major move, and preparations for a major fundraising campaign for the Bullock Family Photography Archive project, we have not updated this page since the second half of 2019. To catch up on all the interesting events and activities that have taken place between then and now, you can access our November 2019, December, 2020, June 2021, and December 2021 newsletters here.
For a current overview of what we've been up since the beginning of 2022, read on!
EDNA'S NUDES OPENING AT GALLERY EXPOSED ON JUNE 10, 2022
Originally scheduled for the spring of 2020 and repeatedly postponed due to the COVID pandemic, a solo exhibition of Edna Bullock's figure work will finally open at Gallery Exposed in Carmel-by-the-Sea on June 10 with a reception from 5-7pm.
Eighteen of Edna's iconic nudes will be on display in the intimate gallery, plus a very special print of her photograph of Nude in Tall Grasses which was recently featured in an article published in the online journal Voices of Monterey Bay (see the entry below for more information). All but one of the vintage works will be available for sale, along with rare, out-of-print copies of Edna's Nudes in both hard and softcover editions. Edna Bullock notecards will also be available as well as copies of a couple of monographs of Wynn's work.
The show will run through the summer with two additional events planned. First, the gallery will participate in Carmel's annual summer "Photo Walk" on July 9 from 4-6pm. The event will culminate with a reception at the Center for Photographic Art from 6-7pm. Second, the closing of the exhibition will be marked with another event on September 9 from 5-7pm. Throughout the summer, the gallery will be open by appointment.
---
EMIL & EDNA – THE MYSTERY OF 'NUDE IN TALL GRASSES' – OR HOW A BIG SUR CULTURAL RELIC ENDED UP IN A PRUNEDALE YARD SALE
Joe Livernois is the founding editor of a wonderful online English/Spanish journal called the Voices of Monterey Bay. Voices publishes both investigative news reports and feature articles that highlight interesting stories about people and events in the Monterey Bay region. The in-depth feature stories appear in a subscriber-based part of Voices called "Where the Bodies are Buried".
Recently, Joe wrote a piece centered around a framed photograph of Edna Bullock's that he found and bought at a yard sale in north Monterey County. What piqued Joe's curiosity was not only that no one at the sale knew who Edna Bullock was or how the photo had found its way there, but also that it was inscribed by Edna to Emil White on his 88th birthday. Emil was a Big Sur artist, publisher of area travel guides, devoted fan of the famed and controversial author and painter Henry Miller, and a quintessential Big Sur character. Emil was also a good friend of the whole Bullock family and promoted both Wynn's and Edna's work in various ways. After his death, Emil's home became the Henry Miller Memorial Library, a popular community center for locals as well as a tourist destination for people coming to the area from all over the world.
Weaving together the threads of the mysterious yard sale appearance of an Edna Bullock photograph with a colorful era of Big Sur history, Emil & Edna is a fascinating tale which Joe has kindly given his permission for us to share with you. (The pdf will open in a new browser window.)
---
THE FUTURE OF THE BULLOCKS' PHOTOGRAPHS
As mentioned in several of our newsletters, it was the hope of both Wynn and Edna that a major Archive of their photography would find a home in a California institution near where they lived and worked. Their daughter Barbara has assembled such a holding that extensively documents their respective creative journeys.
With the help of a volunteer Advisory Council composed of dedicated Bullock scholars and steadfast supporters, an agreement has been reached with UC Santa Cruz Library's Special Collections to acquire the Archive if funds can be raised for its purchase at a significantly discounted price. The Council is now at work on a fundraising campaign.
At the end of the Emil & Edna article referenced above, Joe Livernois included a link to a sidebar written by Bob Sadler, one of the Council members, about this important project. Bob's article with information on how to make tax-exempt donations to the Archive fund may be accessed here. Donations of any size are welcome.
As part of the campaign, presentations on Wynn's and Edna's lives and legacies are being scheduled throughout central California. For more information about Bullock photography and the Archive project, please contact us here.
---
UPCOMING EXHIBITIONS AND PUBLICATIONS
Peter Fetterman Gallery
At the start of the COVID pandemic, gallerist Peter Fetterman launched an online series that would highlight hope, peace, and love in the world. He called it the "The Power of Photography". Every day he posted a favorite image, along with a personal reflection and occasionally a relevant quote from the artist or another knowledgeable source. When he began the project, he thought he might do it for a week or two, but it held such meaning for him and his readership that the series is still ongoing.
The third image he posted was Wynn's photograph of Woman's Hands, 1956. Over the course of the series, he has featured several more of Wynn's images.
Earlier this year, a book based on the series was published by ACC Art Books. Peter has now put together an exhibition at his Gallery celebrating the project and it includes a print of Wynn's iconic image Navigation without Numbers, 1957. An opening reception and book signing is scheduled for June 11 from 4-6pm. The show will be on display through September 3.
Portland Museum of Art, Maine
In October 2022, PMA, Maine, will open an exhibition titled Presence: The Photography Collection of Judy Glickman Lauder. In partnership with the Aperture Foundation, the Museum will also publish a catalog by the same title.
The works of eighty renowned twentieth-century photographers will be featured in the show and book, including Wynn Bullock's Torso in Window, 1954. All the photographs in the Lauder collection will also become part of the Museum's permanent collections.
SFO Museum
The San Francisco Arts Commission recently acquired three Wynn Bullock photographs for the Collections of the City and County of San Francisco: Let There Be Light, 1954; Rocks and Waves, 1968; and Tree Trunk, 1971.
All three will be part of rotating exhibitions curated for the Ruth Kadish Gallery at San Francisco International Airport's SFO Museum. Dedicated to exhibiting photography that celebrates the unique cultural, historical, and natural features of California, the Gallery is named after SFO's first female Airport Commissioner who was appointed to that position in 1976. Kadish was a champion of public art at the Airport and provided her full support for the exhibitions program that became the SFO Museum, the first of its kind in the industry.
Aperture Magazine
This September, Aperture will publish a special issue celebrating the magazine's 70th anniversary. Several renowned writers and artists have been invited to reflect on photographs and texts that have appeared in print over the decades since the publication's founding in 1952. One of the contributors will be writing an essay on themes and images from the 1950s and 60s and two of Wynn's works will accompany the essay: Burnt Chair, 1954 and Woman and Thistle, 1953.
---
WYNN'S WORK AT HOME IN TWO NEW INSTITUTIONAL COLLECTIONS
New York Public Library
We recently learned that an original print of Wynn's Child and the Unknown, 1955, was part of a group of photographs gifted to the New York Public Library's permanent photography collection. The news included a lot of interesting information, including a strange title and inaccurate date ("I'm Almost Too Little to Live Right Now, 1956"), a stamp on the back that noted "2nd Mediterranean Photo-Cinema Biennale, Nice, 1957", and another notation that it was purchased from Sotheby's London. You never know what kind of journey a print will have when it's released into the world!
Musée d'art contemporain de Montréal, Montréal, Québec, Canada
Wynn's photograph of Woman through Window, 1955, is not actually a new acquisition for the Montréal Museum, but it's one that we did not know about until they recently contacted us in relation to their project of making their permanent holdings available for online viewing. They wanted to verify copyright information which we happily provided. The interesting thing about this image is that, although it looks somewhat similar to Wynn's iconic Nude behind Cobwebbed Window, 1955, it is very different in a number of respects. It is an exposure we had never seen before. It may have been taken on the same day with the same model as the well-known image or it could have been a "seed" picture – a visual idea that Wynn later revisited with stunning results. We'll be exploring this discovery further….
---
Edna's Nudes – A Solo Exhibition
at Gallery Exposed in Carmel, CA
June 10, 2022 – September 9, 2022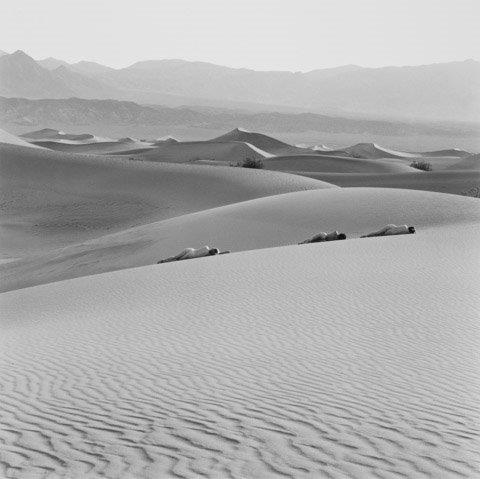 Edna Bullock: Three Nudes on Dunes, 1990
---
Emil & Edna – The Mystery of the
'Nude in Tall Grasses'
Article by Joe Livernois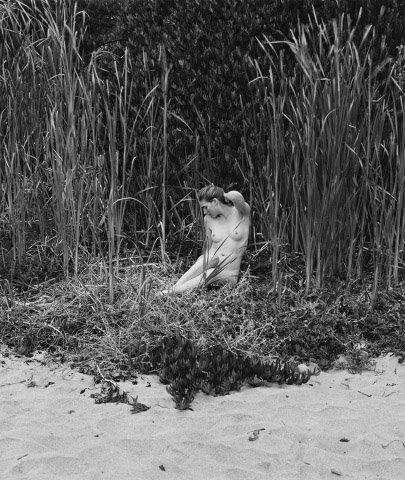 Edna Bullock: Nude in Tall Grasses, 1987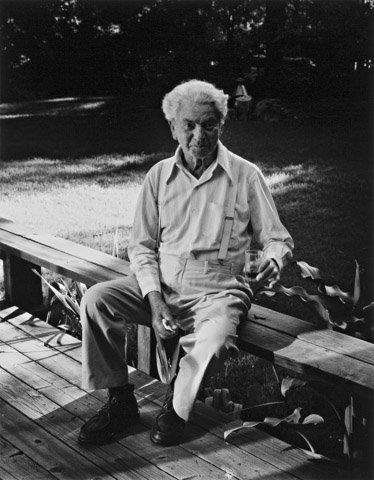 Edna Bullock: Emil White, 1987 or 1988
---
Bullock Family Photography Archive Presentations Are Underway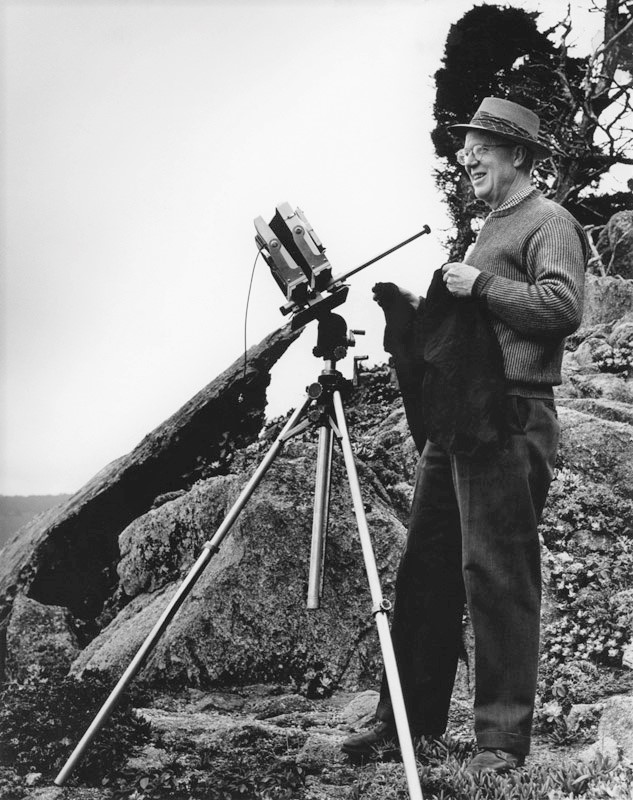 Wynn Bullock at Point Lobos, c. 1950s,
Courtesy Monterey Herald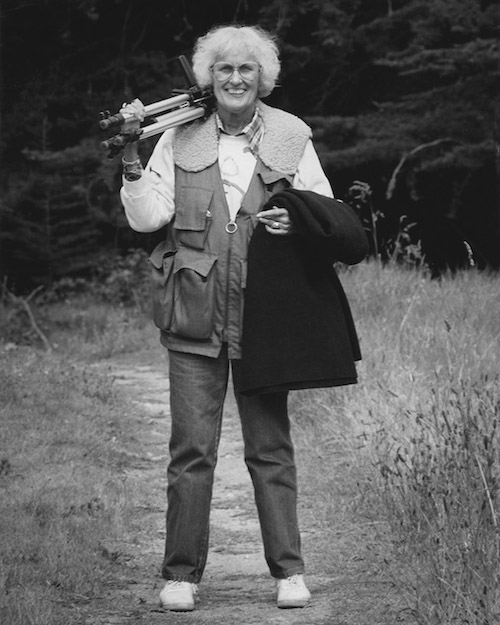 Edna Bullock at Point Lobos, c. 1980s
by Richard Hannon
---
Wynn Featured in Exhibitions
and Publications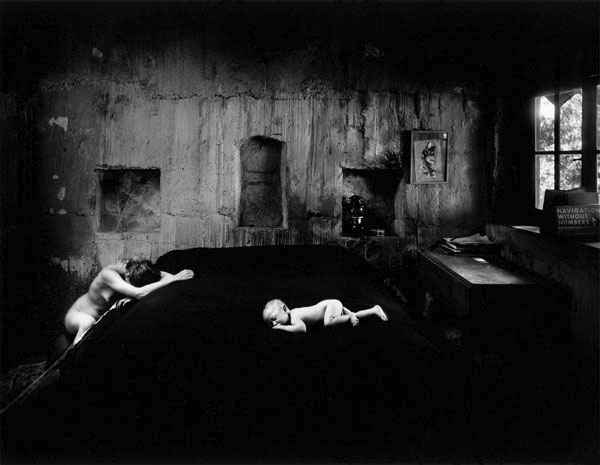 Wynn Bullock: Navigation
without Numbers, 1957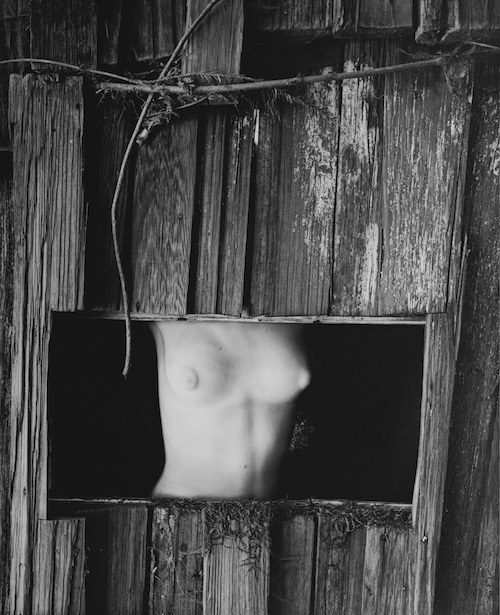 Wynn Bullock: Torso in Window, 1954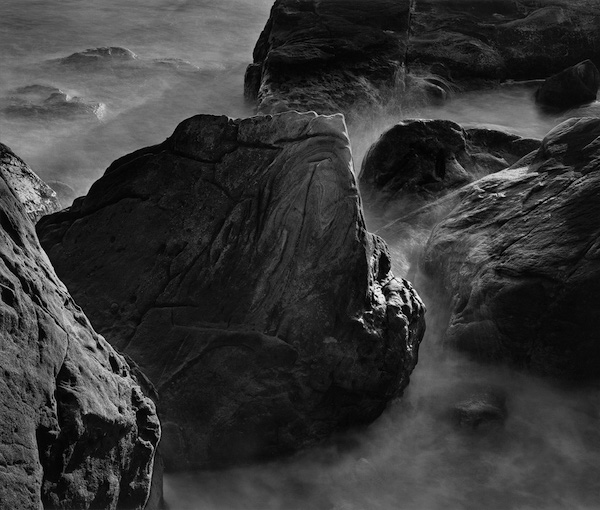 Wynn Bullock: Rocks and Waves, 1968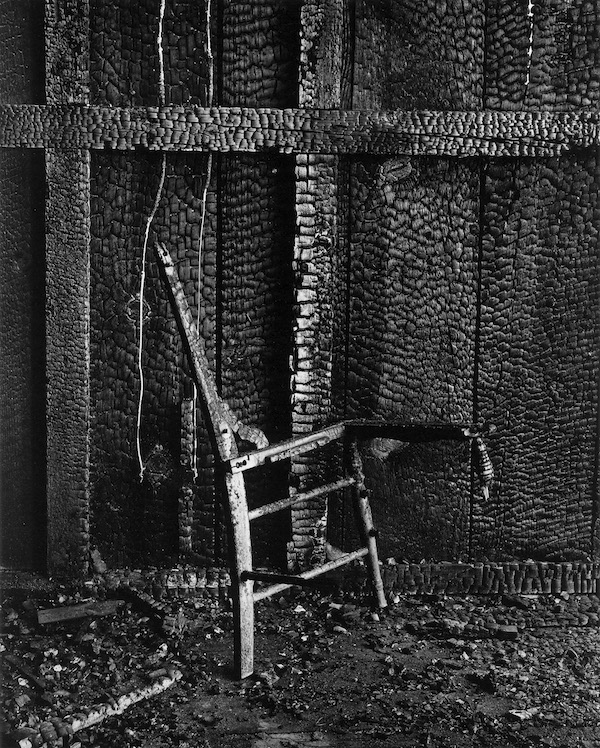 Wynn Bullock: Burnt Chair, 1954
---
Wynn in Permanent Collections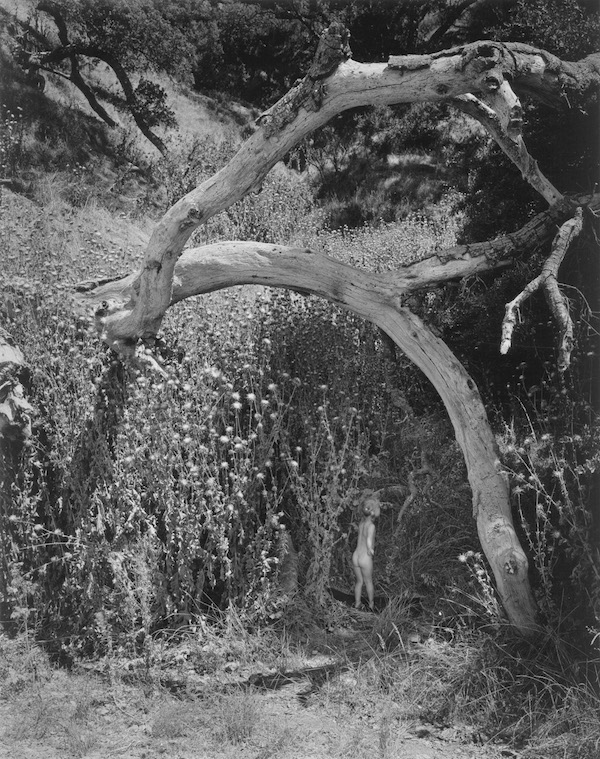 Wynn Bullock: Child and the Unknown, 1955
---