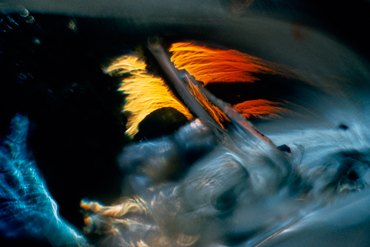 Color Light Abstraction 1071
Wynn Bullock's impressive body of black and white imagery has influenced the world of photography for over seventy years. With the exhibit Wynn Bullock: Color Light Abstractions, we are introduced to an extraordinary collection of color work that he produced in the early 1960s. Although this work has remained virtually (and literally) in the dark for more than four decades, we cannot fully appreciate Bullock's creative genius without it.
Bullock's artistic and intellectual interests were broad and sophisticated, as illustrated by his studies of theoretical physics and the space/time continuum. His passion for a greater understanding of the fabric of the universe led him to focus on exploring and visualizing the phenomenon of light. In describing his work, he wrote: "Light has become more important thananything in the object world.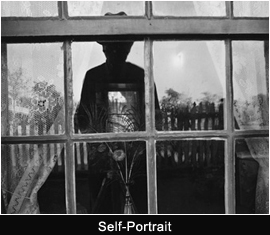 There is no life without light. All matter is some form of radiant energy. It is through the magic of photography that light becomes the subject matter with colors, forms, and space/time relationships that express my deepest feelings and beliefs."
As we encounter Bullock's exquisite images, we question…are we peering through a microscope, or is it a telescope…are we seeing subatomic structures or are we looking into the incomprehensible vast universe? As we explore, we find ourselves shoulder-to-shoulder with this visionary in his search for understanding. We experience the phenomena of light and the universe with him. It is breathtaking, and our hearts pound with the wonderment of it all.
~ Michael J. Spencer, Curator of the 2010 Premiere Exhibit held at the Center for Photographic Art in Carmel, CA.