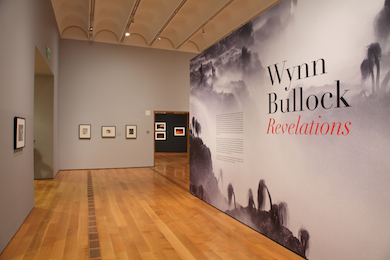 Entrance mural with glimpses of Galleries 1 and 3
Click to view larger image
.
WYNN BULLOCK: REVELATIONS
High Museum of Art, Atlanta, Georgia,
June 14, 2014–January 18, 2015
THE INSTALLATION
The entire second floor of the Anne Cox Chambers Wing of the High Museum of Art was devoted to the Wynn Bullock: Revelations exhibition. Arriving by elevator, visitors were greeted by a stunning entrance mural showcasing Wynn's intriguing image Sea Palms, 1968. The show itself consisted of 98 vintage black-and-white photographs, along with 10 contemporary prints of Wynn's Color Light Abstractions. Thoughtfully arranged throughout three spacious galleries by curator Brett Abbott, the presentation truly offered many revelations about Wynn's creative journey.
Augmenting the print display, the show featured a sophisticated system that ran a continuous loop of 45 additional Color Light Abstractions projected in a 7 x 10 foot format on a specially prepared wall. There was also a monitor where visitors could view excerpts from the award-winning film Wynn Bullock: Photographer.
Downloading an app for smart devices called ArtClix, visitors were able to listen to audio commentaries of 23 of the exhibit images that were edited from our Featured Image recordings. And thanks to Tru Vue's generous donation of Optium Museum Acrylic for all the framed prints in the show, there was no glare or reflection to interfere with clear, direct, intimate viewing of the photographs.