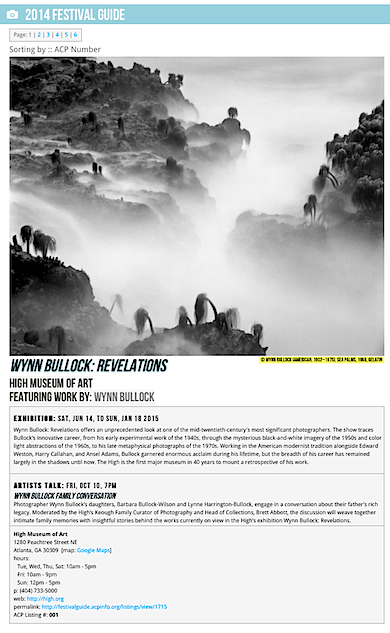 Page from the 2014 ACP Festival Guide
Click here to view larger image on the ACP website.
WYNN BULLOCK: REVELATIONS
High Museum of Art, Atlanta, Georgia
June 14, 2014–January 18, 2015
Conversation: Bullock Family Ties
Second High Museum Program – October 2014
Every year in the Fall, the art of photography becomes a central focus for the whole Southeast region of the United States with the month-long Atlanta Celebrates Photography Festival. As part of this amazing medley of events and activities, the High Museum sponsored a special Revelations exhibition program on Friday evening, October 10. Titled Conversation: Bullock Family Ties, it featured curator Brett Abbott, along with Wynn's daughters Barbara and Lynne, sharing stories and pictures illuminating Wynn's like and work. After the program, the exhibit galleries were open for after-hours viewing and continued conversation
As it was for the June opening, several of Wynn's family members, friends, and fans flew to Atlanta to participate in this special weekend.
The photo album is currently under construction. In the meantime, click here to browse through the 2014 Atlanta Celebrates Photography Festival Guide where our High Museum program was given top billing!