WYNN BULLOCK: REVELATIONS
High Museum of Art, Atlanta, Georgia,
June 14, 2014–January 18, 2015
PROJECT BEGINNINGS AND DEVELOPMENT
The exhibition and book project called Wynn Bullock: Revelations owes its existence to the wonders of serendipity.
In 2006, when my spouse Gene Bullock-Wilson actively joined me (Wynn's daughter Barbara) in the management of the Bullock family photography estate, he took on the task of contacting the 90-plus museums whose permanent collections include prints of Wynn's work. The purpose of these contacts was to identify what museums actually have in their collections and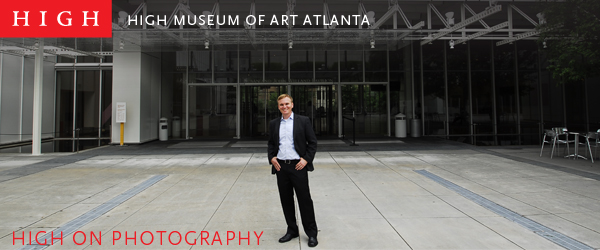 Curator Brett Abbott in front of the High Museum. Click to view the album.
to provide them with accurate, standardized information about titles, dates, and negative numbers that they could add to their meta-data. During his lifetime, Wynn, like many artists, had not been a meticulous record-keeper and prints of identical images were often labeled with incomplete or varying identification information.
Calling the general number for the photography department at the J. Paul Getty Museum in Los Angeles in the summer of 2008, Gene found himself talking to Brett Abbott, one of the associate curators of photography at the Getty. The administrative assistant of the department, who normally would have answered the phone, was on leave and it just so happened that Gene called when it was Brett's turn to cover the phones. As a specialist in mid-twentieth century photography, Brett was the very person Gene needed to talk with. Not only that, Gene and Brett experienced an immediate rapport with each other.
Working with the Bullock estate over the next couple of years led Brett into deepening relationships with both Gene and me - and with Wynn's creative legacy. When Brett was recruited to become the curator of photography at the High Museum of Art in Atlanta, Georgia, he wrote to us that he very much hoped we could "continue our fruitful relationship" from his new post.
Brett began work at the High on April 1, 2011. Needing to attend a family memorial service in North Carolina that month, we arranged to drive down to Atlanta to meet him less than three weeks after he had started. What had been scheduled to be a 90-minute lunch at the Museum restaurant expanded into an all-afternoon, all-absorbing discussion of possibilities. Sharing his vision for what he hoped to accomplish for photography at the High, Brett outlined a set of goals that we found enormously exciting. We, in turn, shared our own goals for Bullock photography and out of our exchange the idea of an exhibition, book, and new repository of Wynn's work was born.