Contents:
DVD - Two Photographers | Henry Miller Library | New Gallery Representation
Summer Exhibitions | Exhibitions & Events Earlier in 2019
---
"Thank you for making this wonderful film of my two dear friends." ~ Ansel Adams
"Padula zeros in on Imogen's twinkle and Wynn's seriousness. An incredibly good film…" ~ Nathan Lyons
"Everyone… interested in photography should see it." ~ Jack Wellpott
We've been waiting for years to make this announcement, and finally the moment has come!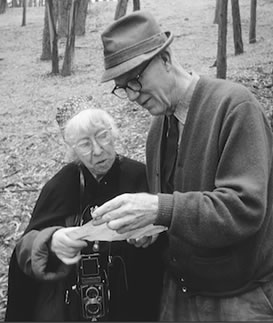 Imogen Cunningham and Wynn Bullock
Screenshot from DVD
This historic 30-minute feature on Wynn and Imogen was originally produced in 1966 as a 16mm film by award-winning visual artist Fred Padula, and it has been essentially out of circulation for a very long time.
Presenting a candid and revealing dialog between two unique, internationally known photographers, the film documents them discussing their backgrounds, personal philosophies, and work. It offers rare footage of each of them photographing in their chosen locations and includes carefully selected collections of their images.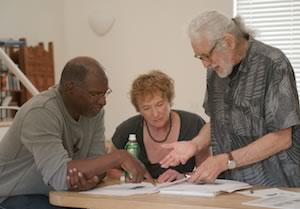 Chris Johnson, Judy Dater, Fred Padula
screenshot from DVD
Just a few weeks ago, Fred completed a painstaking re-mastering of this very special film into both standard DVD and Blu-Ray formats. He also added a whole new feature titled Three Photographers in Conversation. In this 80-minute second offering, noted image-makers Judy Dater and Chris Johnson join Fred in talking about the friendships they each shared with Wynn and Imogen and how these two great artists influenced their own lives and work.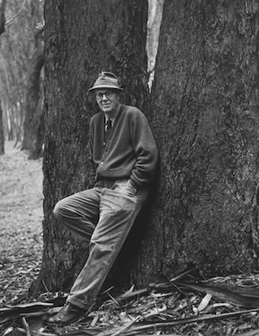 Wynn Bullock by Imogen Cunningham, 1966
© 1966/2019 Imogen Cunningham Trust
Wynn and Imogen were both part of an amazing community of photographers living in and around the central coast of California during the mid-twentieth century. Despite her sometimes acerbic wit, Imogen was supportive of Wynn's creative journey as he was of hers. It was Imogen who initially connected Wynn to The Family of Man project, a project that served to bring him international recognition. Over the years, they exchanged work with each other and celebrated their accomplishments with warm respect.
One memorable story from 1975 illustrates the depth of their relationship. When Wynn was diagnosed with terminal cancer, Imogen, like Ansel Adams and other good friends, stayed in close touch. Minutes after his passing, Wynn's wife Edna called several of these friends and colleagues to let them know of his death.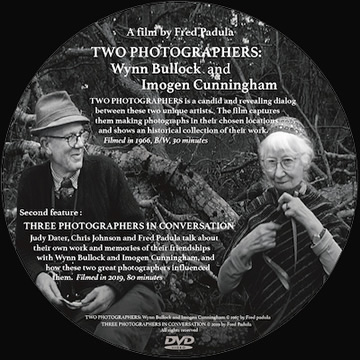 The DVD Label
In her conversation with Imogen, Imogen insisted on knowing the exact time of Wynn's passing. When Edna told her it was 3:15pm, Imogen related that she had been sitting at her desk writing one of her letters to Wynn when she heard a knock on her door. As she got up to see who was there, she noticed that the clock on her desk showed the time to be 3:15. Opening the door, she discovered no one standing on the other side. For Imogen, Edna's phone call resolved the mystery, and even though Imogen eschewed sentimentality and mysticism, she was clear what the experience meant to her.
The Bullock and Cunningham families have continued the legacy of friendship. Meg Partridge, Imogen's granddaughter and head of the Imogen Cunningham Trust, and I keep in contact and give each other moral support as we navigate the management of our respective estates.
Working directly with Fred, our LLC and the Trust are the exclusive distributors of the beautifully updated and expanded Two Photographers disc. Bullock Photography is the only source for the Blu-Ray edition and you may now order copies in either the standard DVD or Blu-Ray format at our Online Store.
---
It is late Sunday morning. My parents and I have just returned home from the early family service at All Saints Episcopal Church in Carmel. We quickly change into casual clothes, load the car with picnic goodies, and head south toward Big Sur with Dad in the driver's seat, Mom sitting ocean-side next to him, and me nestled in the back seat behind her. As we motor past Point Lobos and Carmel Highlands, a Mozart horn concerto begins playing over the radio. Looking out the window, I watch sunlight sparkling the sea as waves spray their white foam against the steep, rugged shoreline. Within the car, there is the warmth of belonging and outside there is a wild beauty that brings another kind of comfort and connection. I am six years old, riding along Highway 1, and there is no other place on earth I would rather be.
~ Barbara Bullock-Wilson from her Featured Image Commentary on Wynn's Erosion, 1959
Hosted by the Henry Miller Memorial Library, Under the Persimmon Tree is a series of free Sunday afternoon conversations/interviews between Library Director Magnus Toren and invited guests who have strong connections to Big Sur and the central coast.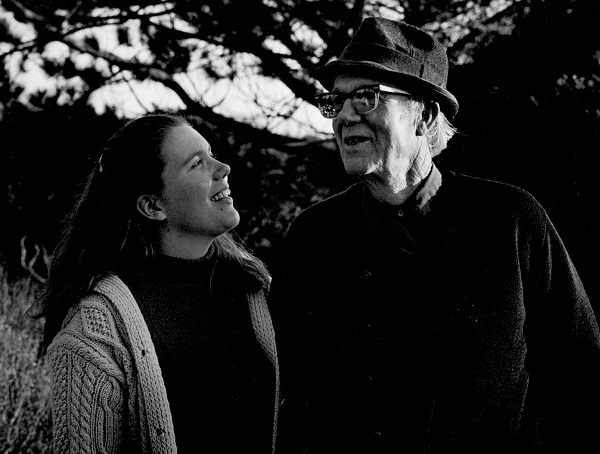 Barbara & Wynn at Point Lobos, 1970
(photo by Fred Mitchell)
I will be the featured guest on Sunday, July 28, from 3-5pm. In his invitation to me, Magnus wrote, "The subject of our conversation will be you – your history, your interests, photography, your family, and your relationship to the Big Sur community and its unique landscape…. We have known each other for a long time and I have so many questions I want to ask you!"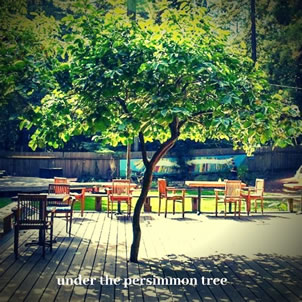 Under the Persimmon Tree at the Library
The Library makes an audio recording of each Sunday conversation using high-end equipment and tech support courtesy of a grant from the Big Sur Food and Wine Festival. After editing for time and clarity, these recordings become part of the Library's archives with online availability through its website. For more complete information about this wonderful series, including links to the recordings the Library has made thus far as well as a schedule of past, present, and future guests, click here.
I hope as many of you as can will join me on the 28th. It is meant to be an interactive event with plenty of time for questions and comments from the audience. Although the program is free, people are asked to register so the Library will know approximately how many people to expect. If you haven't already done so, please sign up here.
---
As I get older, I return to all the images that inspired me to get involved in this journey in the first place, and [I feel] an increased desire to be surrounded by peace and beauty in an ever more turbulent and sad world. That's why I reached out to you again as Wynn's work, at least to me now, seems even more powerful and spiritual and beautiful than ever.
~ Peter Fetterman
Developing a relationship between an artist's estate and a representative gallery is a significant undertaking on the part of both parties, and making the commitment to do so is not a decision to be taken lightly.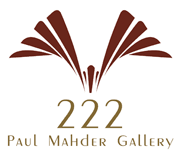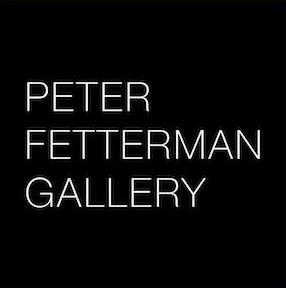 We've not increased the number of galleries with which we are willing to work in a very long time. This year, however, we received two compelling inquiries of interest. And now, after careful consideration and due diligence, we are very pleased to announce that we will be working with both the Paul Mahder Gallery and the Peter Fetterman Gallery in representing Bullock photography.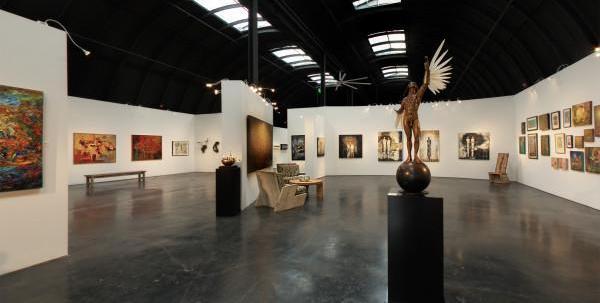 Interior view of PMG's main gallery space
The Paul Mahder Gallery (PMG) is located in the center of Healdsburg, CA, a popular tourist destination in the wine country of northern Sonoma County. In a stunning remodel of a double Quonset with 30-foot ceilings, skylights, and 10,000 square feet of free-flowing exhibit spaces, the Gallery not only hosts museum-quality exhibitions, but also serves as a community center for a variety of educational and cultural events. It also houses one of the Bay Area's finest custom framing shops and provides a tasting room for GrapeSeed Wines.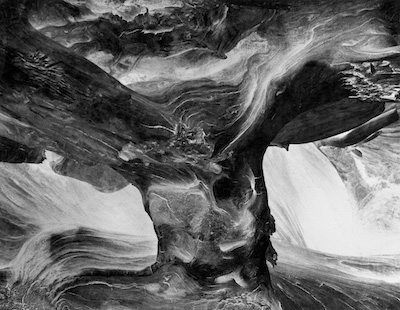 Wynn's
Tree Trunk, 1971
Although PMG primarily features contemporary painting and sculpture, Paul himself is a photographer and found Wynn's work so captivating that there are now two photographers being represented by the Gallery. Paul is especially interested in the imagery Wynn created in the late 1960s and early 70s and will be handling our limited edition, fine art estate prints as well as selected original work.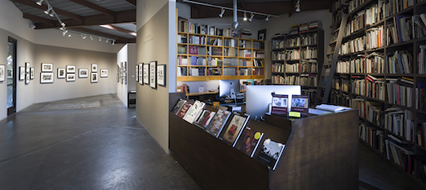 An interior view of PFG's gallery
Unlike PMG, the Peter Fetterman Gallery (PFG) is exclusively dedicated to fine art photography. Among its artists are such luminaries as Berenice Abbott, Bill Brandt, Harry Callahan, André Kertész, Yousuf Karsh, and Brett Weston. Featured contemporary image-makers include Brigitte Carnochan, Flor Garduño, Michael Kenna, Steve McCurry, Sebastião Salgado, and George Tice.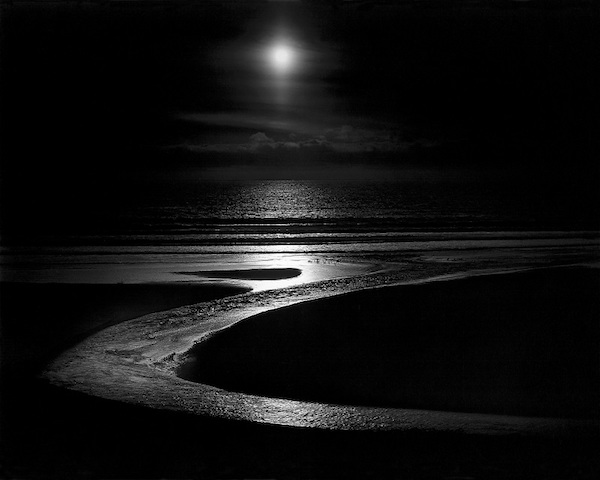 Wynn's
Let There Be Light, 1954
Founded over 20 years ago, PFG is located at Bergamot Station in Santa Monica, CA, and is known for having one of the largest inventories of classic 20th century photography in the country. In addition to hosting exhibitions at its home gallery, PFG is an active participant in numerous art fairs and expositions worldwide.
With a long-standing love of Wynn's work, Peter is eager to shed more light on his legacy. He and his staff plan to focus on the whole spectrum of Wynn's vintage work.
---
We are planning a photography exhibit devoted to "Walls." The work will include a range of approaches to walls, including exterior walls, interior walls, social walls, walls that heal, walls that divide, graffiti walls, walls as art and psychological walls. In other words, all the innumerable ways walls are imagined, photographed and understood.
~ Robert Reese, Director of the Carl Cherry Center for the Arts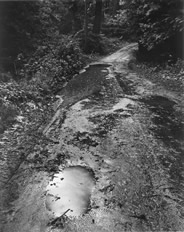 Wynn's
Palo Colorado
Road, 1952
Both Wynn's and Edna's imagery may be enjoyed in several new group exhibitions this summer.
Summer in Carmel is the title of a show mounted in the newly remodeled space of the Weston Gallery. Among the photographs featured are Wynn's Child in Forest, 1951 and an especially beautiful print of Palo Colorado Road, 1952.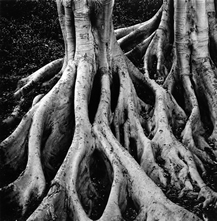 Edna's
Roots #2, 1986
Monterey Museum of Art's exhibit See the Forest for the Trees features a variety of artworks from its permanent collections. Included in the eclectic show is Edna's photograph Roots #2, 1986. It is displayed in a handsome grouping that includes David Ligares's painting Big Sur Gothic, 1970 and Morley Baer's photograph Cypress, Point Lobos, 1989. Edna would have been tremendously pleased to part of this trio of works.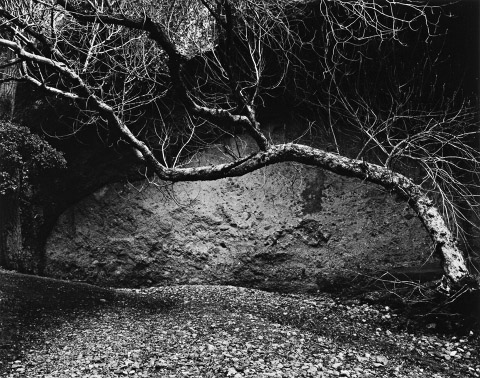 Edna's
Tree and Wall, West Pinnacles, 1985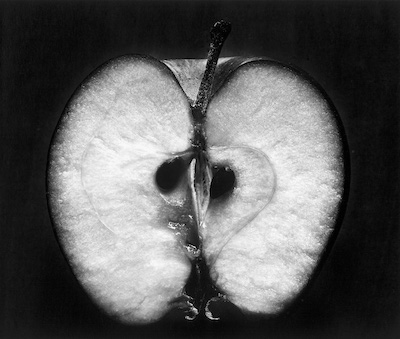 Wynn's
Half an Apple, 1953
The Carl Cherry for the Arts in Carmel will feature another of Edna's photographs in their upcoming exhibition on Walls. Titled Tree and Wall, West Pinnacles, 1985, it will be on display with an array of other prints from August 23 through September 20. An opening reception will take place on opening day from 5-7pm.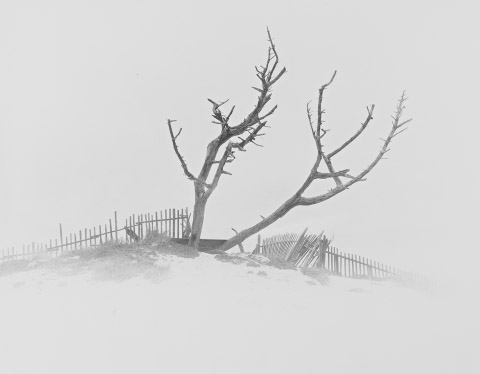 Edna's
Tree, Asilomar, 1987
In addition to the group exhibitions listed above, we are also participating in two fundraising exhibitions. The first is Carmel Bach Festival's Art of Music show at the Sunset Center's Marjorie Evans Gallery. Regional artists working in a variety of mediums are invited to submit small pieces for this annual raffle event that runs from July 9 through July 27. This year we donated one of our beautiful contemporary prints of Wynn's Half an Apple, 1953.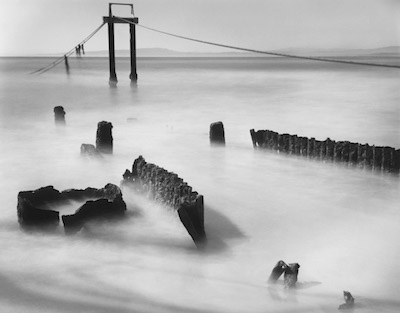 Wynn's
In the Surf #2, 1968
The second fundraising exhibition we are pleased to support is the Center for Photographic Art's annual 8 x 10 Invitational Exhibition. All of the invited submissions can be no larger than 8 x 10 inches, including frames. As in past years, the 2019 show will include two new collectible limited edition, fine art prints – one of Edna's Tree, Asilomar, 1987 and one of Wynn's In the Surf #2, 1968. The exhibition opens August 31 and runs through October 27. During this time, you can purchase raffle tickets online or in person and choose which prints you'd like a chance to win.
---
It was nice to see you at the Museum on Friday night…. I have to tell you that I was shocked by the amazing quality of your mother's photographs. Her images are incredibly well printed and the subjects are very beautiful. My favorite is the bit of driftwood surrounded by the deepest black. I would never mistake it for a Weston or anyone else. She was clearly aware of her predecessors but there was an individual integrity there that cannot be denied. I am very grateful that she took up the camera. ~ David Ligare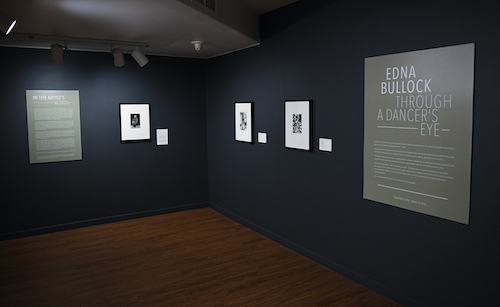 Entry to Edna's show (photo by John Wilson)
Edna Bullock: Through a Dancer's Eye was the first solo exhibition of Edna's work to be mounted by the Monterey Museum of Art since her death in 1997. On display from December 6, 2018 through March 10, 2019, the show was selected from the Museum's extensive permanent collection of Edna's work and focused on four distinct subject matter areas: wood studies, flea markets, fences, and nudes.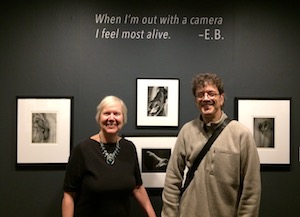 Barbara and John Rexine in front of Edna's wood
studies (photo by Lynne Harrington Bullock)
As a guest curator, I worked closely with MMA's Manager of Exhibitions and Collections John Rexine. Our collaboration was a very happy and productive one, resulting in a strikingly beautiful exhibition which served to shine new light on the range, quality, and vision of Edna's art.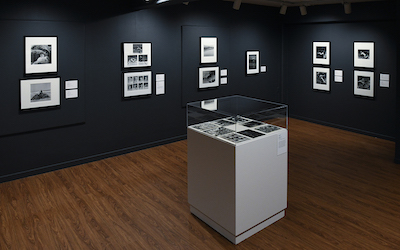 View of gallery showcasing Edna's Nudes
(photo by John Wilson)
Prior to the show's opening, my sister Lynne and I met with a group of Museum docents and led them through a detailed discussion and walk-through of the exhibition. In a note of appreciation, Ellen Maupin, Docent Coordinator, wrote: "The wonderful conversation about your mother and the walkthrough of the photographs made our job of sharing with the public so much more rewarding. Thank you again for your and Lynne's moving presentation. It was such a treat."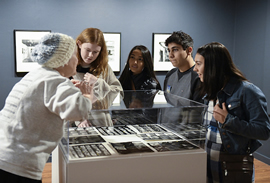 Barbara talking with young visitors
(photo by John Wilson)
During the run of the show, I spent many hours at the Museum greeting visitors and sharing stories about my mother's life and work with them. I particularly enjoyed talking with students and other young people as well as viewers who were unfamiliar with Edna and her artistic legacy.
It was heartwarming to experience the unfailing enthusiasm and appreciation her work received.
* * * * * * * * * * * * * * * * * * * * * * * *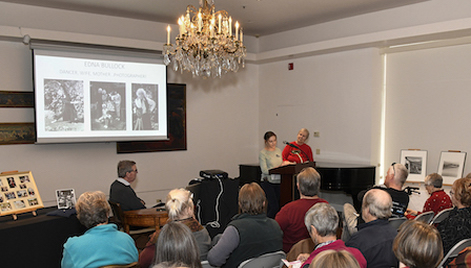 Barbara and Bob being introduced
(photo by John Wilson)
Edna Bullock: Dancer, Wife, Mother… Photographer! is an hour-long PowerPoint presentation I created in conjunction with the Monterey Museum of Art's exhibition of her work. With the help of my dear friend and colleague Bob Sadler, I delivered this illustrated talk about Edna's life and work to a standing-room only audience on December 20. Held in the Museum's historic La Mirada Cultural Center, my talk was accompanied by a display of framed photographs and other items from my personal collection of Edna Bullock archival materials.
This amply illustrated program with over 150 slides is now available to be shared with others. For further information and booking inquiries, please email me at bbw@wynnbullockphotography.com.

Edna kicking up her
heels as a baby

Wynn and Edna in home studio,
1974 (photo by Jim Hill)

Edna leading a photo workshop in
Big Sur, 1987 (photo by Randall Lamb)
* * * * * * * * * * * * * * * * * * * * * * * *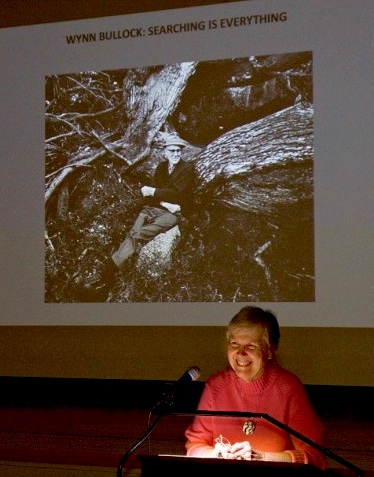 Barbara beginning her talk
(photo by Gary Wilson)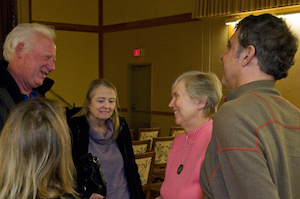 Barbara with audience members after her presentation
(photo by Gary Wilson)
Wynn Bullock: Searching Is Everything is the second hour-long PowerPoint presentation I now have to share. It was initially created in response to the invitation from the Independent Photographers Group of the Monterey Peninsula to be their once-a-year guest speaker for 2019.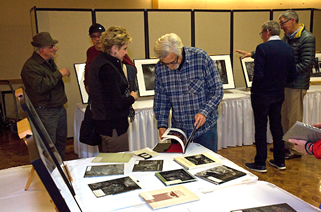 Display of Wynn's books and prints
Again with the generous help of Bob Sadler, I delivered this illustrated talk on my father's life and work to an exceptionally appreciative audience on January 14. A message from noted photographer Bob Kolbrener exemplifies the responses I received: "Your talk was fantastic! I learned a lot about Wynn and I learned a lot about you. I call that a win, win, Wynn!!!! I thought that everyone thoroughly enjoyed your presentation. It was like Wynn - down to earth with a lot of substance. We thank you so much."
Like the presentation on Edna, this program was accompanied by a display of framed prints, books, and other items showcasing Wynn's creative journey.

Wynn as a baby

Wynn and Edna during their courtship, 1942-43

Wynn leading a workshop
in Oregon, c. early 1970s
Searching Is Everything contains over 180 slides visually documenting Wynn's life as well as his artistic legacy. If you'd like more information about any aspect of the program or would like to schedule a presentation, please contact me at bbw@wynnbullockphotography.com.
* * * * * * * * * * * * * * * * * * * * * * * *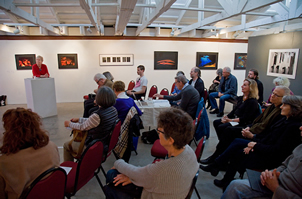 Searching Is Everything
presentation
(photo by Gary Wilson)
Light Worlds: Photographic Abstractions by Wynn Bullock & Robert Strizich was a joint show hosted by Radius Gallery in Santa Cruz, CA, from March 13 through May 5. Thoughtfully curated by Gallery Director Ann Hazels, it featured 25 photographs from our Wynn Bullock: Color Light Abstractions traveling exhibition and a comparable number of Roberts' camera-less abstract prints that were mostly black-and-white. Click here to view or download a pdf of the Exhibition Notice.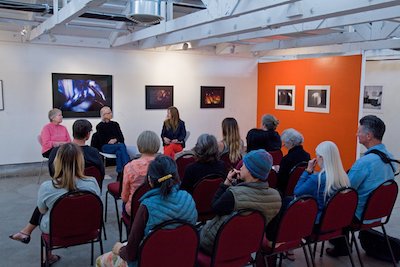 Artists' Talk – Barbara and Robert
with Ann Hazels (photo by Gary Wilson)
As part of Light Worlds, two events were scheduled. On April 6, I presented the Wynn Bullock: Searching Is Everything program with the assistance of my ever-helpful sidekick Bob Sadler. And on April 14, Ann moderated an Artists' Talk with Robert and me. In both instances, there was ample Q & A time and good times were enjoyed by all.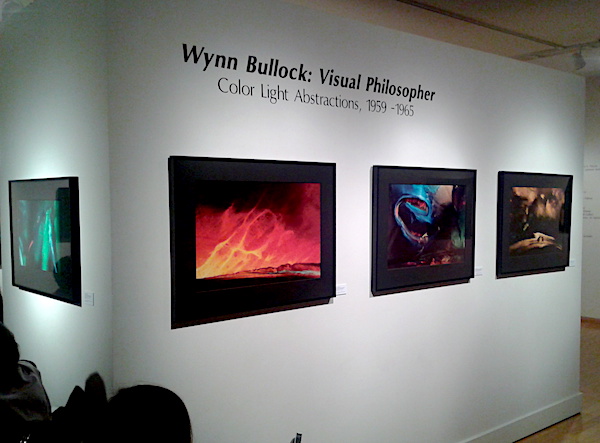 Title wall of UC Santa Cruz show, 2014
The beginnings of this exhibition can be traced back to the fall of 2014 when Robert became acquainted with Wynn's innovative color work at a solo show hosted by the Eloise Pickard Smith Gallery at Cowell College, UC Santa Cruz.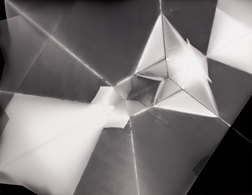 One of Robert's folded paper photograms
© 2019 Robert Strizich
Out of that experience, Robert developed a deep appreciation for the imagery, along with a sense of kinship as a fellow musician and image-maker. While Wynn's first career was in music and his most enduring one was photography, for most of Robert's life composing and performing has been his primary career and photography a secondary one. The visual arts, however, have become increasingly more significant in his life and the idea of a joint show of his work and Wynn's slowly emerged in his mind.
When Robert first approached me with the idea in 2017, he introduced me to his work and I agreed that a collaborative project would be both fun and interesting. As we continued to develop the idea, a friendship also blossomed and eventually extended to Ann Hazels who embraced the project for her Gallery.
* * * * * * * * * * * * * * * * * * * * * * * *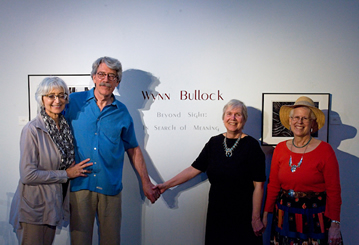 Kathleen & Dennis Abbe with Barbara & Lynne
(photo by Gary Wilson)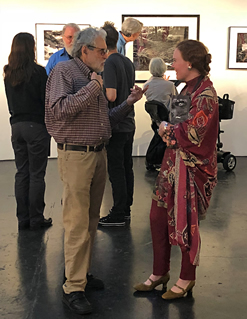 Fred Padula and Morgan Harrington
(photo by Gary Wilson)
Wynn Bullock – Beyond Sight: In Search of Meaning was on display at the Paul Mahder Gallery in Healdsburg, CA, from April 26 through June 23 and was the exhibition with which Paul launched his representation of Wynn's work. Present at the celebratory opening were several members of our extended family, including myself and my nephew Gary Wilson; my sister Lynne, her husband Gil Harrington, their daughter Morgan, and Gil's mother Val Waddingham. Also attending were dear friends Fred Padula (the filmmaker of Two Photographers) and his wife Corinne Masri as well as Kathleen and Dennis Abbe, the couple who graciously hosted Gary and me during the opening weekend.
Expertly framed by Paul's husband Jonathan Wind and beautifully curated by Paul, the exhibition featured an interesting combination of our limited edition, fine art estate prints in varying sizes as well as selected vintage photographs.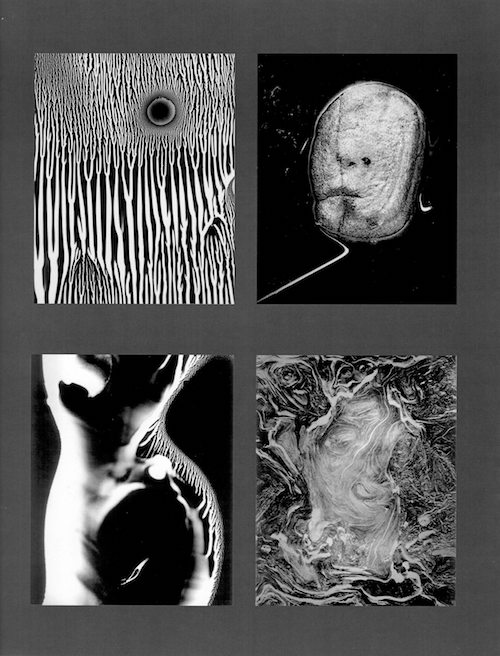 Page from catalog
I found Paul's sequencing very appealing and thought-provoking. It is always a joy to discover new aspects of my father's work when it is handled with fresh, perceptive eyes and heart.
To accompany the show, Paul produced a lovely little 8-page catalog. If you would like a complimentary copy, send your request to me at bbw@wynnbullockphotography.com and, as long as my supply lasts, I'll be happy to send you one.
---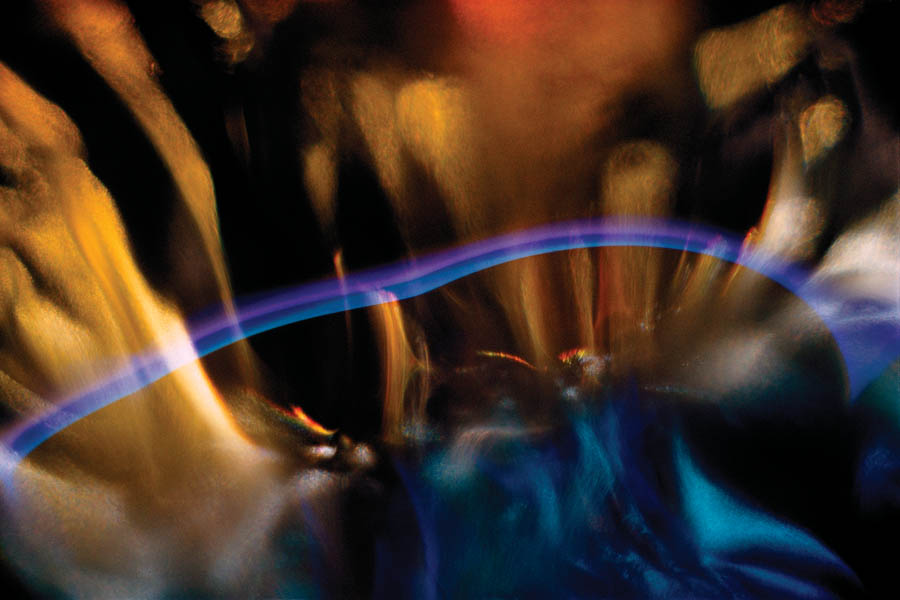 Wynn's Color Light Abstraction 1007 (1961)
for SFO Museum show
Looking ahead, we'll soon be working on our calendars for 2020 and producing some new Featured Image commentaries. Several exhibitions are also in varying stages of development, including a solo show of Wynn's Color Light Abstractions that I'm helping to curate for the SFO Museum at the San Francisco International Airport. Among the special events being planned is the APAG West annual symposium which will take place this October at the Center for Photographic Art in Carmel.
Until our next newsletter—which I promise won't be as long in coming as this one—I, along with my sister Lynne, wish each of you happy summering.

Barbara Bullock-Wilson, Managing Member
Lynne Harrington-Bullock, Member
Bullock Family Photography LLC

---
Copyright © 2020 Bullock Family Photography LLC Unless Otherwise Noted. All Rights Reserved.
Website and Newsletter design and management by David Gordon