Contents: Two New Calendars | New Online Video | New and Deepening Connections | Exhibitions and Publications
---
Primal forces confront the child. Although wary, she turns to face the sea. What happens next is left to our imagination. It is an image that invites us to reflect on our complex relationships with the natural world.
~ Quote from the 2016 Wynn Bullock Black-and-White Calendar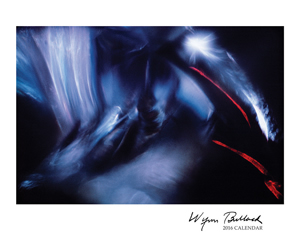 Does the idea of having your very own gallery of Wynn Bullock images appeal to you? You need look no further than our 2016 Wynn Bullock calendars which are now available for purchase through our website. One calendar features 12 evocative black-and-white images to enjoy throughout the year and the other highlights 12 images from Wynn's beautiful, innovative abstract color work.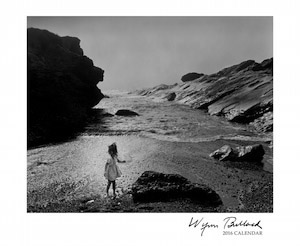 Measuring 14" x 12" in a horizontal format, every page of each calendar is printed on premium cover stock. The calendars are hand-wrapped in perfectly-sized crystal clear poly bags. Once opened, full quarter-inch hanging holes and white Wire-O bindings allow for easy display and optimal viewing.
New thumbnail images and quotes have been chosen to enhance the monthly date pages as well as the two-page biographical essay that introduces each calendar.
To place your orders, click here. The Calendar Page in our Online Store includes thumbnails of all the images for both calendars as well as pictures of the bio pages and sample date pages. Order one or both of our two collectible calendars for yourself and order additional ones to share Wynn's imagery with extended family and friends.
---
... I'd like to approach this talk from the perspective of a man and an artist whose life and work have literally been transformed by Wynn Bullock.
~ Chris Johnson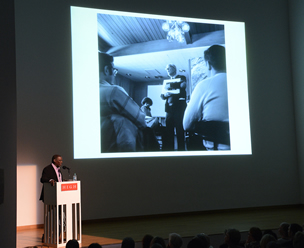 Chris describing how he met Wynn during an Ansel Adams
Workshop in Yosemite © 2014 John Wilson
Photo on screen © 1973 Neil A. Miller
Last year, Brett Abbott at the High Museum of Art in Atlanta, Georgia, invited Chris Johnson to deliver the opening talk for the Museum's landmark retrospective Wynn Bullock: Revelations.
Chris was his first choice as presenter for several reasons. Chris had enjoyed a close personal relationship with Wynn that began with Wynn as a mentor to him as a fledgling photographer. This morphed rather quickly into a synergistic friendship marked by creative sensibilities, wide-ranging interests, and keen intellects.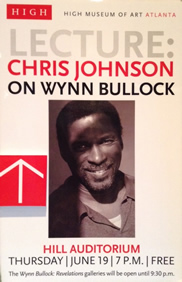 Although their friendship was cut short by Wynn's death in 1975, Chris's relationship with Bullock photography has continued to grow as he has studied, lectured, and written about Wynn's life and work both from his own perspective as an artist and as a long-time teacher of art and photography. (Read Chris Johnson's bio here.)
On June 19, 2014 Chris gave such a heartfelt, insightful account of Wynn's creative journey that many in the audience were moved to tears. People new to Bullock photography shared how inspired they were by what they had learned through Chris. Even long-time admirers of Wynn's work expressed how meaningfully Chris had deepened their understanding and appreciation of Wynn's legacy. The feedback we received was so overwhelmingly positive that we knew we needed to share the presentation more widely.
Partnering Chris with our wonderful webmaster David Gordon, we now have a new online video of this very special presentation. You may access it here.
If you'd like to share your thoughts about the video after viewing it, we'd love to hear from you.
Just send us a message through our Guestbook page.
---
My name is Nolan, and I'm a 17-year-old photographer living in Pacific Grove. I started shooting on large and medium format film six months ago, and I've come to love the craft along with the photographers renowned for perfecting it. One of those photographers is Wynn Bullock, whose work I've found and studied at the Monterey Public Library. I am an immense fan of his work…and I'd love to know more about him and his interest in physics, as well as your upbringing surrounded by the craft and the artists who mastered it.
~ Excerpt from an email to Barbara Bullock-Wilson from Nolan Beck dated July 4, 2015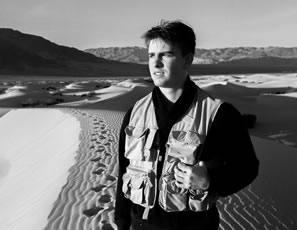 Portrait of Nolan Beck © 2015 Ryan Houchin
This summer, Carmel photographer Bob Kolbrener emailed Tony Casadonte, the director of Lumière Fine Art Photography Gallery in Atlanta (Lumière represents both of us). In his message he wrote, "There is a 17-year-old kid here that is very smart and very interested in film and paper photography. He is one of the most impressive young people that I have met. He is interested in Wynn Bullock and would like to contact Barbara…."
A few days after I passed along my contact information, I received an email with the subject line "The Young Kid." It was from Nolan Beck. Our subsequent meeting was deep and wide – hardly any surface get-acquainted time, just immediate recognition of kinship and a plunge into philosophy, creativity, art, decision-making, goals and interests.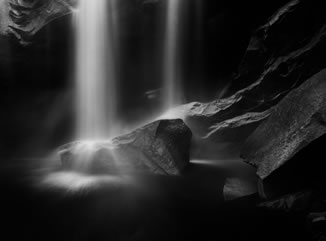 Vernal Falls, Yosemite
©2015 Nolan Beck
As I've experienced throughout my life, it doesn't make any sense for age by itself to be a limiting or qualifying factor in relationships. In the Bullock household, people of all ages were related to openly and respectfully. Age, gender, economic status, ethnicity…none of these influenced how people were seen and valued in and beyond our home. It was who they innerly were and what was important to them that mattered.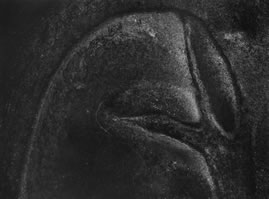 Rock, Weston Beach
©2015 Nolan Beck
When Chris Johnson met Wynn, he was in his early twenties and Wynn was in his seventies. Age was a non-issue. They were kindred spirits and their relationship was a gift for each of them.
My first meeting with Nolan was full of wonder, similar to the kind I imagine Chris and Wynn experienced together. What other gifts this new connection with Nolan might bring are yet to bediscovered. Just knowing that Bullock photography is being appreciated by someone of this current generation and that I'm helping keep Wynn's legacy and its transformative powers fresh and alive for others is already a gift beyond measure.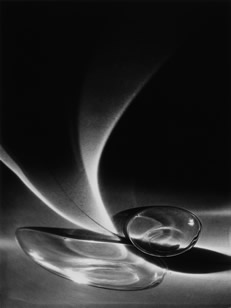 Wynn Bullock:
Glass and Light, c. 1940s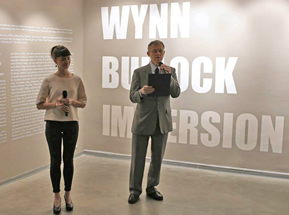 Curator Anastasia Lepikhova and US Embassy's Minister
of Public Affairs Jeffrey Sexton greeting guests at opening of
Wynn's show in Russia (Courtesy Lumiere Brothers Center)
Late last year we entered into a representation agreement with the Lumiere Brothers Center in Moscow, and this past spring they hosted the first solo show of Wynn's work in Russia (see our May 2015 newsletter coverage).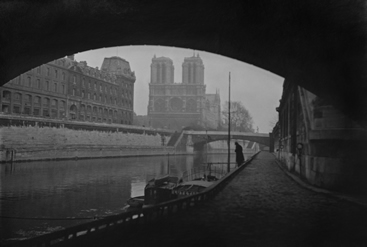 One of Wynn's earliest images, Paris c. 1929
In November Anastasia Lepikhova and some of her colleagues will travel from Moscow to Paris to participate in Fotofever Photography Art Fair at Carrousel du Louvre. This is the Center's first French art fair and it runs simultaneously with Paris Photo. Wynn's work will be featured at their booth, along with several other notable photographers including Harold Feinstein and Ruth Orkin.
Wynn has not been represented in Europe for many years. We think it's very fitting that his work will be re-introduced in Paris where he first connected with photography and made his very first images.
As a relative newcomer to the field (they opened their doors in 2010), the Center sees their participation in Fotofever as an important step in building relationships with the worldwide photographic community. They are in the process of producing a catalog of traveling exhibitions which will include Wynn Bullock: Immersion and they are actively networking to develop collaborative projects based on the work of the artists they represent. We are excited and pleased to be part of their endeavors.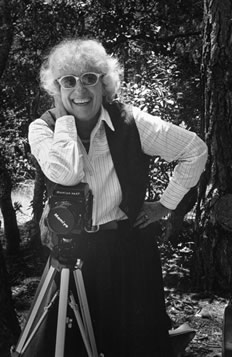 Edna Bullock
© 1981 Naomi Reddert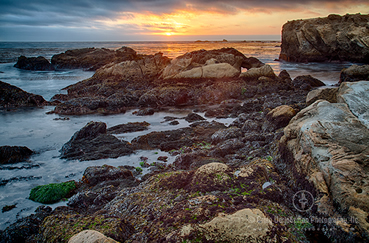 Craig Varjabedian's
Point Lobos Sunset
© 2015 Craig Varjabedian Photography, llc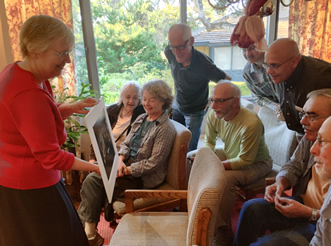 Barbara showing print of Wynn's
Navigation without
Numbers, 1957
Photo ©2015 Craig Varjabedian Photography, llc
Craig Varjabedian is a gifted photographer and well-loved workshop facilitator based in Santa Fe, New Mexico.
We first met Craig when Wynn's wife Edna was leading her own photographic workshops in the 1980s and '90s and Craig sponsored one of her "photographing the nude" offerings. After Edna's passing in 1997, we went our separate ways and communications dwindled.
Three years ago, Craig renewed the connection we had previously enjoyed. He was planning to lead a workshop here on the Central Coast of California and asked us to host his group for an afternoon of exploring Bullock photography. It was a happy reunion and we've stayed in closer touch ever since.
Craig brought a new group to see us on October 5 and we engaged in another lively session of exploration. Wynn and Edna shared the stage equally as I traced their creative journeys through a showing of representative samples of their work. Behind-the-scene anecdotes of selected images as well as family stories were liberally interspersed throughout the presentation.
The participants, who came from such varied locations as Massachusetts, Texas, Oregon, and Canada, were wonderfully attentive and made the gathering one of the highlights of our year. For more information about Craig and his various photographic activities, click here.
---
As long as I can remember, I have been filled with a deep desire to find a means of creatively interacting with the world, of understanding more of what is within and around me. It was not until I was 40, however, that I decided photography was my best way. When I photograph, what I'm really doing is seeking answers to things. ~ Wynn Bullock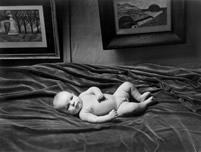 Wynn Bullock:
Stefan, 1954
10TH ANNIVERSARY EXHIBITION
at Figge Art Museum, Davenport, IA
On view from July 5 through October 4, this commemorative show featured new additions to the Figge Art Museum's permanent collection, including Wynn's photograph Stefan, 1954. This image was also selected to be reproduced in the catalog that accompanied the show.
DEPTH OF FIELD
at Art Intersection, Gilbert, AZ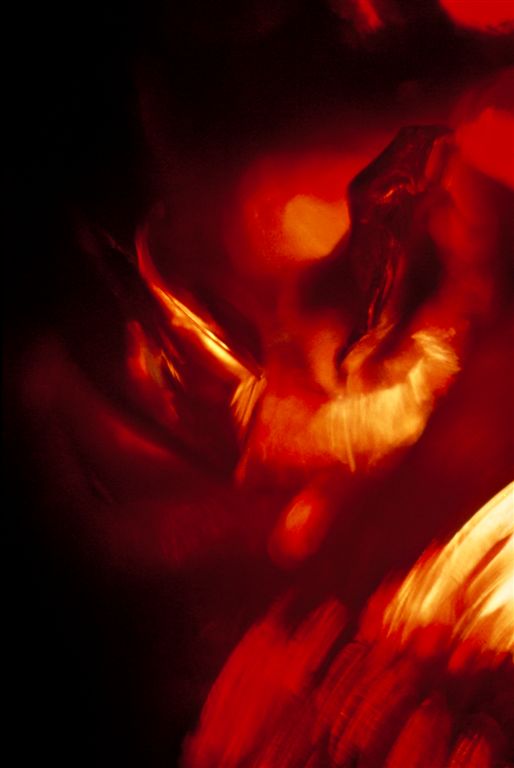 Wynn Bullock:
Color Light Abstraction 1061,
Early 1960s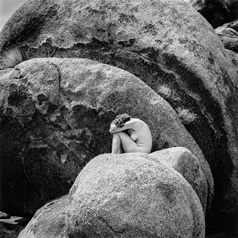 Edna Bullock:
Peggy and Round Rocks, 1991
Curated by Rfotofolio, this exhibition and its companion catalog featured the artwork of over 70 photographers from the U.S. and abroad. It included three photographs by Wynn (Barbara through Window, 1956; Girl in Car, 1960; and Color Light Abstraction 1061, Early 1960s). In addition, the show included three photos by his wife Edna (Amy and Jane, 1989; Peggy and Round Rocks, 1991; and Fish Net over Fence, 1994).
Founded by Connie and Jerry Rosenthal, Rfotofolio is a non-profit organization whose goals are to share and support the work of full-time photographic artists and to educate the public about all types of photography through Rfotofolio's websites, exhibitions, interviews, and articles.
This show was on display through October 24. For more information and a detailed listing of all the participating artists, click here. A video of all the images included in the show may be viewed here. The Depth of Field book may be ordered directly at MagCloud. To learn more about the host gallery, please visit www.artintersection.com and to explore what Rfotofolio is all about, check out their extensive website at www.rfotofolio.org.
8 X 10
at Center for Photographic Art, Carmel, CA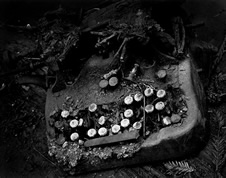 Wynn Bullock:
Old Typewriter, 1951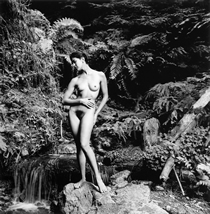 Edna Bullock:
Michi, 1993
CPA's third annual fundraising exhibition opened on September 26 and will run through November 14. All the artworks on display do not exceed a frame size of 8" x 10", and winning raffle ticket holders will go home with their treasures at the end of the show. In support of our local photographic center, we have donated prints of two Bullock images: Wynn's Old Typewriter, 1951 and Edna's Michi, 1993.
In addition to the individual donations, the show includes the work of eleven other photographers who have each donated a set of five prints that will be available for $100 per print. This new feature is called "Buy It Now! Take It Home Now!" As each photograph in the set is sold, a new one takes its place, giving collectors five opportunities to immediately own the work of an artist they admire. For more information and a full listing of the donor artists, click here.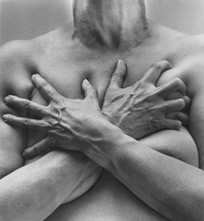 Wynn Bullock:
Edna, 1956
THE GENDER SHOW
at Fundación Canal, Madrid, Spain
Curated by the George Eastman House from their permanent collections, this traveling exhibition will be on display from October 8 until January 5, 2016. Included in the 138-print show are two of Wynn's photographs: Stefan, 1954 and Edna, 1956.
To accompany the exhibition, Fundación Canal has published a catalog that highlights 60 of the images in the show. Both of Wynn's photographs have been included. Edna, 1956 has also been selected as one of the key images to promote the show.
For a fuller description of the traveling show, click here.
THE LIVES OF PICTURES:
FORTY YEARS OF COLLECTING AT THE CENTER FOR CREATIVE PHOTOGRAPHY
University of Arizona, Tucson, AZ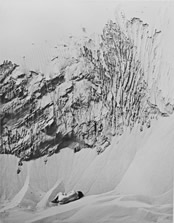 Wynn Bullock:
Woman on Dunes, 1972
This exhibition commemorates CCP's fortieth year with a selection of objects from its extensive collections. Featuring a wide range of works, including some of CCP's most treasured items, the show brings together photographs and their related stories, including those told by curators, archivists, and other key figures from the Center's past and present.
Wynn's photograph Woman on Dunes, 1972 is included in the show which opened October 10 and will run through May 13, 2016. This image, along with four others of Wynn's, appeared in a televised feature that aired October 18 on Arizona Public Media (AZPM). A shortened version of this telecast may be viewed here.
As many of you know, Wynn was one of five photographers whose archives established the Center in 1975. The others were Ansel Adams, Harry Callahan, Frederick Sommer, and Aaron Siskind.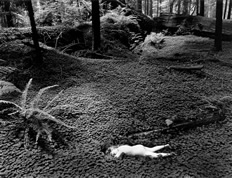 Wynn Bullock:
Child in Forest, 1951
A beautiful estate print of Wynn's famous image Child in Forest, 1951 has been donated for this exhibition that will be on display in November at two Oregon venues: the Emerald Art Center in Springfield and The Gallery at Dot Dotson's in Eugene.
On December 6, the event will culminate in an auction of the donated prints that will be held at the University of Oregon at Eugene. For several years, it has been our pleasure to support PAO and their programming. For more information about the organization, click here.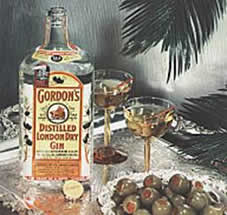 Wynn Bullock:
Early Carbro Color Print c. 1938
FLOWERS, FRUIT, BOOKS, BONES – STILL LIFE
FROM THE CENTER FOR CREATIVE PHOTOGRAPHY
Phoenix Art Museum, AZ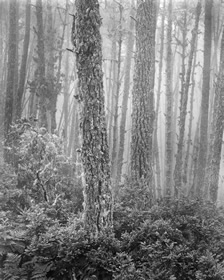 Wynn Bullock:
Del Monte Forest, 1956
Hosted by the Phoenix Art Museum, this exhibition will draw on CCP's rich resources to explore photography's contributions to the genre of still life.
On view from December 5 to May 15, 2016, in the Doris and John Norton Gallery, the show will include a one-of-a-kind Carbro color print that Wynn made for a class assignment while he was a student at Art Center School in Los Angeles. As far as we know, his time at Art Center (1938-40) was the only opportunity he had to work with that particular printing process. Wynn's image will be featured in the brochure being prepared for the upcoming exhibition.
DEMOCRACY OF IMAGERY
Howard Greenberg Gallery, New York, New York
Colin Westerbeck is the author of a book being prepared for publication under the imprint of Steidl/Howard Greenberg Library. Due to be released next spring, Democracy of Imagery will explore 100 images that Colin considers either underappreciated work by great photographers or great work by underappreciated photographers.
Colin's selection was made from the many thousands of prints in the inventory of the Howard Greenberg Gallery and each image was chosen for its individuality rather than its similarity to or compatibility with other images.
Among those images being showcased is Wynn's Del Monte Forest, 1956. All the photographs reproduced in the book will be included in an exhibition hosted concurrently with the book's release. We'll post links on our website when we have them.
---
Barbara & Gene a couple of weeks after

Gene's diagnosis (©2015 Peter Miller)





Barbara with Cathy Jaeger at Jaeger

Custom Frames (©2015 John Wilson)

In last May's newsletter, I shared that Gene, my beloved partner and soul mate of 45 years, was dealing with some serious health issues. Shortly after the newsletter was sent out, he, as a lifelong non-smoker, was diagnosed with stage four lung cancer. Over the summer, he underwent a course of heavy-duty chemotherapy and is now on a maintenance regimen of chemo that will hopefully keep the remaining cancer contained as long as possible.

Barbara and Gene on October 6, 2015

(© 2015 Marion Patterson)

As a consequence of this major shift in our lives, we've not been able to keep up with Bullock photography as much and as effectively as we would like. Protecting, sharing, and managing the legacies of Wynn and Edna Bullock, however, remains our deeply felt calling. We have experienced the transformative power of their artwork and our mission is to continue to do all we can to make it available for others to know and be touched by.

Fortunately, we are not alone in these efforts and I would like to express my heartfelt thanks and appreciation to my sister Lynne for her steadfast support of the work we do. I also want to share my profound gratitude for our exceptionally competent and caring core team members – David Gordon, webmaster; Erik Peterson, file manager; Rick Forschino, digital service provider and printer; and Cathy Jaeger, mounter and framer. Each one has embraced our mission and not only makes what we do possible, but makes it immeasurably better. They bring joy to our lives and our work, now more than ever.

Beyond this, I want to take a moment to thank the rest of our loving and generous network of family, friends, and colleagues who are nurturing and sustaining us through this new, unexpected journey of ours. The ups and downs of this journey can change so frequently and unpredictably. One of the biggest challenges is to maintain some reasonable level of emotional equanimity in the midst of the day to day flux. The many relationships we hold dear give us strength and encouragement. Our work with Bullock photography offers balance and perspective, and the art itself provides inspiration and guidance. Gene and I feel bountifully blessed.

Until next time, warmest greetings and best wishes,


Barbara Bullock-Wilson, Managing Member
Gene Bullock-Wilson and Lynne Harrington-Bullock, Members
Bullock Family Photography LLC
---
Go to the Wynn Bullock Photography Home Page

Copyright © 2021 Bullock Family Photography LLC. All Rights Reserved.
Wynn Bullock Photography website and newsletter design and tech by David Gordon