Contents: Wynn's Work in Russia | SF Airport Museum | Viewpoint Photographic Art Center, Sacramento CA
Art Intersection, Gilbert, AZ | Two Book Covers | New Color Viewing Gallery | 2016 Calendar Preview
---
It is not enough to look at Wynn Bullock photographs on display at the Lumiere Brothers Center for Photography. As the title of the exhibition, "Immersion", suggests, the intended experience is something greater. The images of water, sky, a child in a forest, a close-up of a rock are for entering into. ~ Layli Foroudi, The Moscow Times, March 30, 2015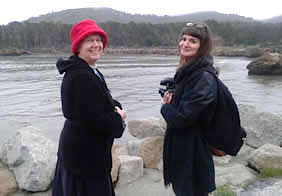 Barbara and Anastasia at Whaler's Cove,
Point Lobos State Reserve, near Carmel
Last October we received a totally unexpected email from someone named Anastasia Lepikhova who identified herself as the curator and head of foreign affairs for Lumiere Brothers Center for Photography in Moscow. She wrote, "The Center is really interested in holding a Wynn Bullock solo exhibition in Moscow in 2015 and also in representing his photography as a gallery in Russia."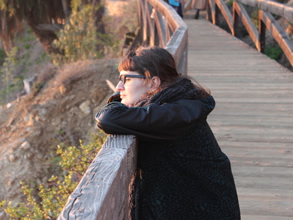 Anastasia at Julia Pfeiffer Burns State Park
After checking out the Center with knowledgeable colleagues and getting only the most positive feedback, my communications with Anastasia began in earnest. Together we negotiated agreements, selected exhibition images, and scheduled dates. For many reasons, it was decided to feature only our limited edition estate prints in the show. Sizes were chosen for all 60 black-and-white images, and Rick Forschino, our fabulous printer, started the production process.
Shortly before Christmas, Anastasia made her first trip to California to meet us, sign agreements, and experience the environment where Wynn lived and worked. Our daughter Deb and her partner Pat were with us for the holidays and Anastasia slipped easily into our family life. We all had a great time together.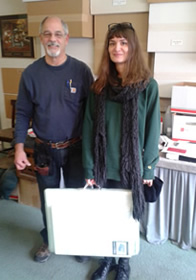 Anastasia & our packer-shipper
Chuck Posey with 60 prints to go
back to Moscow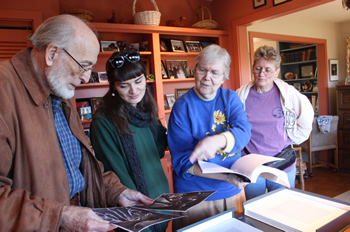 Gene, Anastasia, Barbara, & Deb discussing
Wynn's positive and negative imagery
We spent one afternoon at Point Lobos State Reserve and Anastasia saw her first whales and sea otters in the wild. The next day we drove down the coast to Big Sur. We had lunch at world-renowned Nepenthe's restaurant and then visited Henry Miller Memorial Library. We ended our tour at Julia Pfeiffer Burns State Park and McWay Falls.
We learned during her visit that Anastasia had been studying Bullock photography for years and found his imagery deeply moving. Being introduced to his home environment and experiencing firsthand the amazing spirit and vitality of the place enhanced her understanding and appreciation of his work even further. It was a special treat for us to feel that with her.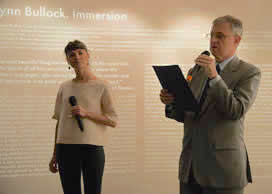 Curator Anastasia Lepikhova
and Jeffrey Sexton from US Embassy
Near the end of her stay, we spent time reviewing the prints for the show and looking at vintage photographs. Out of this experience, Anastasia suggested that a good title for the exhibition might be "Immersion". We then took all 60 unmounted prints to our packer/shipper Chuck Posey to wrap safely and securely so that Anastasia could hand-carry them back to Russia.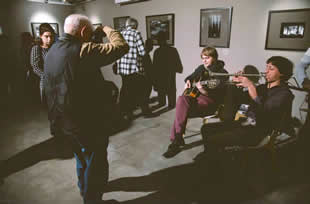 Trio and guests at Opening Reception
Co-sponsored by the U.S. Embassy in Moscow, Wynn Bullock: Immersion opened with a gala reception on March 17. Included in the festivities were presentations by Anastasia and the U.S. Embassy's Minister for Public Affairs Jeffrey Sexton as well as music by a wonderful jazz trio. Anastasia also arranged for Gene and me to offer a brief greeting via Skype. I even attempted a few words in Russian which elicited some appreciative chuckles and applause from the invited guests.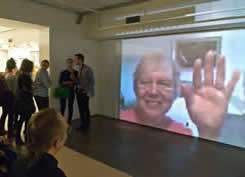 Barbara ending the Skype call with
Ogromnoe spasibo! (Thank you very much!)
Interestingly, Anastasia chose to have the prints over-matted with a rich brown board that gives the exhibit a very distinctive look. All the wall texts she created for the exhibit are in both Russian and English. In addition to the prints, the Center has been showcasing the Wynn Bullock: Photographer DVD for which they produced Russian sub-titles. Also being shown is a slideshow of Wynn's Color Light Abstractions.
Immersion will be on display through May 10. To read an announcement of the show, click here , and for a review that was published in The Moscow Times, click here. A short video of the opening that features music by the jazz trio may be accessed here. To view a gallery of photos from the opening, click here. For a general English language description of the Center, click here. The official website for the Center is in Russian and may be viewed here.
---
I love the medium of photography, for with its unique realism it gives me the power to go beyond conventional ways of seeing and understanding and say – This is real, too.
~
Wynn Bullock, quoted in the introductory text for the exhibition
Nature's Mysteries: Landscape Photography by Wynn Bullock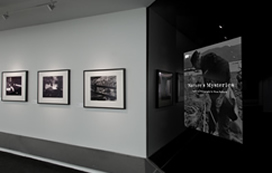 One end of the show
Like it was with the Russia show, the exhibition at the SFO Museum (SFOM) began with an out-of-the blue email sent through our website. It was from the Museum's photography curator Ramekon O'Arwisters who had visited the 2013 exhibit of Wynn's work at the de Saisset Museum on the campus of Santa Clara University. Inspired by what he saw, Ramekon invited us to consider having a show hosted at the San Francisco Airport.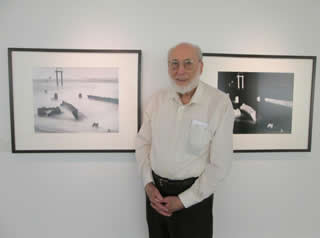 Gene between two of his favorite WB images
Nature's Mysteries: Landscape Photography by Wynn Bullock opened on March 12 and is the first exhibition of Wynn's work to be displayed at a major airport museum. It consists of twelve large contemporary prints (20" x 16" image size) of his black-and-white landscapes and seascapes of the central California coast. Spanning a period from 1951 to 1970, the display includes some of Wynn's most well-known images, along with such innovative and intriguing works as Twin Oaks, 1956; Sea, Rocks, Light, 1966; and Offshore, 1970.
Located on the departures level in the pre-security area between Terminals 2 and 3, this show is accessible to the general public any time of the day or night through the end of May. Click here for a map of the SFOM galleries. Our show is in Gallery D1. To view a series of installation shots, click here.
Recently, Ramekon gave Gene and me and our nephew Gary Wilson a tour of the show during which we discussed possible future shows of Wynn's abstract color work as well as ones featuring the work of Wynn's wife Edna. We were very impressed with all we learned about the Museum and its extensive exhibition program.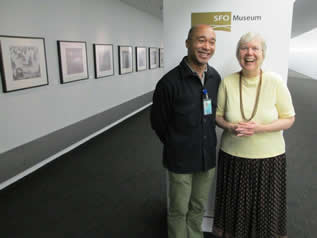 Photography curator Ramekon O'Arwisters and Barbara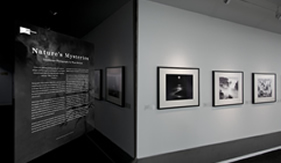 The other end of the show
In 1999, nineteen years after its modest beginnings, SFOM became the first museum in an airport to receive accreditation from the American Alliance of Museums. Today, the Museum manages twenty-five galleries (16 of them in pre-security areas) that offer a rotating schedule of art, history, science, and cultural exhibitions. SFOM also includes the San Francisco Airport Commission Aviation Library and the Louis A. Turpen Aviation Museum. For more information about this outstanding educational and cultural institution, click here.
---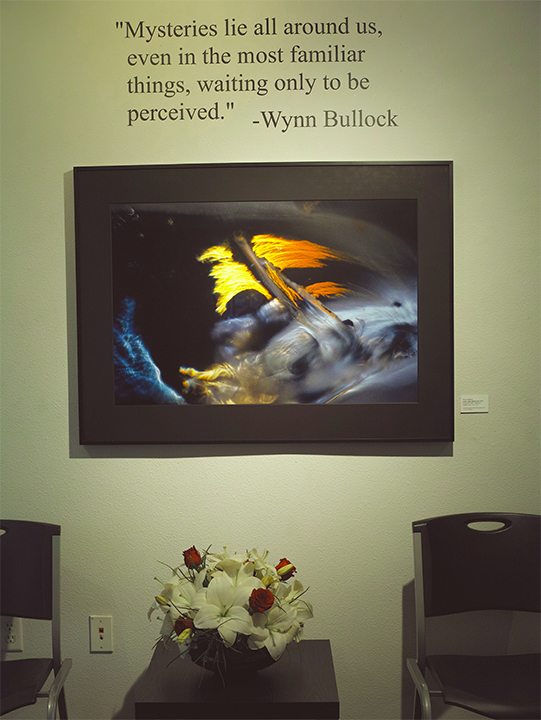 Title Wall for Step-up Gallery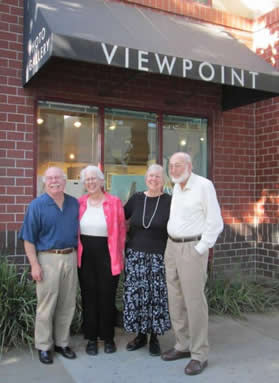 Wynn's younger daughter Lynne with husband Gil
and older daughter Barbara with husband Gene
The third solo exhibition of Wynn's work to open this spring was Wynn Bullock: A Retrospective of an American Master. On display from April 8 to May 2, this show featured forty-two contemporary prints of Wynn's black-and-white images, ranging from his early work of the 1940s to the last work of the 1970s. And like the exhibition prints in Russia, all forty-two limited edition, collectible prints were available for sale.
Making this exhibit a true retrospective, Viewpoint also showcased eight prints from our Color Light Abstraction traveling show. With this inclusion, the Sacramento center became the seventh venue to display these stunning photographs.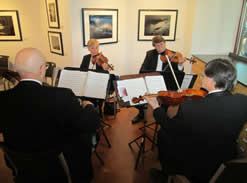 Camellia String Quartet
In celebration of Wynn's birthday on April 18, Viewpoint hosted a gala party and fundraiser for the Center. The evening featured live music by the Camellia String Quartet; sumptuous refreshments, including birthday cake; auction and raffle items, two of which were donated by Bullock Family Photography; and short presentations by Center staff,
April 19 - Sunday Brunch
curator Chuck Farmer (a dear friend and colleague we've known for almost 20 years), and me. My sister Lynne and I signed dozens of copies of
Wynn Bullock: Color Light Abstractions
and the recently published monograph
Wynn Bullock: Revelations
. We also had the pleasure of signing several other Bullock books which people had treasured in their libraries for years and had brought with them to the event to be inscribed.
On the morning of April 19, Lynne, her husband Gil, Gene, and I were the honored guests at a brunch given at the home of Board President Judy Yemma and her husband Ron.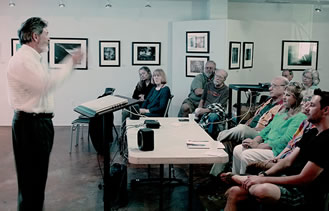 April 19 - Larry Gustafson during his presentation about Wynn
It was another wonderful event where we had the opportunity to become better acquainted with several dedicated staff members, volunteers, and friends of the Center.
That afternoon, Larry Gustafson, a photographer, writer, and long-time fan of Bullock photography from Taos, New Mexico, presented an illustrated talk entitled "Wynn Bullock and his Creative Power".
For a gallery of photos taken during the April 18-19 weekend, click here. For more information about Viewpoint and all its programs and activities, click here.
---
Come see the beautiful Wynn Bullock solo show up now, with his classic black-and-white work, Color Abstraction series and special LensWork gelatin silver portfolio prints! You can also call to make an appointment for a private viewing of Wynn's original prints. ~ Posting on the Ryan Gallery Facebook page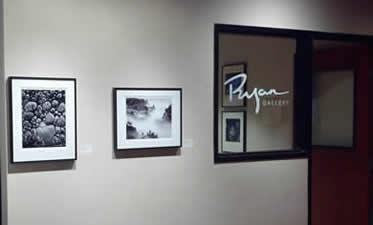 We are very pleased to announce that Art Intersection's Ryan Gallery is now representing Bullock photography. Unlike some of our representing galleries, this newest addition will be handling Edna's work as well as Wynn's.
At the time we met Alan Fitzgerald, the founder of Art Intersection, it was a relatively new center focusing on its educational and exhibition programs. In 2013, we participated in wonderful show there titled Lineage & Legacy that featured the work of Wynn and Edna, along with the photography of Imogen Cunningham and her son Rondal Partridge.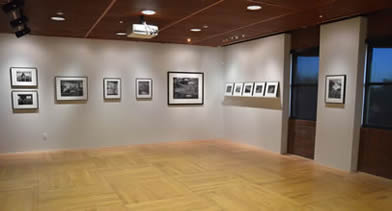 Out of this project, we established close relationships with Alan and his staff. When they decided to form a new branch of their enterprise to actively represent the works of a small group of artists, we were delighted to accept their invitation to become a part of that group.
Named for the Fitzgerald's son Ryan, who tragically died in his twenties and was the inspiration for the establishment of Art Intersection, the Gallery will be managed by Alan and his associate Gina DeGideo.
For further information about this new effort, click here.
---
I just listened to the commentary for the Featured Image Child on Forest Road, 1958. What an interesting story behind this truly wonderful photograph! Of Wynn's photographs that I have seen, this one remains a favorite. The back story is rich and interesting; photographically, this reminds me that often inclusion of people in an image can make an ordinary photograph, extraordinary. Count me among those who love it. ~ Bill Chiechi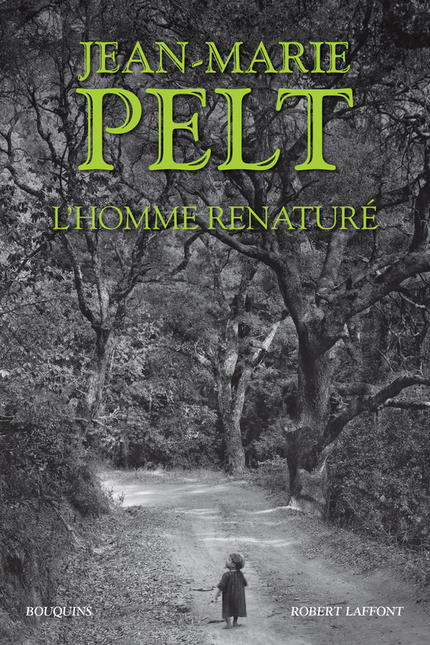 Wynn's beloved photograph Child on Forest Road has once again been chosen as the cover image for two books. The first is L'Homme Renaturé by Jean-Marie Pelt, a renowned French biologist, botanist, and pharmacist. Professor Pelt is the author of many scientific articles and books on plant biology and urban ecology and is widely admired in France as the producer of several television series and radio broadcasts on these subjects. Originally published in 1977, this new, updated book was released just a few weeks ago by Éditions Robert Laffont.
The second book to feature the image will be BOY: A Woman Listening to Men and Boys by Hathaway Barry. This book is still in the process of being edited, but, according to Hathaway, the end of that stage is in sight. She recently wrote that Wynn's "beautiful photograph remains at the center of the whole project."
---
I was looking at Wynn's color abstractions today and I realized that I was seeing the universe, quite literally, at play. Some lyrics from a George Harrison song came to mind, from the Brainwashed album that he recorded shortly before he died: "Universe at play/Inside your DNA/ You're a billion years old today". It occurred to me that Wynn Bullock and George Harrison probably would've enjoyed each other's company.
~ Paul Cotter, photographer, San Francisco Bay Area www.paulcotterphotography.com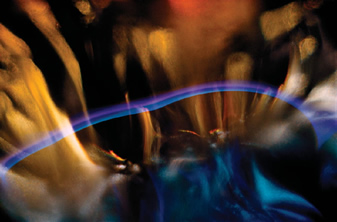 Color Light Abstraction 1007
(1961)
Earlier this year, David Gordon, our fabulous webmaster, and his wife Ginna BB Gordon moved from Carmel Valley, only a couple of miles down the road from us, to Jacksonville, Oregon. Just like it's been with our file manager Erik Peterson who is currently living in Singapore while his wife Michelle Merrill works on a post-doctoral project at Nanyang Technological University, David's work with us is continuing seamlessly, thanks to the Internet, phone calls, and periodic visits.
One of the first projects we tackled after his move was to update several sections of our website, including the creation of a whole new gallery of Wynn's Color Light Abstractions. There are now a dozen new images on our website and I invite you to check them out here.
---
Sometimes it's really hard to turn the page [of a Wynn Bullock calendar]…. During the month I get so attached to an image, I have a hard time going on to the next. However, that passes pretty quickly once I see the next image! Being from an analog "film & paper" background, I sometimes wonder what went through Wynn's mind as these terrific images emerged in the developer tray. I imagine him singing. I know they sing to me! Thank you again for making these available and keeping Wynn's legacy alive! ~Gerry Meekins, photographer, Maryland www.gerrymeekins.com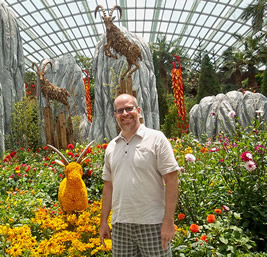 Erik Peterson in Singapore taking a break from calendar work
As I write this newsletter, Erik Peterson in Singapore is working on our new 2016 calendars. For 2015, we produced two collectible Wynn Bullock calendars – one featuring twelve of his iconic black-and-white images and the other showcasing twelve of his stunning Color Light Abstractions.
Offering two different calendars was an experiment on our part. Given the very positive response we received, we'll be producing two new yearly calendars from now on.
Production of the new calendars will be completed this summer and they will be available for purchase on our website beginning in September. In the meantime, click here to view the two cover images.
---
To quote a line from John Lennon's song Beautiful Boy (Darling Boy), "Life is what happens to us while we're making other plans." I had fully intended to get this newsletter out at the end of February or early March. My goal then moved to April. What life handed to us while I was busy with all these good intentions was a series of medical emergencies. First, there was Gene's bilateral pneumonia and pleurisy. Shortly after that diagnosis, he suffered a severe kind of neck spasm called torticollis. About two weeks later, he was hospitalized for deep vein thrombosis in his right leg for which he is continuing to be treated. Currently he is coping with additional lung issues which have yet to be diagnosed and addressed. It's been a challenging start to the new year, but we have a good team of health care professionals working with us and our spirits remain strong and positive.

Until next time, warmest greetings and best wishes,


Barbara Bullock-Wilson, Managing Member
Gene Bullock-Wilson and
Lynne Harrington-Bullock, Members
Bullock Family Photography LLC
---
Go to the Wynn Bullock Photography Home Page

Copyright © 2021 Bullock Family Photography LLC. All Rights Reserved.
Wynn Bullock Photography website and newsletter designed and managed by David Gordon