---
Contents: Calendars, Cards, & Posters! | Event Highlights | Featured Images | On the Horizon | New Guestbook
---
We enjoy staying in contact with the heirs of several important photographic estates. We share experiences – both rewarding and challenging; learn from each other; and help keep spirits up. From time to time, we also fulfill requests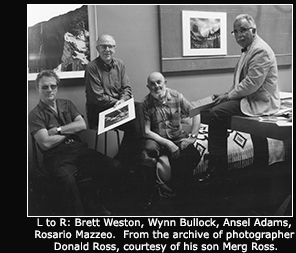 for information and materials as well as offer unexpected gifts that enrich our respective archives.
We were recently the recipients of such a gift from Merg Ross. Son of San Francisco Bay Area photographer Donald Ross, Merg is a noted commercial and fine art photographer himself. The two images he sent us are from his father's archives and show Brett Weston, Wynn Bullock, Ansel Adams, and Rosario Mazzeo consulting with each other at Ansel's Carmel home during the early years of Friends of Photography.
All these men were active in the formation of the organization with Ansel serving as its core founder and initial president, Brett as vice-president, Rosario as secretary, and Wynn as fellow trustee and exhibition committee chair. Although Merg does not know who took the photos, he believes they date back to the early 1970s. They are historical treasures and we are so thankful to Merg for sharing them with us.
---
CALENDARS, CARDS, AND POSTERS!
" Reflecting his unquenchable curiosity and profound wonderment in life, Wynn's photographs are not only the embodiment of his own creative journey; they serve as an inspiring legacy for new generations of seekers as well." ~ from the 2013 Wynn Bullock Calendar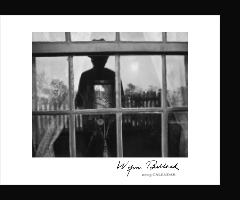 One reason you haven't heard from us in a while is that we've been very busy expanding our online store with Wynn Bullock calendars, note cards, and posters.
The 2013 Wynn Bullock Calendar showcases ten black & white images and two Color Light Abstractions as well as a two-page introduction about Wynn's life and work. A selection of revealing quotes and thumbnail images is also included. The calendar measures 9" x 12" and is printed on fine quality stock with white Wire-O binding. Shrink-wrapped for protection in mailing, it retails for $20.00.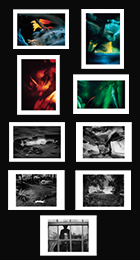 Our inaugural series of note cards features nine different images – 5 black & white images and 4 Color Light Abstractions. Each card measures 5" x 7" and is printed on high-quality card stock with an aqueous coating that provides a beautiful and protective finish. The premium quality envelopes are creamy white.
There are several options for ordering:
• set of 10 black & white cards with envelopes (2 of each image) for $20.00;
• set of 8 Color Light Abstraction cards with envelopes (2 of each image) for $16.00;
• mixed set of 9 cards with envelopes (1 of each image) for $18.00;
• custom set of your own choosing for $2.50 per card (8-card minimum).
Both our Wynn Bullock calendars and our note cards are printed locally by Community Printers in Santa Cruz, one of the finest, environmentally friendly printing establishments in our area. Working with them allows us to conduct both proof and press checks that ensure remarkable image fidelity. This, along with the use of quality materials and moderate pricing, makes these items exceptional values.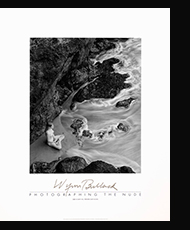 As for our line of posters, we are currently offering two for sale. One is a beautiful, large-format poster that was produced in 1984 to accompany the book Wynn Bullock: Photographing the Nude. Featuring the book's cover image Girl on Beach, 1968, this ready-to-frame vintage poster measures 24" x 30" and retails for $100.00.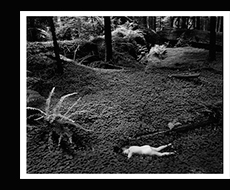 The other collectible poster features the image of Child in Forest, 1951. Produced in 1971 by Homestead Productions, the last remaining copies were acquired by Wynn's family before Homestead closed its business. This rare vintage poster measures 32" x 25". Although the reproduction quality is excellent, the paper stock is relatively thin and requires careful handling and professional framing. We are making these posters available at $75.00 each.
We invite you to go to our website for more information and ordering. We are pleased and excited about these new additions to our Online Store offerings and we hope you will be, too!
---
EVENT HIGHLIGHTS
"This September, Rfotofolio had the honor of spending time with Barbara and Gene Bullock-Wilson at their home in Carmel, California. We went there in the hopes of learning more about Barbara's father, Wynn Bullock. In the process, we also received a wonderful introduction to the photography of Edna Bullock, Wynn's wife and Barbara's mother. Edna's story and photography were inspiring. We will be sharing her art and Wynn's over the course of the next year." ~ from "A Rare Opportunity" October 2, 2012.
RFOTOFOLIO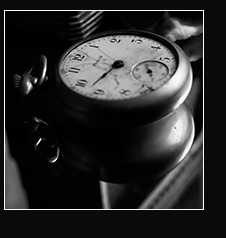 In mid-September, we had the pleasure of meeting Connie and Jerry Rosenthal, two people who are passionate about photography and who have created a beautiful new blog site called RFOTOFOLIO. The purposes of this site are to provide a place for the Rosenthals to share their own work, to celebrate other photographers whose lives and work they find particularly inspiring and meaningful, and to promote the art of photography through the sharing of information and resources. We are delighted that they want to do an in-depth exploration of Bullock photography as practiced by both Wynn and his wife Edna. They plan to produce several features and an introductory piece has already been posted (see "A Rare Opportunity", October 2, 2012). We admire their efforts to educate, disseminate, and appreciate, and we look forward to working with and learning from them in the months and years ahead.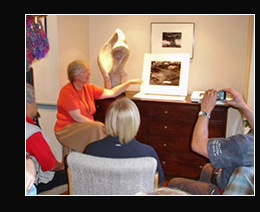 CRAIG VARJABEDIAN'S WORKSHOP VISIT
Last month, noted Santa Fe photographer Craig Varjabedian brought a group of image-makers to the Monterey Peninsula for his 'Photographing the California Coast from Monterey to Big Sur' workshop. He began their week-long activities with a visit to our home. The scheduled two-hour presentation on Wynn and Edna Bullock photography morphed into four full hours of story-telling and picture viewing. Craig's participants who had come from as far away as New York, Texas, and Japan proved to be a most attentive and enthusiastic group and we all had a great time together.
CANON PHOTO CIRCLE MAGAZINE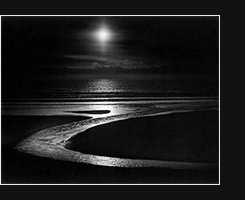 Canon Photo Circle is a 50-year old member organization of amateur photographers in Japan. MOSH Books Ltd. produces a monthly magazine for the group called Moments and the editors have developed a series which features pivotal images in the history of photography. The October 2012 issue presents Wynn's image Let There Be Light, 1954, which was one of two photographs that began the famous Family of Man exhibition. If I could read Japanese, I could comment on the text accompanying the image, but, as it is, I can only report that they did a beautiful job reproducing what the editors described to me as "one fateful picture...which will forever be remembered by many people".
---
A QUARTET OF FEATURED IMAGES
" For Wynn, being an artist in the fullest sense meant combining the process of creativity with one of philosophical questioning. He loved the fact that looking deeply inspired him to both create and think." ~ Chris Johnson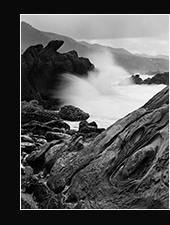 With this newsletter, we have several Featured Images to share. All the commentaries which accompany the images are presented in both written and audio versions. In this set, two are by guest commentators and two of them are by me. Clicking on either the thumbnails or image titles in this section will take you to the respective Features and closing the pages will bring you back to the newsletter.
Our Featured Image for June is Point Lobos Wave, 1958. Often referred to as "the crown jewel of the California state park system", Point Lobos State Reserve was only a short ten-minute drive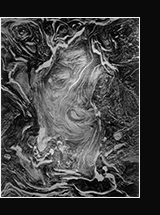 from Wynn's home. It was not only one of our family's favorite recreational haunts, it was alsoan exceptional source of inspiration for Wynn's image-making. Whenever he was at Lobos, he experienced a deep sense of joy and receptivity, and this photograph is a vibrant symbol of both the spirit of the Reserve and his connection with it. Seven additional images that Wynn made at Point Lobos are included in the Feature.
For July, Chris Johnson shares his thoughts on Wood, 1972. Professor of photography at the California College of Arts in Oakland, Chris first met Wynn in the early 1970s. Although each came from radically different backgrounds and they were more than 50 years apart inage, both men felt an immediate affinity of mind and soul. Chris has become one of the most knowledgeable scholars of Bullock photography and his reflections are always insightful andrewarding.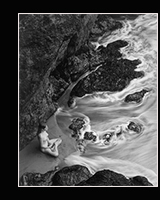 Girl on Beach, 1968 is August's Featured Image. This image graces the cover of the 1984 bookWynn Bullock: Photographing the Nude and is one of the two photographs available in poster form from our Online Store. Two of our subscribers wanted to know more about this image and asked that we include it in our Featured Image list. In his request, Chuck Trotter,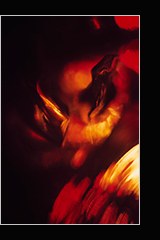 a photographer from Tennessee, said "I have always loved that image. There is such serenity about the young lady as she faces the chaos just beyond her. It's as though the very cosmos is swirling around her with the darkness of the cliffs looming over her. Yet she has created an island of calmness and tranquility around her that keeps such chaos at bay."
The final selection in our quartet of images is September's Color Light Abstraction 1061 (Early 1960s). The guest commentator is Ziggy Evitts, a young writer and musician from England who has a thoughtful appreciation for the visual arts in general and an especially deep connection with Wynn's imagery in particular. It is a treat to read and hear Ziggy's reflections on CLA 1061 and we are enormously pleased that he has agreed to do a guest commentary on one of Wynn's black & white images next year.
---
ON THE HORIZON
" Look closely at this deceptively simple photograph and you find both irony and insight at play. The boy (who is holding a fishing pole) is standing in the midst of complex spatial and temporal relationships of which he is an unsuspecting, yet integral, part. It is the photographer's awareness of the totality that gives this image its intriguing power." ~ commentary for Boy Fishing, 1959, from the book Wynn Bullock 55, co-authors Chris Johnson and Barbara Bullock-Wilson, Phaidon Press, 2001.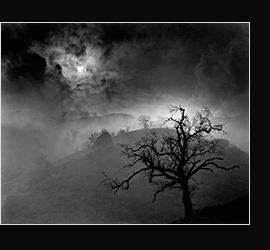 The exhibit Wynn Bullock and Oliver Gagliani: Vintage Photographs will be on display at the Weston Gallery in Carmel, California from November 17 through January 6, 2013. Spanning a period from the early 1950s to the 1970s, Wynn's imagery will include important early prints of Child in Forest, 1951 and Stark Tree, 1956, along with a fine selection of photographs from the Bullock Family Estate. Oliver will be represented by images dating from the late 1960s through the early 1980s and will include his graphic image Wallpaper as well as his dark and mysterious Attic Windows. Offering the opportunity to view the work of two special artists in a lovely, intimate setting, the show will make a wonderful holiday outing for locals and visitors alike.
We are preparing for an exhibition of Wynn's work that will be on display at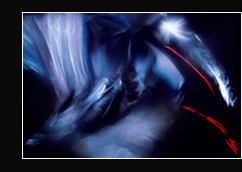 the Emerald Art Center in Springfield, Oregon. The show will include a broad range of Wynn's black & white imagery as well as a distinctive grouping of his Color Light Abstractions. Curated by Guy Weese, the Center's Gallery Director, and Susie Morrill, photography instructor at nearby Lane Community College and long-time fan of both Wynn's and Edna's artistry, the show will open on December 3 and run through December 31. A reception is planned for Friday evening, December 14. Although Gene and I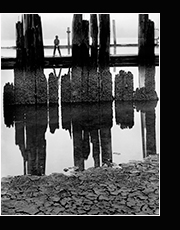 won't be able to attend, we hope several of our Pacific Northwest friends will visit the Center that evening and thank Guy and Susie for their contributions to the show.
Plans are developing nicely for the spring 2013 exhibit of Wynn's photography at the de Saisset Museum at Santa Clara University. Lindsey Kouvaris, curator of exhibits, will be meeting with us next month to make the initial selection of prints. Wynn's last solo show at the Museum was held in 1975 in conjunction with the memorial celebration of his life which took place on the campus. The exhibit consisted of twenty original Color Light Abstraction prints which Wynn had previously gifted to the Museum – a set which has remained one of the most significant institutional collections of that work in the world. We have a long, heartfelt history with the Museum, and we are so pleased to be working with the staff at de Saisset once again, this time on an exhibit that will bring fresh attention to Wynn's final body of black & white abstract imagery.
---
OUR NEW GUESTBOOK
"For twenty years, I have created art that combines Haiku with photography. For me, Wynn Bullock is a very important Master both in his thinking and in his photographs." ~ Jean-Louis d'Abrigeon, poet and photographer from France
With the help of our fabulous website designer/manager David Gordon, we have developed a new section on our site called "Guestbook". You'll find the link to it in the dropdown menu for About Wynn.
Since we've been online, we've received a lot of wonderful comments from our visitors, including interesting anecdotes and new information about Wynn's creative journey. Guestbook is where we can now share this feedback with you.
You'll find a convenient form there to send us your own comments, stories, questions, and suggestions. Your input will come directly to us for review and response.
Offerings of general interest will be added to the Guestbook and eventually, as entries accumulate, they will be archived by date for future access.
Awareness and appreciation for Bullock photography is growing and deepening around the world. Our Guestbook is a place where you can actively participate in - and contribute to - that process.
---

Until next time, warmest greetings and best wishes,


Barbara Bullock-Wilson, Managing Member
Gene Bullock-Wilson and
Lynne Harrington-Bullock, Members
Bullock Family Photography LLC