Contents:
A New Show of Edna's Nudes! Emil & Edna – The Mystery of 'Nude in Tall Grasses'
The Future of Wynn's and Edna's Photographic Legacies Upcoming Exhibitions and Publications
Wynn's Work in Two New Institutional Collections
---
Exhibit Opening with Rachael Short, Corey Madden,

Barbara B-W, and Gina Weston to Start Things Off!

Barbara and Rachael at the Close of a

Lovely Evening (Photos © Gary Wilson)
"LOCAL INSPIRATION OF THE DAY: The photography space Gallery Exposed (San Carlos Street, between Ocean and 7th, Carmel) is opening a new photography exhibit titled Edna's Nudes. Edna Bullock (1915-1997) began her career in photography in 1976, a year after the death of her husband and renowned photographer Wynn Bullock. She was 61. She tackled her new venture with typical zeal, and in an amazingly short time, friends such as Ansel Adams, Morley Baer, and Ruth Bernhard witnessed her evolution from student to workshop assistant to fellow teacher and exhibitor." ~ Monterey County Weekly, June 10, 2022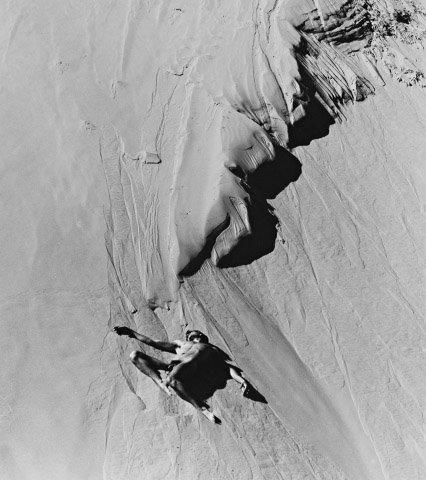 David at the Point, 1984
On November 18, 2019, Rachael Short, owner of Gallery Exposed in Carmel, CA, emailed me with an invitation to have a show of Edna Bullock's work. I accepted with delight, and we soon developed plans to showcase a subset of images from Edna's Nudes, a landmark monograph published in 1995.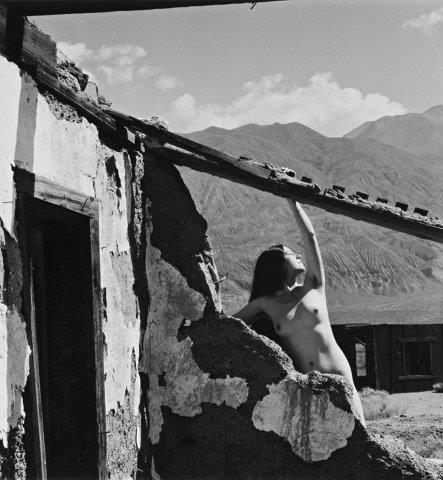 Pat, 1990
Working with Rachael through the winter of 2019/2020 was a joy. We ended up selecting 18 images (two of which weren't in the original show) and I had a wonderful time curating the sequence to fit Rachael's intimate space. View the layout here. (Close the PDF to return to this page.) I had all the prints framed, an installation date was set, the opening was scheduled for May 2020 (the 25th anniversary of Edna's Nudes), and then COVID hit!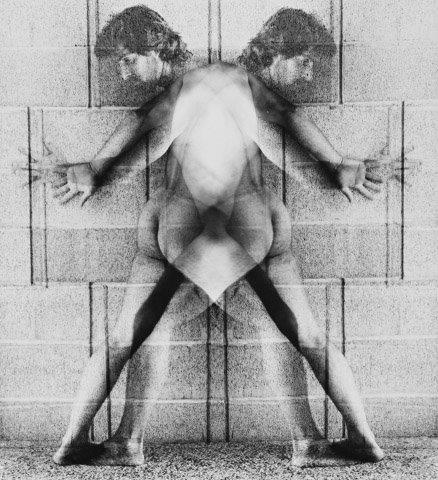 Duality, 1990
Over the next year and a half, Rachael and I periodically checked in with each other, tentatively setting new dates for the show. This spring we finally decided to go for it, and Edna's Nudes at Gallery Exposed (what a perfectly named venue!) opened with a lovely reception on June 10.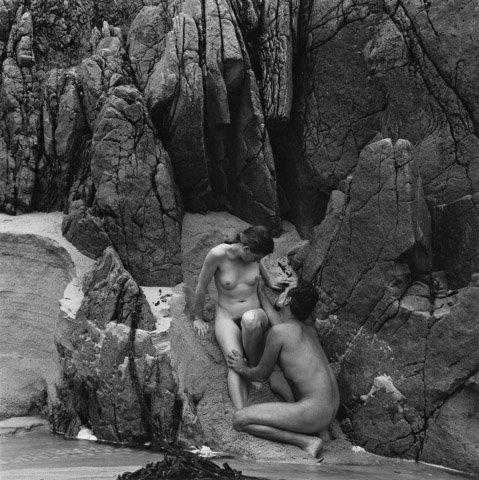 Nude Couple at Garrapata Beach, 1987
All eighteen of Edna's iconic nudes are available for sale either as signed, vintage photographs or authorized limited edition, fine art estate prints. View the pricelist here. (Close the pdf to return to this page.) In addition, there is a very special historic photograph of Edna's image of Nude in Tall Grasses, 1987 that was recently featured in an article published in the online journal Voices of Monterey Bay (more about this in the next section of our newsletter). This beautiful photograph is also for sale with proceeds going to support the campaign to raise funds for UC Santa Cruz's acquisition of the Bullock Family Photography Archive.
Front cover of
Edna's Nudes
Edna's Nudes will run through the summer with two additional events planned. First, the Gallery will participate in Carmel's annual summer "Photo Walk" on July 9 from 4-6pm. The event will culminate with a reception at the Center for Photographic Art from 6-7pm. Second, the closing of the exhibition will be marked with another event on September 9 from 5-7pm. Throughout the summer, the Gallery will be open by appointment (831-238-0127).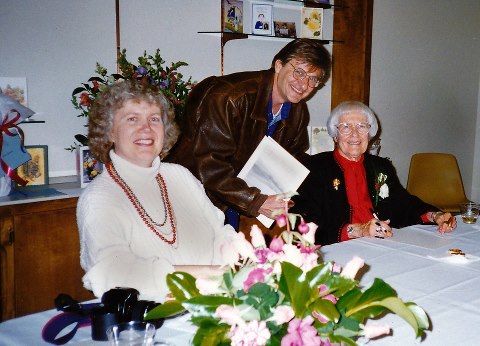 Edna's Nudes Premiere and Book Signing, May 1995
The original Edna's Nudes exhibition and book on which this show is based was inspired by enthusiastic participants of Edna's very popular "Photographing the Nude" workshops which she led throughout her career as a fine art imagemaker. Eager to see more of her work, her students would keep asking her where they could buy her books and for years she would say, "There aren't any." Finally, I offered to help her create one and Edna's Nudes was born.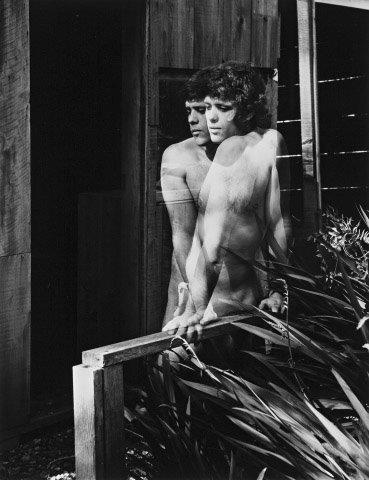 Untitled #1, 1984
Published by Capra Press, the monograph featured 74 images and an Afterword by Karen Sinsheimer, the then curator of photography at the Santa Barbara Museum of Art. I wrote the Introduction and a comprehensive Vita, amply illustrated with photos of Edna taken throughout her life. Interspersed among the images were four sections of wonderful anecdotes and reflections I had assembled from written contributions from colleagues, students, models, family members, and other friends who had witnessed Edna's unique development as a visual artist.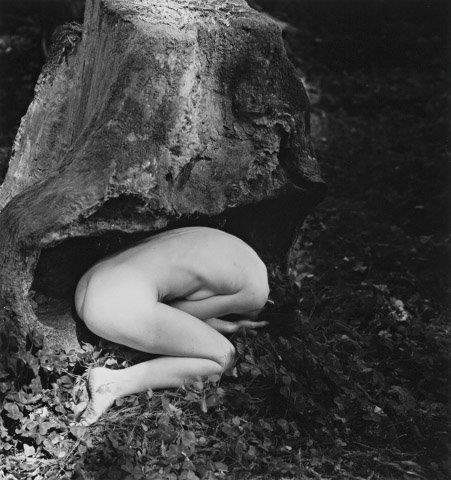 Jane in Tree Trunk, 1988
To accompany the book, we put together a traveling exhibition of all 74 selected works. The launch of the book and show was celebrated with what I fondly call "Mom's Big Bash" – a party co-sponsored by Carmel's Center for Photographic Art that took place a few days before her 80th birthday in CPA's neighboring Marjorie Evans Gallery. Hundreds of people attended the event which included champagne toasts, a large cake decorated with a marzipan nude, the reading of a Governor's Proclamation honoring Edna's life and creative journey, and a book signing that lasted several hours.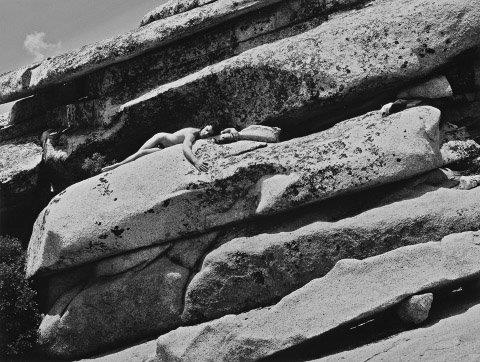 Michael at Olmsted Point, 1986
Over the next year and a half, we crisscrossed the country from California to Vermont and Washington to Florida, attending show openings and book signings. It was a grand tour, marked by published interviews, including a wonderful piece in the Boston Globe.
In reflecting on her work with the nude, Edna said:
"I have always enjoyed the human form, male and female, and photographing unadorned human beings in relation to themselves, each other, and their environments has been an enlightening, productive process for me.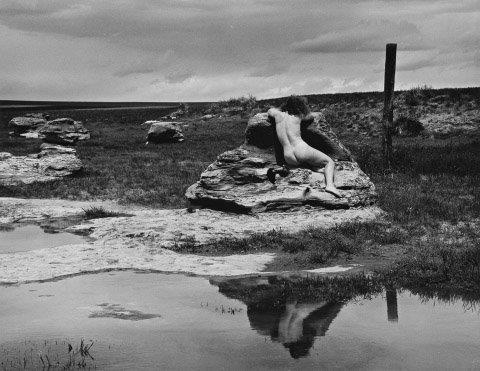 Sandy and Reflection, 1986
"Perhaps because I believe it is an area which has been neglected, I have particularly enjoyed exploring the male nude in natural settings. I've never been interested in photographing a male model as a 'macho' or sex symbol, but rather as a being in harmony and in contrast with the rest of life. How do the people I'm working with respond to being unclothed? How do they present themselves? How do they interact with each other? How do they move in and relate to their surroundings, especially outdoor environments such as sand dunes, forests, and rocky shores?
"These are the questions I'm interested in and I encourage the models I work with to feel and use their own responses and energies to establish themselves in a given setting.
"My aim is mutual discovery and collaboration and, if the partnership is successful, I end up with a photograph that has the power to engage the process anew with the viewer."
If you can, come to Gallery Exposed this summer and experience the power of her wonderful work for yourselves.
---
"The photograph is fine art, but it's also a significant footnote in the cultural-historical fabric of the region, with a threadline that connects some of the most interesting characters to roam Big Sur: Edna Bullock, Henry Miller, Emil White. As a relic, the photograph represents the intersection of art, culture, myth, mysticism, madness and sex that established the Big Sur aura. So what was it doing in a pile of bad student art, leaning against a folding table at a random yard sale in Prunedale?" ~ Excerpt from the article Emil & Edna by Joe Livernois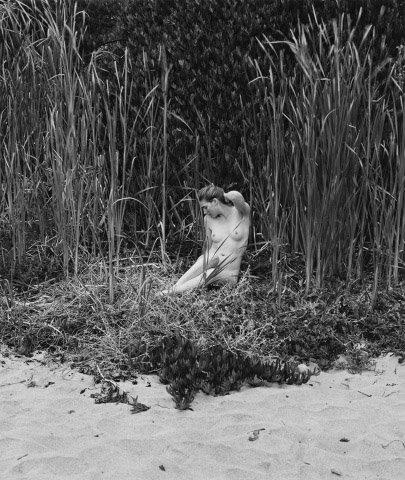 Edna Bullock:
Nude in Tall Grasses, 1987
Joe Livernois is a founding co-editor of Voices of Monterey Bay, a wonderful online English/Spanish journal that publishes both investigative news reports and feature articles which highlight interesting stories about people and events in the Monterey Bay region. The in-depth feature stories initially appear in a subscriber-based part of Voices intriguingly called "Where the Bodies Are Buried".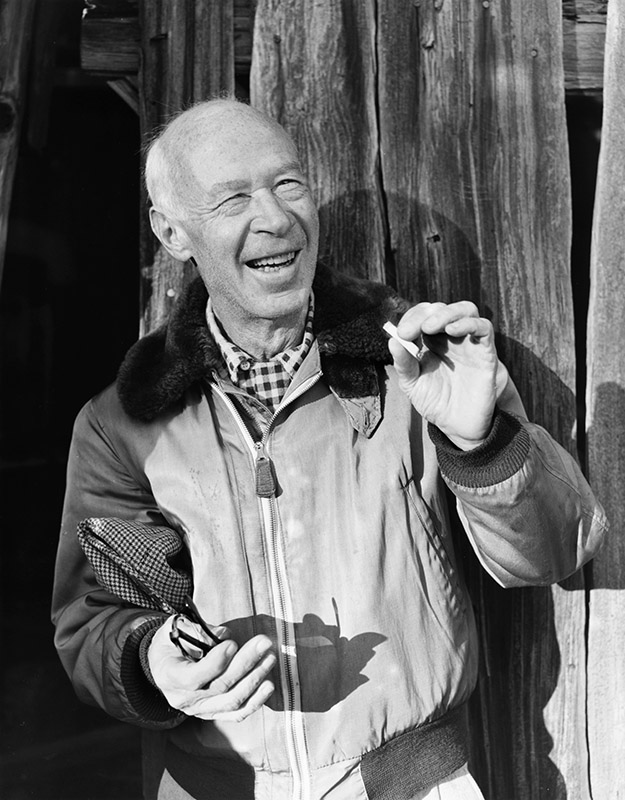 Wynn Bullock:
Portrait of Henry Miller, 1954
About twenty years ago, Joe was roaming around a yard sale in the small community of Prunedale in north Monterey County. Yard sales, even the most unprepossessing ones, can sometimes yield gems, and this one was no exception. Among a bunch of non-descript artwork, Joe discovered a framed photograph of exceptional quality. It was a lyrical image of a female nude in a natural setting. Looking closer, he saw it was signed "Edna Bullock". When he examined the back of the framed print, he learned that the title of the image was Nude in Tall Grasses, 1987/89 and that it was inscribed "For Emil on his 88th birthday, with love, Edna".
No one at the sale had ever of heard of Edna or Emil and they had almost nothing to share about how the photo had found its way to Prunedale. But Joe knew who Edna and Emil were and promptly bought the treasure.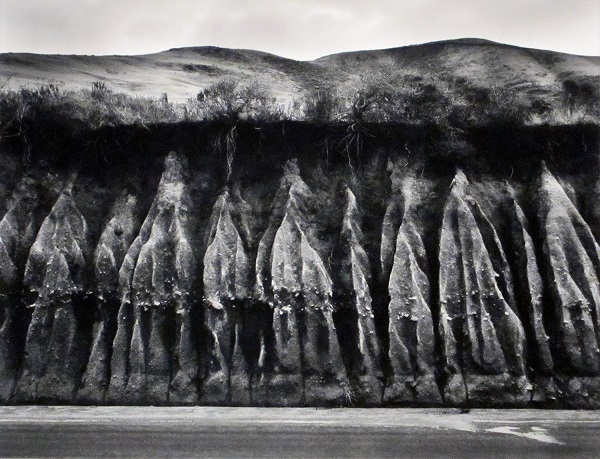 Wynn Bullock:
Erosion, 1959
For those of you who may be less familiar with the recipient of Edna's gift, Emil White was a quintessential Big Sur character who lived a colorful and free-spirited life. Known primarily for his close association with renowned author Henry Miller, Emil was also a gifted painter and publisher of Big Sur travel guides. Wynn met Emil in the late 1940s, not too long after moving to the Monterey Peninsula. They became good friends and this led not only to frequent photographic commissions for Emil's travel guides, but also to connections with Henry and many other Big Sur residents who opened their doors and hearts to Wynn and his artistic practice.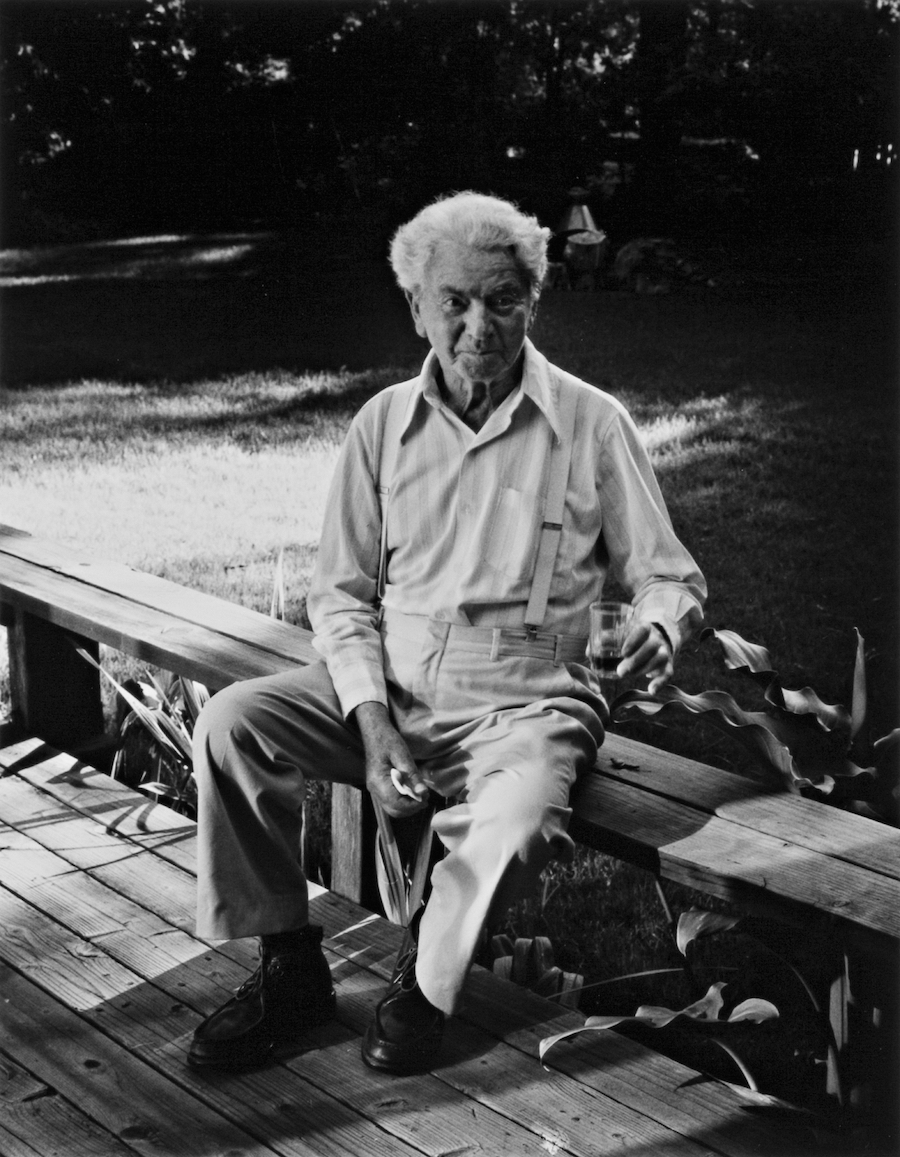 Edna Bullock:
Emil White, 1987 or 88
For one of the early editions of the Big Sur Guide, Henry wrote an article in praise of Wynn Bullock – Photographer. (Close the PDF to return to this page.) On another occasion, he wrote an inscription in a gifted copy of his book Into the Night Life that included the following: "For Wynn Bullock – who has revealed the soul of Big Sur in black and white as only the poet can. And who has revealed the beauty of my own home to me with his magic eye…."
When Edna took up the camera after Wynn died in the mid-70s, she continued a friendship with Emil. After Henry's death in the early 80s, Emil converted his home into the Henry Miller Library as a memorial to his friend and a local center for the arts. He encouraged and supported Edna's creative efforts by offering his property as a location for her workshops. She made several wonderful images there, including a lovely portrait of Emil taken in 1987 or 88. Although I don't recall Edna actually giving Emil the special print of Nude in Tall Grasses, I do have a few vivid memories of his 88th birthday party with Emil receiving friends at his kitchen table. Limited in movement by advanced Parkinson's, his eyes sparkled his love and appreciation to all who came to celebrate him. It was the last time our family saw Emil as he died a few months later.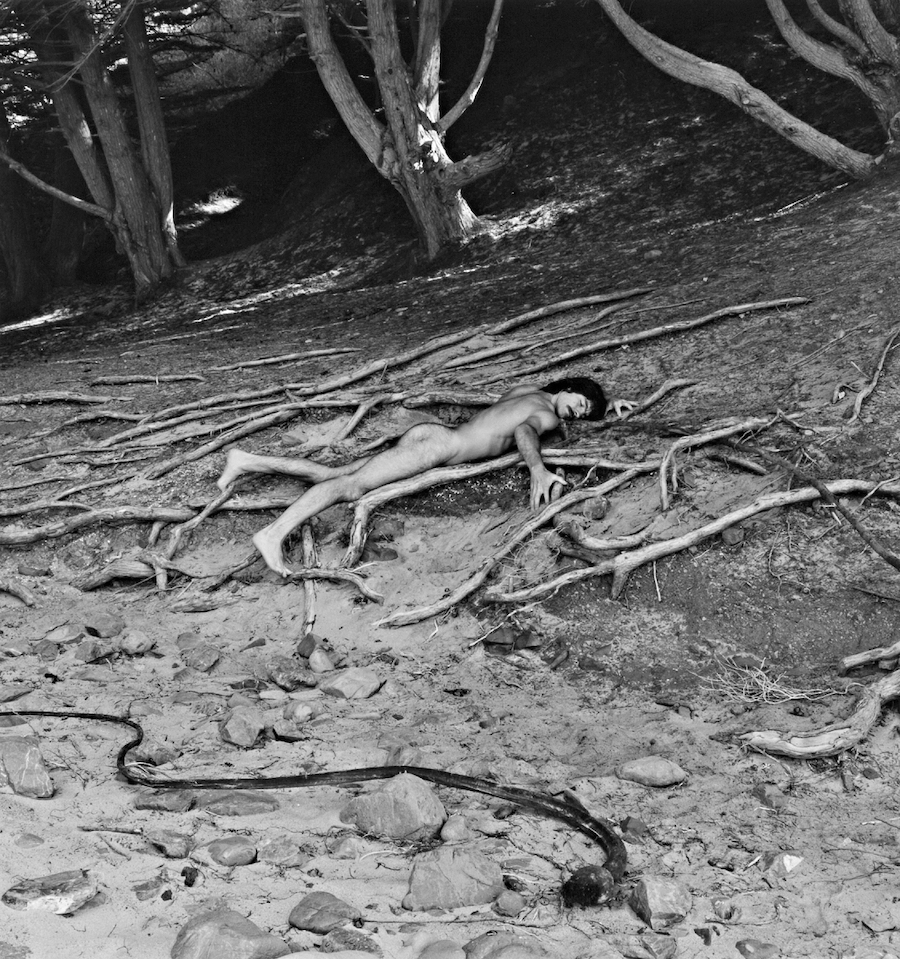 Edna Bullock:
Stefan and Roots, 1989
Ever since his yard sale find, Joe has been captivated by the mystery behind the photograph Edna inscribed to Emil, and a few months ago he finally decided to assuage his curiosity. His explorations into the backstory led him to me, Emil's son Stefan, and others who knew Emil and the Bullock family. His sleuthing, while not completely solving the mystery, yielded a wonderful article which was initially published on March 31, 2022 in Where the Bodies Are Buried. Weaving together the threads of the photograph with a colorful slice of Big Sur history, Emil & Edna is a fascinating tale which Joe has kindly given his permission for us to share with you. (Close the PDF to return to this page.)
As mentioned in the previous section, Joe has also very generously donated his historic, storied photo in support of the campaign to raise funds for the acquisition, preservation, and use of the Bullock Family Photography Archive by UC Santa Cruz Library's Special Collections and Archives. It is currently for sale at Gallery Exposed for $5,000 and is accompanied by a copy of Joe's article.
| | | |
| --- | --- | --- |
| | Barbara and Joe Livernois with historic Nude in Tall Grasses © Gary Wilson | |
---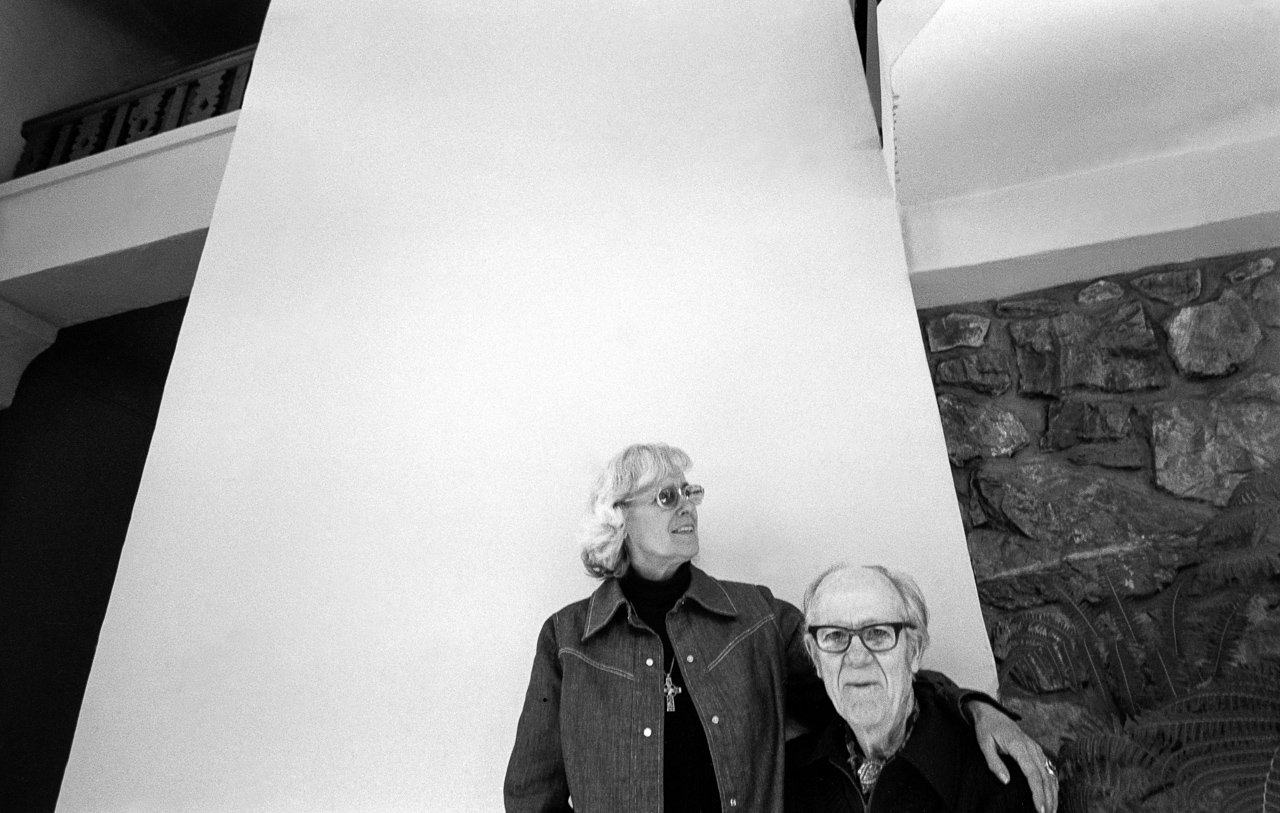 Edna and Wynn, 1975 © Neil Miller
"Wynn's legacy is the heart of the Bullock Family Photography Archive. At its core are well-over 450 vintage prints with impeccable provenance that document the full arc of his career and constitute a superlative representation of his work, extending far beyond most institutional collections.
"The Archive also includes the creative work of Wynn's wife Edna who was an important part of her husband's story for 32 years. Widowed at age 60, she chose to follow her husband's example and became a dedicated photographer in her own right. Featuring over 450 of her original prints, along with her negatives and proof sheets, Edna's collection adds both character and breadth to the holding.
"Barbara Bullock-Wilson's 55-year career as a writer, scholar, and manager of the family's artistic contributions forms the third dimension of the Archive. As an artist herself, Barbara's other creative writing pursuits are also amply documented.
"Funding the Archive represents a gift of major cultural significance. In addition to preserving historically important artistic legacies, it will ensure the ongoing life of Wynn's and Edna's photography to enrich and inspire future generations to contribute creatively to the vitality and well-being of our world." ~ Bullock Family Photography Archive Advisory Council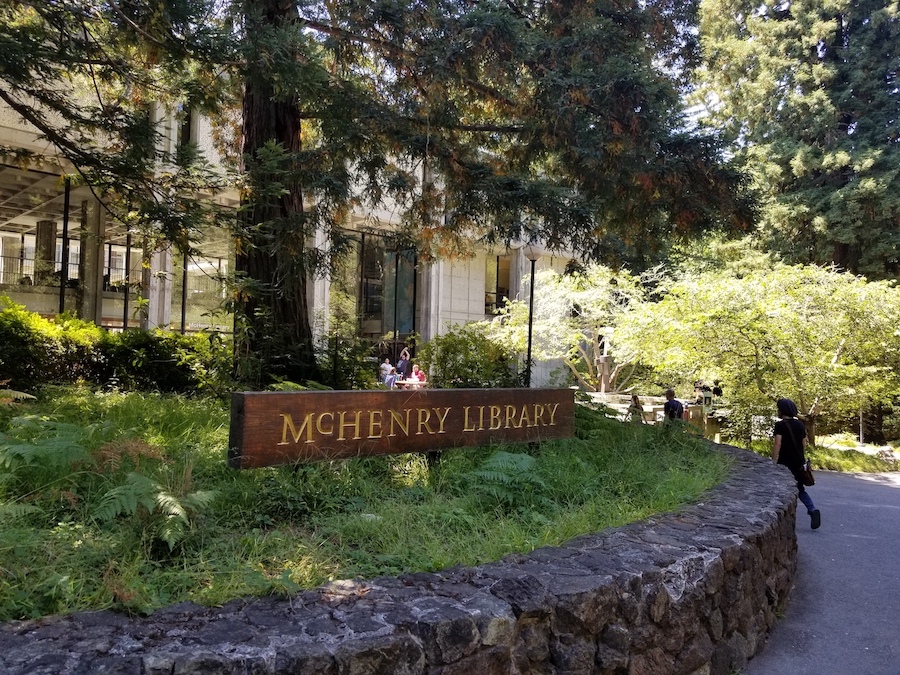 UCSC McHenry Library, Courtesy UC Santa Cruz
As it has been mentioned in several of our newsletters, it was the hope of both Wynn and Edna that a major Archive of their photography would find a home in a California institution near where they lived and worked. Over the years, I have assembled such a holding that extensively documents their respective creative journeys.
With the help of a volunteer Advisory Council composed of dedicated Bullock scholars and steadfast supporters, an agreement has been reached with UC Santa Cruz Library's Special Collections and Archives to acquire the Archive if funds can be raised for its purchase at a significantly discounted price.
Council members include Brett Abbott, Director and CEO of the New Britain Museum of American Art; Rev. John Buehrens, Past President of the Unitarian Universalist Association of Congregations; Chuck Davis, Artist and Cinematographer; Ann Jastrab, Executive Director of the Center for Photographic Art; Chris Johnson, Artist and Professor of Photography at the CA College of the Arts; Sebi Lee, Filmmaker and Producer; Connie & Jerry Rosenthal, Publishers of the online journal Rfotofolio; and Bob Sadler, retired Corporate Consultant and Fine Art Photographer.
| | | |
| --- | --- | --- |
| | | |
| Ann Jastrab (Courtesy of Moss Media) | Chuck Davis © Jerry Rosenthal | Brett Abbott © John Wilson |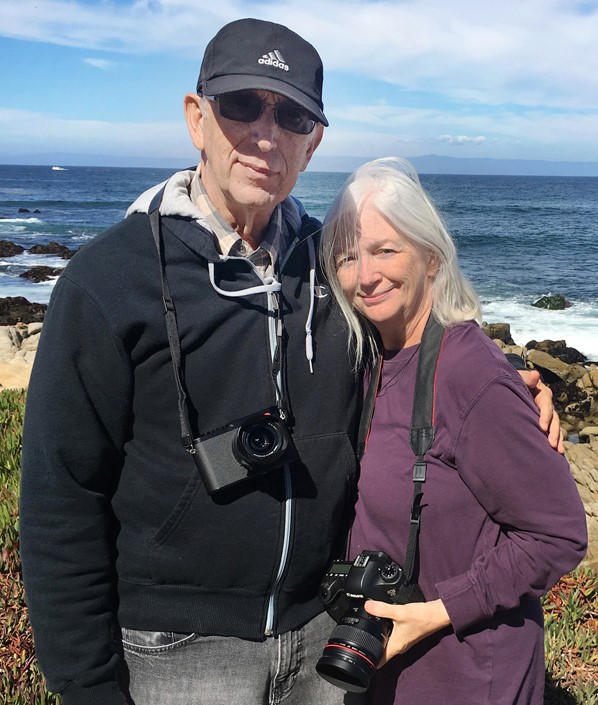 Jerry and Connie Rosenthal
© Chuck Davis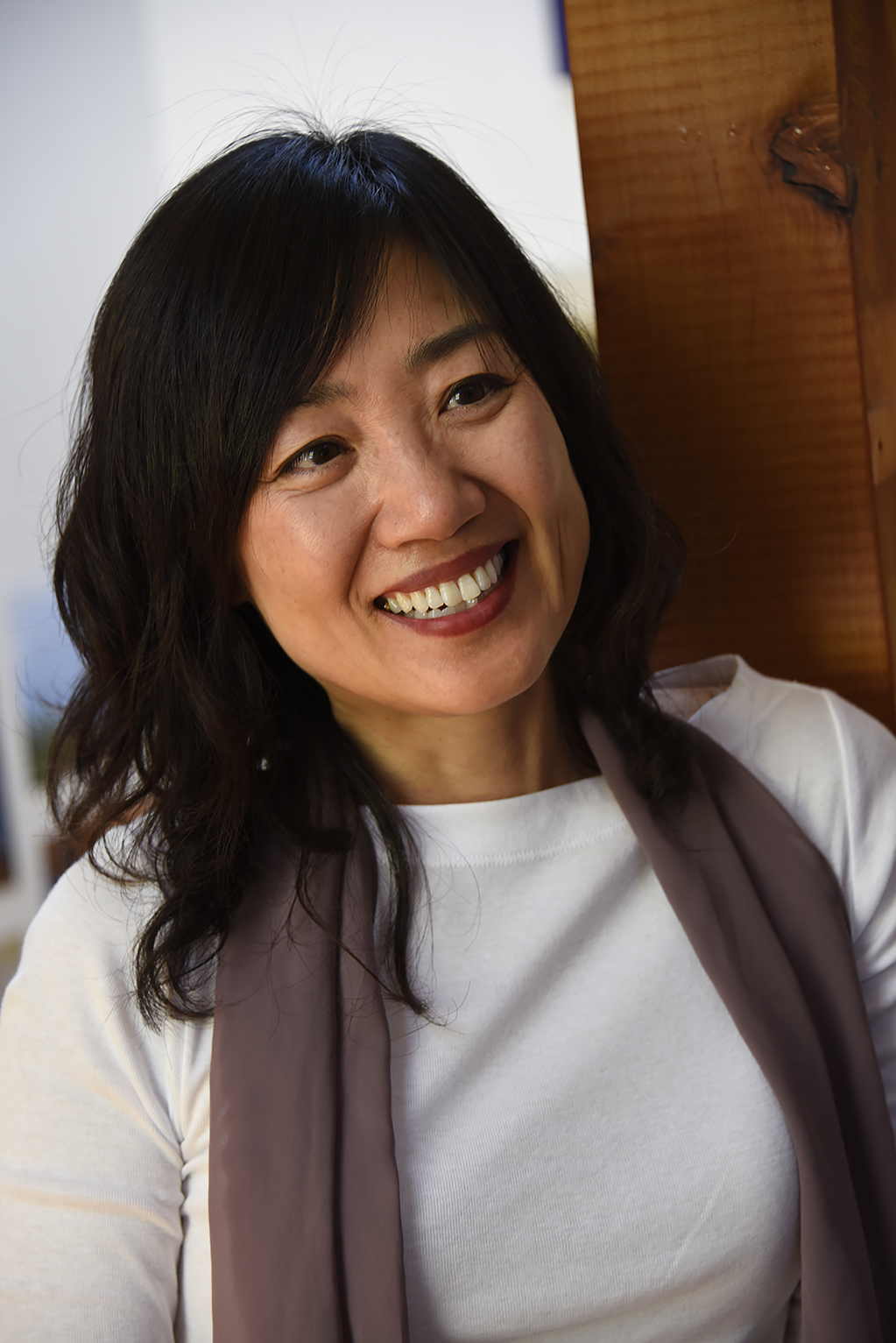 Sebi Lee © John Wilson
The Council is now at work on a fundraising campaign with the help and support of UCSC's Library development staff. All advisory team members are contributing to lists of potential donors and connector contacts. Connie & Jerry Rosenthal are coordinating social media efforts, including the development of posts on Instagram, Facebook, and Twitter. Sebi Lee is working on a short promotional video in consultation with Paul Cotter, a writer, imagemaker, Bullock photography fan, and retired marketing executive.
Chris Johnson, Rev. John Buehrens and Bob Sadler are arranging schedules for panel discussions and PowerPoint presentations focusing on Wynn's and Edna's lives and legacies.
On June 17, Bob and I delivered a presentation of Wynn's creative journey to the "Chowder Group" in Carmel which sponsors a monthly lunch and wide-ranging educational forum for their members. In the works is a presentation on both Wynn and Edna for the Community of Digital Artists (CODA) in Scotts Valley, CA. Other presentations and events are being planned for the fall. If you know of an organization that might be interested in learning more about the Bullock legacies and the opportunities our Archive project represents, please let us know.
| | | |
| --- | --- | --- |
| | | |
| Chris Johnson © Jack Wasserbach | Bob Sadler (Courtesy Bob Sadler) | Rev. John Buehrens (Courtesy Moss Media) |
John and Bob are also working with UCSC's development staff on a University crowdfunding page that will simplify the donation process. In the meantime, Bob Sadler has put together a two-page document about the Archive and campaign, including information on how to make a donation. (Close the PDF to return to this page.) All contributions are tax exempt and gifts of any amount are welcome and will be gratefully acknowledged. If you would like more information before making a donation, click here.
Updates will be covered in future newsletters as the campaign progresses. Even though I occasionally feel like I'm in the middle of an overwhelming whirl of activity, I continue to be so thankful for my team of advisors and their efforts to secure a home for the Bullock Family Photography Archive. And with contributions from people like you who have experienced the inspiring, transformative power of Wynn's and Edna's creative journeys, their heartfelt wish for their legacies to be placed an institution close to where they lived and worked will be fulfilled. A cultural treasure will be preserved and be available to inspire generations to come.
| | | |
| --- | --- | --- |
| | Gratitude © Noel Oard Mapstead | |
---
"I'm reaching out from Aperture Magazine where we're currently working on a special print issue to be published this September to celebrate the magazine's 70th anniversary. One of our writers will be discussing Bullock's work… and it would be great if we could illustrate the essay with these fantastic images: Burnt Chair and Woman and Thistle." ~ Varun Nayar, Assistant Editor of Aperture Magazine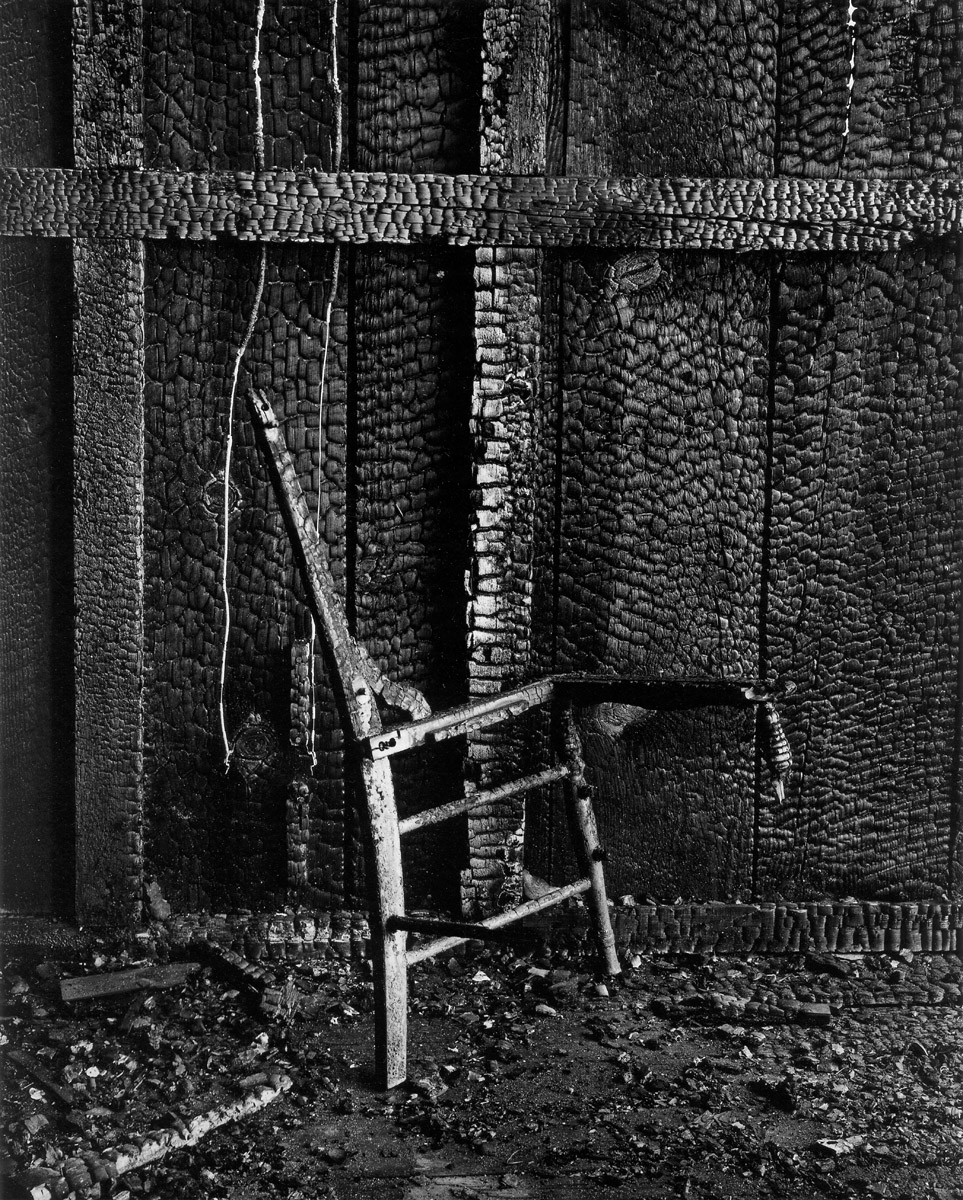 Wynn Bullock:
Burnt Chair, 1954
In 1952, a group of photography luminaries that included Ansel Adams, Dorothea Lange, Barbara Morgan, Minor White, and Beaumont and Nancy Newhall, founded a quarterly publication called Aperture, a "Magazine of Photography and Ideas". Its mission was to serve as the "common ground for the advancement of photography" and Minor White was appointed its first editor.
This fall, Aperture will publish a special issue celebrating the magazine's 70th anniversary. Several renowned writers and artists have been invited to reflect on the photographs and texts that have appeared in print over the decades.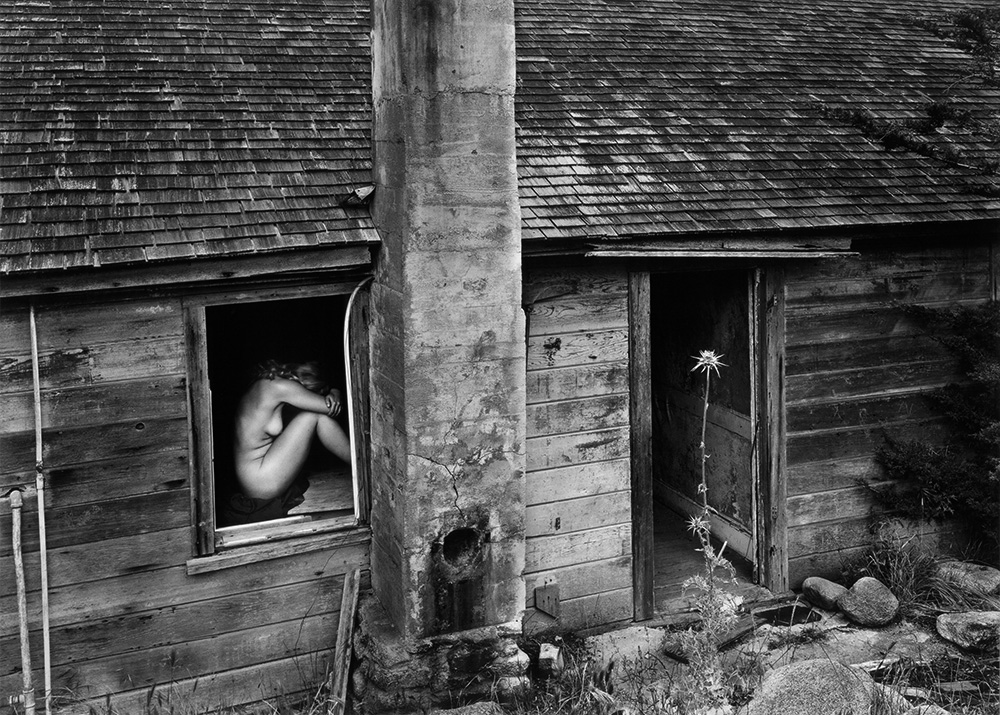 Wynn Bullock:
Woman and Thistle, 1953
One of the contributors will be writing an essay on themes and images from the 50s and 60s, and two of Wynn's works will accompany the essay:
Burnt Chair, 1954
and
Woman and Thistle, 1953
.
As an interesting historical footnote, Minor, in one of his early issues (Vol.2, No. 3, October 1953), published a feature titled "Portfolio" that included a selection of Wynn's images, along with a two-page essay by "Wynne Bullock" who still had not completely dropped the "e" from his name.
---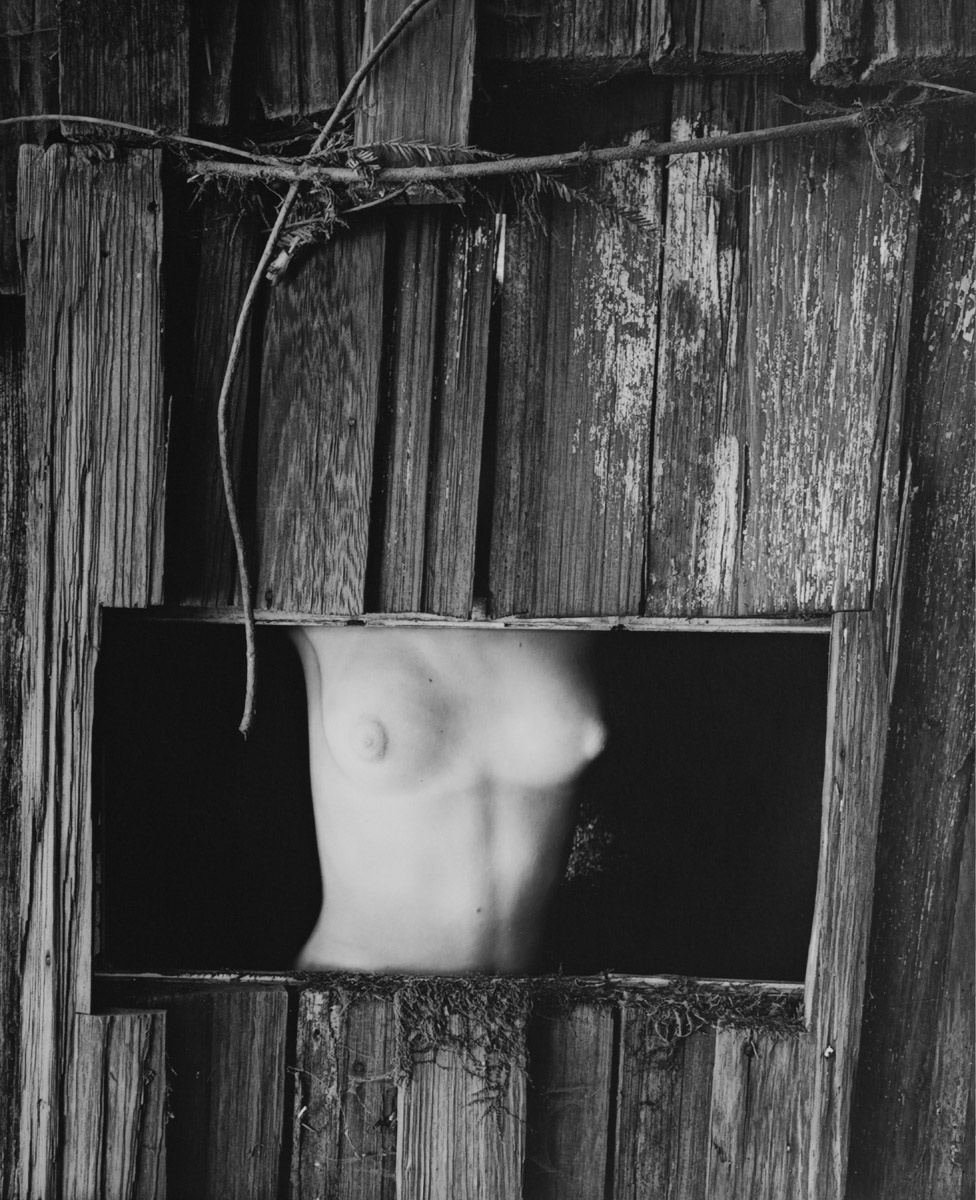 Wynn Bullock:
Torso in Window, 1954
In October 2022, Maine's Portland Museum of Art will open an exhibition titled Presence: The Photography Collection of Judy Glickman Lauder. In partnership with the Aperture Foundation, the Museum will also publish a catalog by the same title.
The works of eighty renowned twentieth-century photographers will be featured in the show and book, including Wynn's Torso in Window, 1954.
All the photographs in the Lauder collection will also become part of the Museum's permanent collections. Known for her humanitarian and philanthropic activities, Lauder herself is also a dedicated fine art photographer who has been critically acclaimed for her black-and-white imagery portraying the history of the Holocaust.
---
Earlier this year, the San Francisco Arts Commission purchased three original Wynn Bullock photographs from the Peter Fetterman Gallery for the permanent Collections of the City and County of San Francisco: Let There Be Light, 1954, Rocks and Waves, 1968, and Tree Trunk, 1971. All three will become part of a larger group of photographs focusing on the California landscape that will rotate every four years at the Ruth S. Kadish Gallery, a recently refurbished space that is now dedicated to photography at San Francisco International Airport's SFO Museum.
| | | |
| --- | --- | --- |
| | | |
| Wynn Bullock: Let There Be Light, 1954 | Wynn Bullock: Rocks and Waves, 1968 | Wynn Bullock: Tree Trunk, 1971 |
Located in a post-security area between Terminals 2 and 3, this spacious Gallery is named in honor of the woman who became the Airport's first female Commissioner in 1976 and who, as a champion of public art, was instrumental in launching the exhibitions program that became the SFO Museum, the first of its kind in the industry.
The group that includes Wynn's newly acquired photographs is tentatively scheduled to be on view for one year beginning this fall, again in 2026, and so on. Photography curator Kai Caemmerer will notify us as the inaugural date gets closer and will send installation shots as well as a video walkthrough of the exhibition which we can share with you in a future newsletter.
As some of you may remember, Bullock artwork has been showcased at the SFO Museum three times over the last seven years. In 2015, Wynn was given at solo show titled Nature's Mysteries – Landscape Photography by Wynn Bullock. Edna had her turn in 2017 with Edna Bullock – Flea Markets. And in 2019/20, Wynn was again in the spotlight, this time with Wynn Bullock- Color Light Abstractions. With all three exhibitions, it was pure pleasure to work with Museum staff.
| | | |
| --- | --- | --- |
| | | |
| Wynn Bullock: Stark Tree, 1956 | Edna Bullock: Alice, Garage Sale, 1977 | Wynn Bullock: Color Light Abstraction 1073 (1961) |
---
"Family picnics were a real highlight during this period. I'd work all morning with my camera, and Edna and the girls – if they weren't modeling for me – would be off hiking or collecting driftwood or reading or playing games. Then around noon we'd all gather together to eat our potato salad — Edna makes a great potato salad — and pickles and sandwiches. I would tell them what I had seen, and they would share what they had found. It was all part of the joy of the day." ~ Passage from Wynn Bullock: Photographing the Nude, text by Barbara Bullock-Wilson with editorial contributions by Barbara Bullock-Wilson and Edna Bullock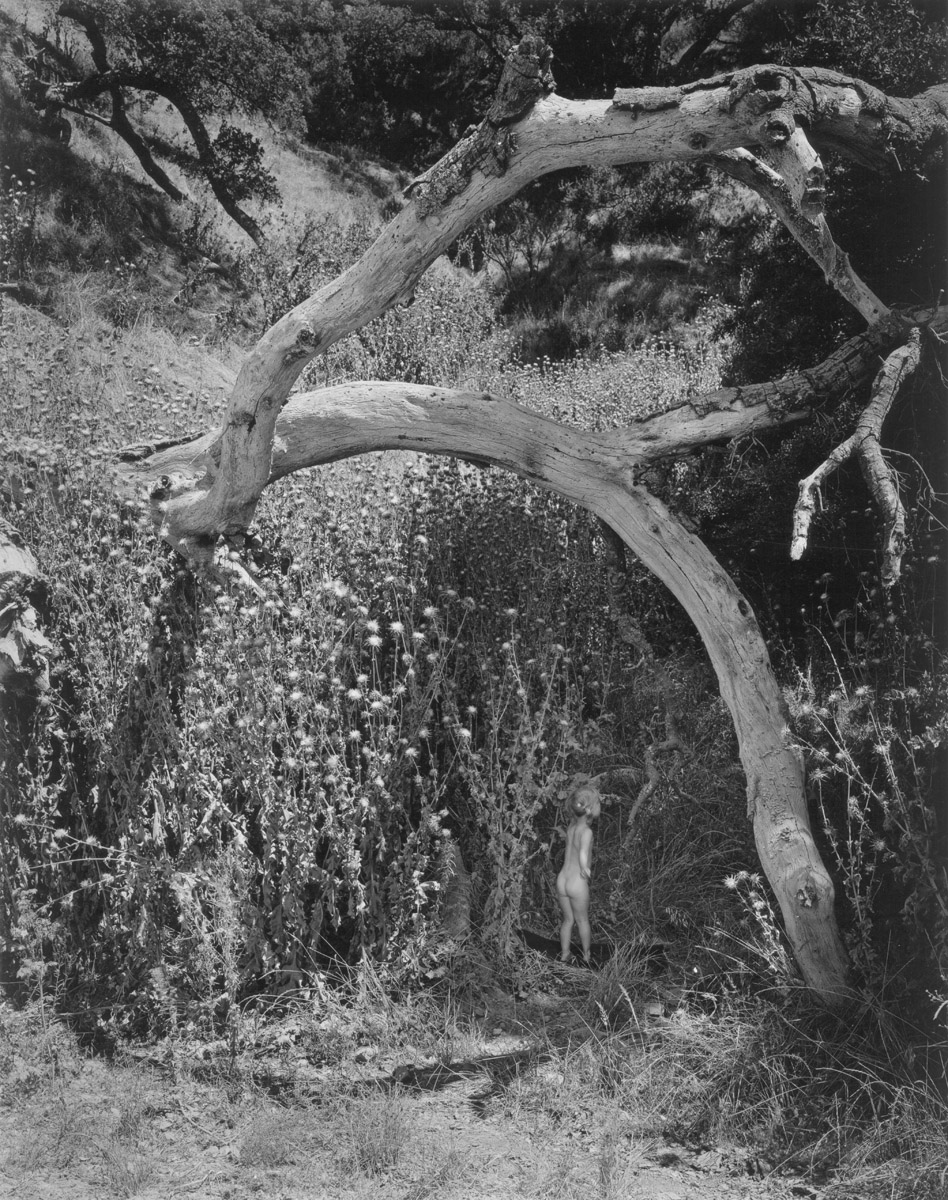 Wynn Bullock:
Child and the Unknown, 1955
We recently learned that an original unmounted print of Wynn's Child and the Unknown, 1955, is part of a group of photographs that was gifted in 2021 to the New York Public Library's (NYPL) permanent photography collection. The news of the gift included a jpg of the image that enabled us to clearly identify the photograph that features my younger sister Lynne. However, the title given was "I'm Almost Too Little To Live Right Now" – something Wynn would have never come up with! It listed the donor as Joseph Baio and included the additional information that it had been purchased from Sotheby's, London. It noted two stamps on the back of the print: 1) the artist's stamp (most probably Wynn's "one-time reproduction" stamp given the strange title which probably came from a caption someone had written for the photo); and 2) a stamp from the 2nd Mediterranean Photo-Cinema Biennale from Nice, 1957.
Intrigued by all this interesting information, I went online to find out more about the NYPL's Photography Collection.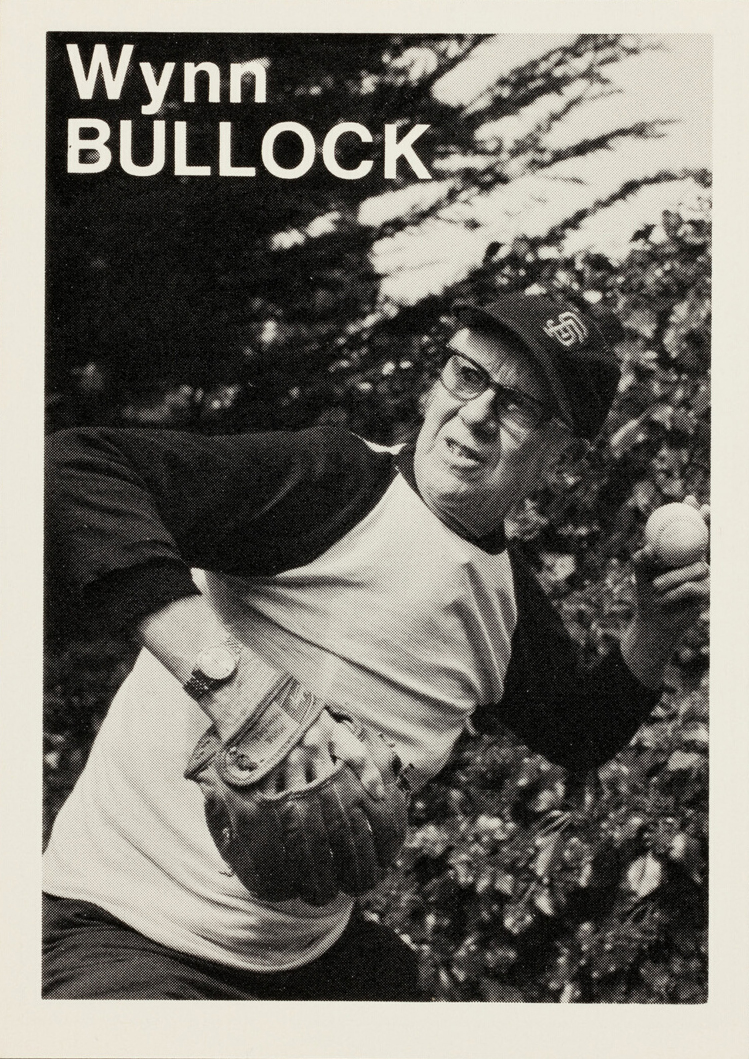 Wynn Bullock
from Mike Mandel's
Series of Baseball-Photographer
Trading Cards © 1975 Mike Mandel
I discovered it was created in 1980, when images culled from other departments and branches were brought together as part of the formation a new division (The Miriam and Ira D. Wallach Division of Art, Prints, and Photographs). The Collection now comprises approximately 500,000 photographs by 6,000 photographers.
Accessing the Library's Prints & Photographs Online Catalog, I further discovered that The Photography Collection includes three other items related to Wynn's life and work. The first is Wynn's "baseball" card from Mike Mandel's Baseball-Photographer Trading Cards collection. The notation there was that it had been a Library purchase.
The other items are two of Wynn's original mounted photographs that were gifts from the "Estate of Shirley C. Burden". Shirley was a successful fine art photographer himself who was very active in supporting photographic institutions such as Aperture. He was also a friend of Wynn's and an enthusiastic fan of his work. At the moment, I can't identify these two photographs as again they have unfamiliar titles – "Forest Scene" and "Colorado Floating over Point Lobos". The latter is truly bizarre and I'm waiting to hear back from the Library so I can provide them with more accurate information.
---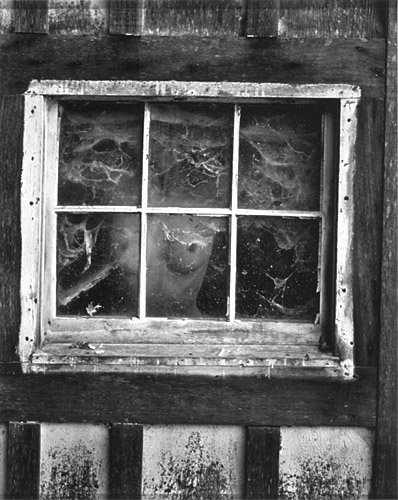 Wynn Bullock:
Woman through Window, 1955
(at Montreal Museum of Contemporary Art)
Wynn's photograph of Woman through Window, 1955 is not actually a new acquisition for the Musée d'art contemporain de Montréal. However, it's one that we did not know about until their staff contacted us a couple of months ago in relation to their project of making their permanent holdings available for online viewing. They shared that the print had been acquired in 1980 from Galerie Déjà Vue and been authenticated on the back by Edna. They wanted to verify copyright information which we happily provided.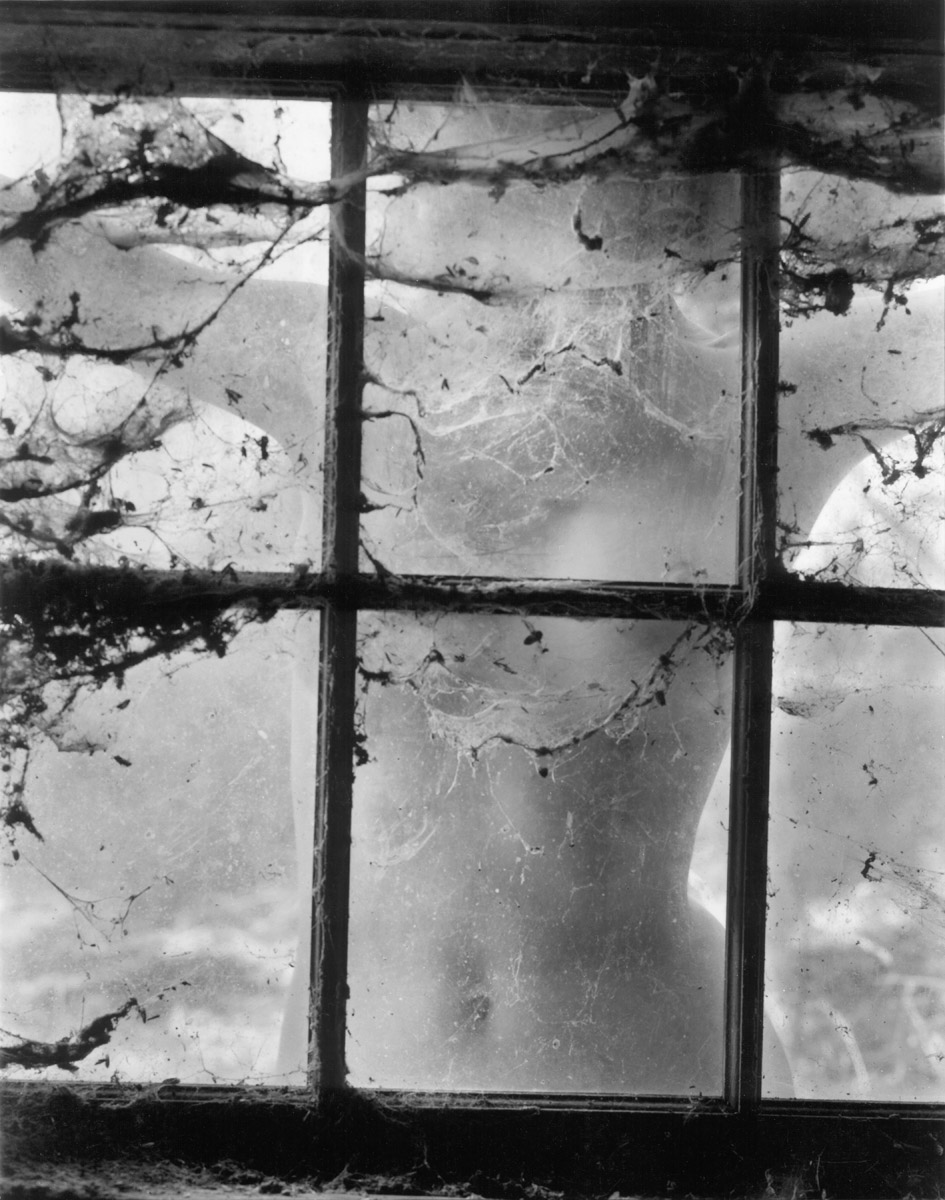 Wynn Bullock:

Nude behind Cobwebbed Window, 1955
Although I had never before seen the image that's in their collection, in many ways it resembles Wynn's iconic image of Woman behind Cobwebbed Window, 1955. Intrigued, I checked my copy of Wynn's negative logs and could only find one entry that referenced a nude behind a "cobwebbed window". It is negative # 0484 which belongs to the well-known, often published and exhibited image.
At this point, I am surmising that the Museum's image was taken on the same day the more familiar image was made. The 1955 date is the same, the setting is similar, and Wynn frequently made several exposures during a given session. The Montreal print may have been the only one Wynn made of that particular exposure and, after making it, he may have decided he liked the other one much better. In the log, he did write "Best" next to the negative # 0484 notation.

Section from Wynn's Negative Log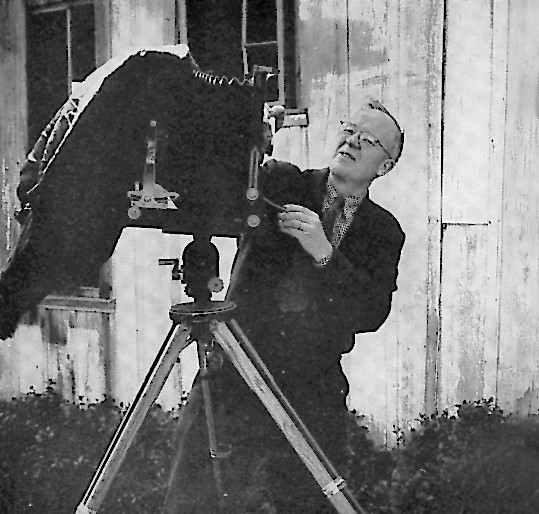 Wynn with his 8x10 © Don Ornitz
The other fascinating aspect of this discovery is the story Wynn used to tell about his iconic image. It is a wonderful story – one I have retold many times. As a matter of fact, it is included in Paul Cotter's Featured Image commentary for
Woman behind Cobwebbed Window, 1955
. As the story goes, Wynn asked his model to go into an old deserted building and stand in front of the window. When she peered inside the derelict structure and saw all the cobwebs, rat droppings, and debris, she said, "No way!". Wynn then, wearing his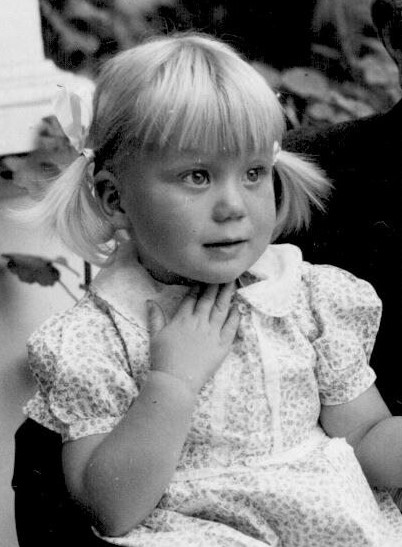 Eagerly Waiting
thick boots and heavy work pants, went inside himself. When he looked through his viewfinder and saw the beautiful outside light surrounding the model's body, he realized this perspective was infinitely better than the one he had originally envisioned.
Now, it looks like I may have to revise the story a bit. Given the Museum's print, the model may have gone inside, perhaps reluctantly, and then she and Wynn may have switched places with much happier results all the way around. I'll know more when the Museum can furnish additional information about provenance and whatever else is written on the back of the print. They are currently in the midst of moving their collections and won't be able to access their archives until the move is completed. I'm eagerly waiting to learn what they will have to share!
---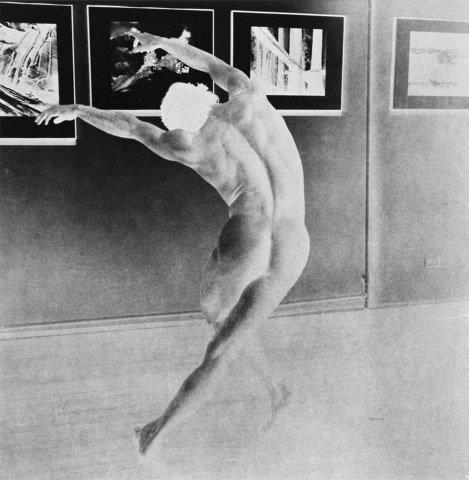 Edna Bullock:
Apparition in a Gallery, 1987
In closing, I want to wish all of you a happy and healthy summer.
To those of you who can attend one or both of the remaining events planned for Edna's exhibition at Gallery Exposed, I look forward to seeing you!
As previously noted, the gallery will also be open by appointment, and it would giveowner Rachael Short and me great pleasure to share Edna's work with you. In addition to the vintage photographs, there will be rare, out-of-print copies of Edna's Nudes in both hard and softcover editions available for sale, along with copies of a couple of monographs of Wynn's work.
Until next time,

Barbara Bullock-Wilson, Managing Member
Lynne Harrington-Bullock
Bullock Family Photography LLC

Copyright © 2022 Bullock Family Photography LLC Unless Otherwise Noted. All Rights Reserved.
Website and Newsletter design and management by David Gordon