Contents:
Post Gallery | New Online Video | Featured Images | Revelations | Online Galleries | Weston Scholarship
Win an Estate Print | APAG Seminar | Edna Bullock Solo Show | 2019 Calendars
---
Of late the Big Sur has become acquainted with the work of a photographer who has a special gift for seizing the essential beauty and dramatic splendor of this Coast. I refer to Wynn Bullock…. In every photograph of this country which he has taken, there is present a note of gratitude for the privilege of being alive and seeing the world, not as a machine, not as a drudge, not as a professional, but as a dreamer divinely possessed. ~ From an article by Henry Miller c. 1950s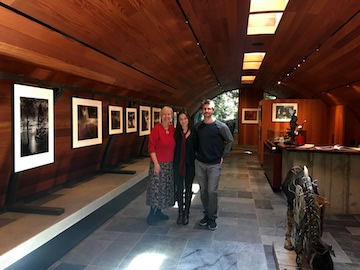 Barbara with Visitors Hannah Hvassman and Nolan Beck
(Carol Henry Photo)
Wynn's show at the Post Gallery in Big Sur has been the perfect pairing of imagery and venue. You walk into the Gallery and you immediately recognize that the images belong here, expressing with eloquence and beauty the essence, the spirit, of the central California coast.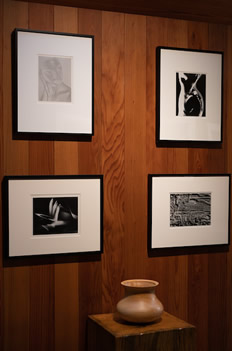 Four of Wynn's Original Photos
(Paul Cotter Photo)
On display since May, this special exhibition includes a selection of Wynn's rare original photographs as well as an array of our limited edition, fine art estate prints. All the prints in the exhibition are available for sale, and our collectible contemporary prints have been so well-received that twenty-one have already found new homes.
When pieces are sold they are replaced with new work. Original photographs are accompanied by Letters of Provenance. Estate prints are accompanied by Letters of Authentication. If collectors are interested in images that are not on display, requests are welcomed and estate prints of any published image of Wynn's may be ordered. Thus far, two such orders have been fulfilled.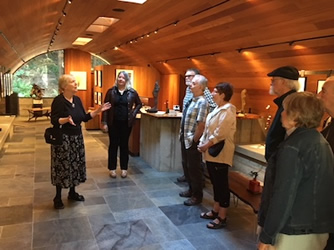 Barbara & Carol Henry with Group from the Center for
Photographic Art (Rick Murai Photo)
Gallery Director Carol Henry is in the Gallery on Tuesdays, Thursdays, Fridays, and Saturdays from 9:30am to 5:30pm. Exhibition talks are held every Saturday afternoon at 3:30pm with wine and cheese served. Carol's associate Shannon McCarthy staffs the Gallery on Sundays and by appointment on Mondays and Wednesdays. I have also hosted visits during open hours for family and friends, the latest one being a field trip for a small group of docents and staff from Carmel's Center for Photographic Art.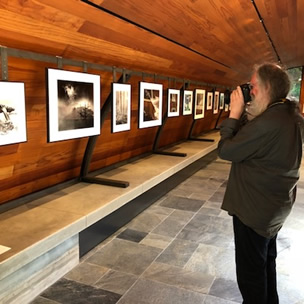 Photographer Stu Levy Enjoying the Show
(Susie Morrill Photo)
To see the show, it's best to call ahead so security gate personnel know you are coming. You may call Carol at 831-667-2200 x 254 on the days she's at the Gallery or Shannon on Carol's days off at 831-667-2200 x 251. You may also make arrangements with me for a personal tour of the show by emailing me at bbw at wynnbullockphotography dot com.
The run of the show has been extended through October, so there is still ample time for a visit. Much of the credit for the success of this wonderful exhibit has been due to Carol's knowledge of and enthusiasm for Wynn's work as well as her exceptionally fine curatorial skills. It has been a joy to work with her and I look forward to the possibility of further collaborations in the future.
---
The Monterey Bay Region was a wonderful place to grow up. One of the things I am so grateful for is that my parents included me in [the whole arts community]. When they would go for dinner to Brett Weston's place, for example, they would take me along [I was five or six at the time]. I would get to participate in dinner and then they would take me into the bedroom and tuck me in bed and I would go to sleep listening to these stories and the laughter. Then when it was all over, Dad would come and wrap me in a blanket and bundle me up to go home.

~ Excerpt from Barbara's interview about her parents - part of the Museum of Monterey's 100 Story Project
.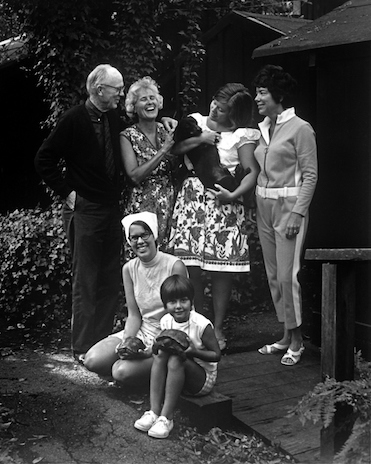 Bullock Family
© mid-1960s/2018 Todd Walker
Several years ago, I was invited to participate in the Museum of Monterey's living history project. I was among one hundred residents who were asked to share stories about various aspects of life on the Monterey Peninsula, including the people who called the region their home.
As might be expected, my part of the project focused on my parents' life and work as long-time residents of the Peninsula.
With no preparation or outline of questions to which to respond, I simply showed up at the appointed time and location. I was fitted with a microphone and placed in a chair. After a sound and light check, the video camera was started and I was told, "You're on." For the next several minutes I rambled on with no pre-planned structure to my thoughts. When I finished, they said I had come within a minute of the end of the film they had allotted to what they had described as an "interview".
We are now just getting around to posting this 17-minute video on our website. Although the visuals are not the best and an introductory frame following my full name (Barbara Bullock-Wilson) refers to the subjects of my presentation as Wynn and Edna Wilson (!), it does contain a lot of stories about the family I was extraordinarily fortunate to be born into. To view the video in its entirety, click here.
---
When Wynn Bullock asked this young nude model to go into the abandoned structure, she politely told him where to go. Seeing the cobwebs, rat droppings and creatures crawling inside, she said, "I'll stay outside and you go in." ~ Paul Cotter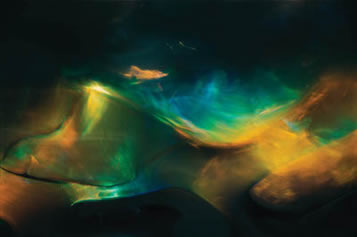 Color Light Abstraction 1165
(1963)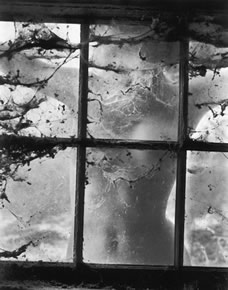 Nude behind Cobwebbed Window, 1955
One of the most valued, frequently visited sections of Wynn's website is our Featured Images. This is where I, along with a few guest commentators, share responses, ideas, and stories relating to Wynn's individual photographs. These commentaries are presented in both written and recorded forms and are often accompanied by additional "pop-up" photographs that are intended to enhance viewer enjoyment and appreciation of the featured works.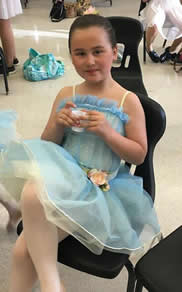 Charli Rokes at a Ballet Recital
(Family Photo)
Since the summer of 2013, this section had lain dormant until our December 2017 newsletter revived it with two new offerings. The first was a commentary on Edna and Barbara, Point Lobos, 1947, which consisted of an exchange of thoughts about the image between me and my young great grandson Cameron Rokes. The second was a commentary on Wynn's image The Pilings, 1958, by guest commentator Paul Cotter.
With this newsletter, we are adding two new commentaries. The first is about Color Light Abstraction 1165 (1963) and it is an exchange of responses between me and my six year-old great granddaughter Charli Rokes. In future newsletters, you will see more of these collaborations with my great grandchildren.
Our second new entry is Nude behind Cobwebbed Window, 1955. Paul Cotter returns as a guest commentator, and in his piece he relates the story of the making of this image which has intrigued viewers for decades.
If you have an image that you are especially interested in learning more about, please let me know. I'll add it to the list of possible future offerings.
---
After your talk at the Figge, I spoke briefly with Brett Abbott and thanked him for all the research and work he did assembling such an impressive retrospective of your father's works, and for the brilliant way in which he curated the work into various "conceptual" categories. Over the years, I have seen many exhibitions of wonderful black & white analog prints (including 3 or 4 exhibitions of Ansel Adams' work), but I can honestly say that none have impressed me more than the "Revelations" exhibit. Thank you again for so generously sharing your talented father with all of us; not only through his images, but also through your wonderfully humanizing stories, memories, and conceptual comments about his life and works. It was a special evening of the very best of what the photographic medium is capable of in the hands of a true artist and master of the medium, and one that I shall long cherish.
~ Michael Godsil, Photography Instructor at Knox College, Galesburg, IL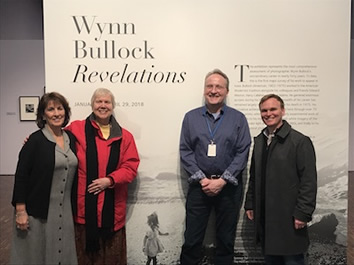 Wynn's Granddaughter Karan Brady, Daughter Barbara Bullock-Wilson,
Figge Director of Collections and Exhibitions Andrew Wallace,
and
Revelations
Curator Brett Abbott (Tim Schiffer Photo)
On January 13, 2018, the ground-breaking Wynn Bullock: Revelations retrospective opened at the Figge Art Museum in Davenport, Iowa. It was the last stop of the exhibition's tour, and the Museum's staff invited curator Brett Abbott and both my sister Lynne and I to give a presentation on Wynn's life and work.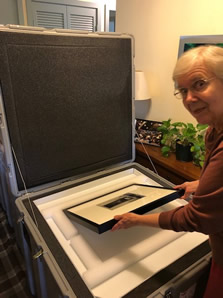 Unpacking Crates (Gary Wilson Photo)
Unfortunately, Lynne was unable to go, but Brett, Wynn's granddaughter Karan Brady, and I traveled to Davenport in early March to see the show one more time. Brett and I gave an illustrated talk on March 8 to a very attentive and appreciative audience, and, together, we said farewell to a deeply meaningful project that had begun with a shared vision in the spring of 2011. Graced with mutual trust and respect as well as a high regard for Wynn's legacy, my seven-year collaboration with Brett is an experience I will treasure always.
After
Revelations'
closing at the end of April, the High Museum of Art in Atlanta (the show's premier venue) coordinated the return of artwork that had been loaned by our family. On May 21, two humongous crates – impeccably packed – were delivered to my doorstep. I have to admit that the endings of exhibitions of my father's work are always bittersweet for me, but this one, as significant in insight and beauty as it was, was especially so. The return of the photographs gave rise to a level of grief that was startling even to me, but it also represented the culmination of an effort that will forever bring joy to my heart.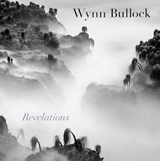 Revelations
Book Cover
This month the University of Texas Press informed me that the Wynn Bullock: Revelations book is out-of-print. Very few new copies remain out in the world (co-publishers UT Press and the High Museum have none), but the good news is that we have twenty of them. For the present, we are making five signed books available for purchase at $100 each. To order, please click here.
---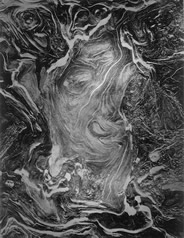 Wood, 1972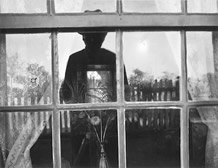 Self-Portrait, 1971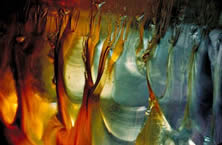 Color Light Abstraction 2029
(1960)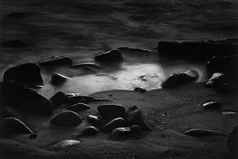 The Shore, 1966
In addition to the final showing of Revelations and the on-going exhibition at the Post Gallery, Wynn's work has been featured in several exhibitions, catalogs, and periodicals through the U.S. and abroad, including the following: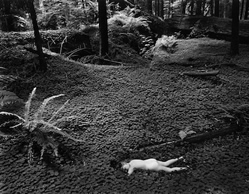 Child in Forest, 1951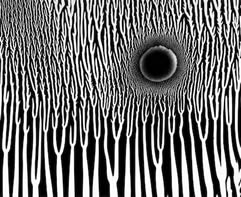 Photogram, 1970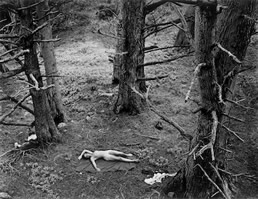 Woman and Dog in Forest, 1953
Art Intersection, Gilbert, AZ – solo and group exhibitions in AI's Ryan Gallery.
Center for Photographic Art – group exhibitions, including Rfotofolio's curated 2018 Depth of Field exhibit and catalog; Carmel, CA (April 14 – May 20).
American Classics– group exhibition; Fabian & Claude Walter Galerie, Zurich, Switzerland (May 25 – July 7).
Moment in Time: A Collection of Works from the Bank of America Collection – group exhibition and catalog; Museum of Photographic Arts, Balboa Park, San Diego, CA (May 5 – September 23).
Seeing through: Windows and Mirrors in Twentieth-Century Photography – group exhibition and periodical; University of Michigan's Museum of Art, Ann Arbor, MI (June 2 – September 23).
The Beauty of Lines. Masterpieces from the Gilman and Gonzales-Falla Collection – group exhibition and catalog; Musée de l'Elysée, Lausanne, Switzerland (January 31 – May 6).
Way Bay 2 – group exhibition; University of California's Berkeley Art Museum and Pacific Film Archive, Berkeley, CA (June 13 – September 2)
Women – Through the Lens – group exhibition; Photo Gallery International, Tokyo, Japan (July 12 – September 1)
Capturing Landscapes – group exhibition and periodical; Krannert Art Museum, University of Illinois at Urbana-Champaign, Champaign, IL (May 26 – October 30).
---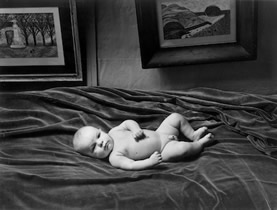 Stefan, 1956
Two new online galleries are offering a selection of Wynn's original photographs for sale. They are Oficino Uno managed by Alli Wood and The Seagrave Collection managed by Nolan Beck.
Original work is also available through our long-standing representatives at Weston Gallery in Carmel-by-the-Sea, CA, and Lumiere Gallery in Atlanta, GA. Lumiere represents the work of Edna as well as Wynn and offers both original, signed photographs as well as our authorized limited edition, fine art estate prints.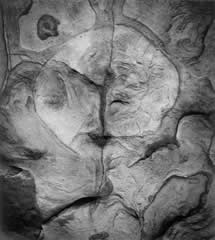 Point Lobos Rock, 1973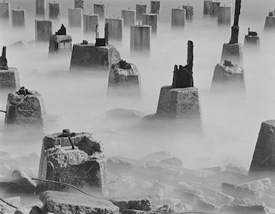 The Pilings, 1958
Next year, we plan to make a rotating selection of estate prints available through our own online store. Occasionally, we will also offer special opportunities to acquire original works from our family collections.
Of course, inquiries are always welcome from any of you who would like to add Wynn and Edna Bullock artwork to your own collections. Our original photographs come with impeccable provenance, having remained in our family since their creation, and the quality of our authorized estate prints is exceptionally fine. Any published image is available through our estate print programs. Just send your inquiries to me at info at wynnbullockphotography dot com and I'll be happy to work with you.
---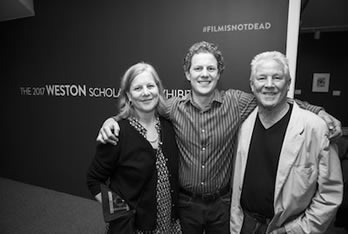 Gina, Zach, and Kim Weston
(Courtesy of The Weston Collective)
Founded in 2004 by Edward Weston's grandson Kim and his wife Gina, The Weston Collective is a non-profit organization committed to the preservation of black-and-white film photography on the central coast of California through mentorships, exhibitions, and a scholarship program funded by generous donors and other supportive activities. Kim and Gina's son Zach, a fourth generation fine art film photographer, currently serves as the executive director of the Collective.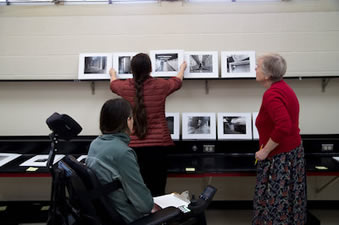 Rachael, Nicole, and Barbara Viewing Submissions
(Courtesy of The Weston Collective)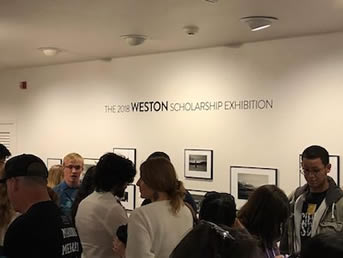 Opening Night Reception
(Courtesy of The Weston Collective)
This spring I was honored to be one of three judges for the Collective's 15th annual portfolio competition. My fellow judges were Carmel photographer Rachael Short and previous scholarship winner Nicole Mangiola.
Open to photography students attending high school or community college in Monterey County, the 2018 competition included 80 portfolio submissions, each assigned a nameless number and consisting of ten hand-printed and mounted black-and-white film photographs. The overall quality of the work was amazing, both in terms of vision as well as technique and presentation. I was also impressed with the implicit efforts of the students' instructors who supported and encouraged such work.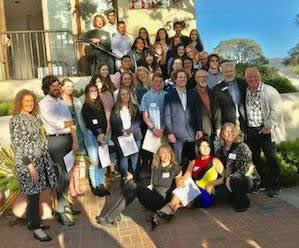 Student Winners and Supporters, Opening Night
(Courtesy of The Weston Collective)
Our task as judges was to review the contents of all 80 portfolios (a total of 800 prints) and select 30 numbered finalists to whom we then awarded a range of scholarships as well as inclusion in an exhibition at the Monterey Museum of Art. Although we knew little about each other prior to the day of the judging, the three of us very quickly and happily achieved a smooth and respectful collaborative process, thanks in no small part to the clear and well-organized protocols established by the Collective.
Opening Night Celebrations
(Courtesy of The Weston Collective)
For me, the day of judging filled me with hope. The creativity, skill, and empathy reflected in the students' work were inspiring affirmations of the human capacity for goodness and growth. And when I experienced the excitement and pride of the winners, along with their classmates, families, and teachers at the exhibition's opening reception, it was a joyful thing to behold.
My heartfelt appreciation goes to the whole Weston family for the outstanding contributions they are making through the Collective to support the youth and photographic arts education in our county – and I am very grateful for the opportunity they gave me to add a small, but meaningfully supportive contribution of my own.
---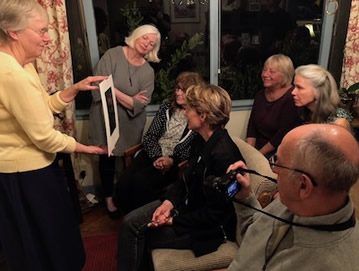 Sharing Bullock Photography with Depth of Field Folks
(Willie Osterman Photo)
Since the beginning of 2018, I have had the pleasure of hosting over a half dozen informal presentations on various aspects of Bullock photography for small groups of invited art lovers, including new acquaintances, long-time friends, and family members.
Some have centered on "behind the camera" stories about my parents' images, interwoven with their life histories and family anecdotes. The focus of others has been the 21st Editions book Relativity: Wynn Bullock and Albert Einstein. Given that only 10 copies were published for sale and general distribution, there are very limited opportunities for people to see and enjoy this exquisitely handcrafted volume which is a work of art in itself. With my artist's proof copy, I am doing what I can to share it more widely.
---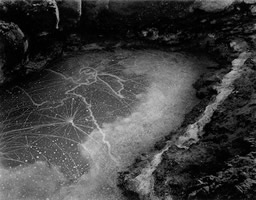 Point Lobos Tide Pool, 1957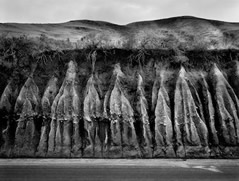 Erosion, 1959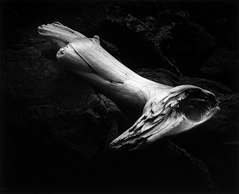 Driftwood, 1978
Currently, the Center for Photographic Art in Carmel, CA, is hosting its annual 8 x 10 fund-raising exhibition. This year, we are supporting our wonderful local Center with donations of a print of Wynn's intriguing image Point Lobos Tide Pool, 1975 and a print of Edna's stunning image Driftwood, 1978.
You may buy raffle tickets for chances to win one or both of these prints by personally visiting CPA or by calling 831-625-5181 and instructing staff/docents in which boxes you'd like your tickets placed. This special opportunity will be available until November 4 when the show ends.
This summer we also participated in the Carmel Bach Festival's annual Arts Raffle Exhibition by donating a print of Wynn's iconic image Sea Palms, 1968. Coming up later this fall is Viewpoint Photographic Art Center's annual fundraising auction. In support of this arts organization located in Sacramento, CA, we have donated a matted 16 x 20 print of Wynn's image Erosion, 1959. You may check out their website next month to make a bid.
---
I'm not a deep thinker like Wynn was, but like it was for Wynn, photography has become the best way I have to experience and know things. When I'm out with a camera, I feel most alive…. I see and understand things I'm not ordinarily aware of. Mind you, this doesn't happen every time I photograph…but the magic that I'm talking about makes me want to photograph until I die. ~ Edna Bullock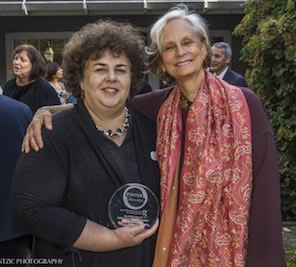 APAG Founder Mary Engel and Member Judith Thompson
(Harold Feinstein Archive) at 2017 Focus Awards
Presentation (Grayson Dantzic Photo)
The American Photography Archives Group is a non-profit resource organization for photographers, their heirs, and other people closely connected with them who are concerned about how to organize, manage, and possibly find eventual homes for the bodies of work they have created or are responsible for.
Founded by Mary Engel, daughter of photographer Ruth Orkin and filmmaker Morris Engel, APAG has been offering a wealth of information and support to its membership for over a decade. Bullock Family Photography has been a member since 2007, and the only down side to our involvement has been location. APAG is based in New York, and we have been lobbying for years to have a branch out here on the West Coast.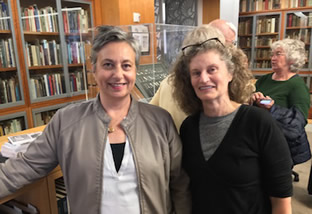 APAG West Chair Dr. Alla Efimova and Program
Committee Member Melanie Light
(Gary Wilson Photo)
Our wish finally came true this year with the establishment of APAG West, an affiliate organization based in the San Francisco Bay area and chaired by Dr. Alla Efimova, founder and principal of an arts management firm called KunstWorks.
On October 14, APAG West will be sponsoring its first day-long seminar at the School of Journalism on the campus of UC Berkeley. If you've ever wondered about what the future might hold for what you've created as an artist or if you are the person who is or will be responsible for a photographer's legacy, you might consider attending this event. For a full description of the day's activities, click here.
As you can see, I will be leading one of the breakout sessions during lunch. Linda Zimmerman, another Monterey Peninsula resident who manages the photographic estate of her father John Zimmerman, will participate in the afternoon panel discussion. If you have questions about any aspect of the seminar or would simply like more information, please call program committee member Melanie Light at 415-725-1636 or send her an email at melanie@melanielight.com.
---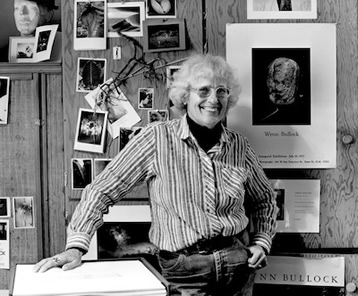 Edna in Home Studio
© 1980 Kurt Fishback
Concluding its "Year of the Woman" celebrations, the Monterey Museum of Art will host its first solo show of Edna's work from December 6, 2018 to March 10, 2019.
Born and raised in Hollister, CA, Edna lived and worked for 51 of her 82 years on the Monterey Peninsula, including the last twenty-one years of her life which she spent as a fine art photographer and popular workshop leader. She loved the MMA, and before she died in 1997, she instructed my sister Lynne and me to posthumously gift a very significant collection of her photographs, along with books and other archival materials to "her" museum.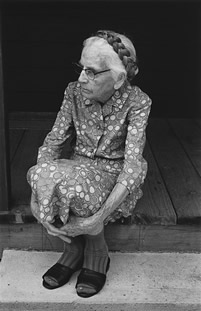 Lillie, 1976
It is from this permanent collection of Edna Bullock work that the show will be drawn. Out of the broad spectrum of her imagery, Museum staff members have chosen four major subject areas on which to focus: flea markets, wood and wood knots, fences, and nudes.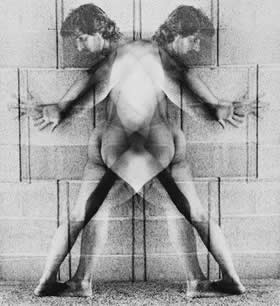 Duality, 1990
Another highlight of the show will be a vintage print of the image with which she launched her new career at age 61 – a portrait of my mother-in-law Lillie dated 1976. From my personal collection, I have donated a small gelatin silver print of this image for the Museum's upcoming Miniatures exhibition.
A more detailed feature on Edna's show will be included in our November 2018 newsletter. For now, save these dates: 1) Friday, December 7 from 5-7pm at MMA Pacific Street – the Museum's first Friday of the month reception for current shows where both Lynne and I will be in attendance; and 2) Thursday, December 20 from noon-1:30pm at MMA La Mirada – my illustrated talk about Edna's remarkable, inspiring life and her career as the artist fondly known around the Peninsula as the little white-haired lady who took male nudes.
---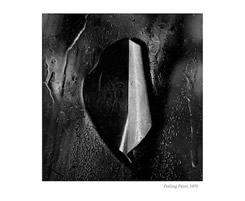 Wynn Bullock Calendar Image
for September 2019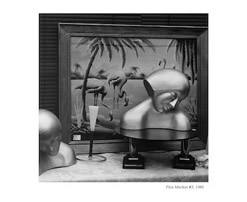 Edna Bullock Calendar Image
for April 2019
I've been having a marvelous time working on our new calendars for next year. In honor of the Edna Bullock exhibition that will be on display at the Monterey Museum of Art, we have chosen not to do two Wynn Bullock calendars for 2019, but instead make one of Wynn's black-and-white images and one of Edna's.
If Edna's calendar proves popular, we may decide to produce one for each Bullock photographer in future years. More details will be provided in our November newsletter when the calendars will be available for order. If you'd like to reserve one now, drop me a line.
---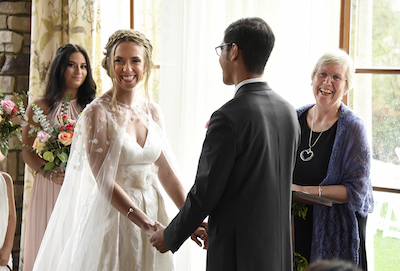 Officiating the Wedding of My Granddaughter Samantha
and her Beloved Tyler (John Wilson Photo)
In closing, I want to express my gratitude to all our new subscribers who have been trusting enough to sign up when there have been no newsletters forthcoming. I also want to thank all our long-time readers who have been waiting ever so patiently since last December for news from us.
In addition to all the wonderful events and activities relating to Bullock photography, 2018 has been a year marked by a number of very special family occasions, including the wedding of my granddaughter Samantha which I had the joyous honor of officiating. While I feel blessed by the fullness of my life, it can sometimes be a bit overwhelming, causing me to fall short of all that I would like to do, such as the writing of more timely newsletters!
With this catch-up issue, I feel more on track again, and I will do my best to stay more current in the months to come.
Until next time, warmest greetings and best wishes for a lovely autumn,


Barbara Bullock-Wilson, Managing Member
Lynne Harrington-Bullock, Member
Bullock Family Photography LLC
---
Go to the Wynn Bullock Photography Home Page

Copyright © 2021 Bullock Family Photography LLC Unless Otherwise Noted. All Rights Reserved.
Wynn Bullock Photography website and newsletter design and tech by David Gordon