Contents: Revelations on Tour | Relativity | Paul Cotter | Other Exhibitions | 2017 Calendars | About Gene
---
Photography for Bullock became a way of grappling with and meditating on the simultaneously frightening and exhilarating idea that there is much more to the world than is commonly understood through ordinary perception, and he was passionate about conveying that revelation to others through his work. ~ Brett Abbott, curator and author of Revelations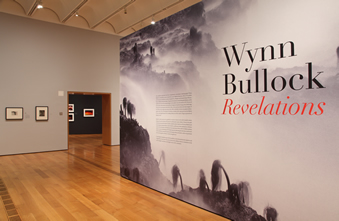 Entry of Revelations exhibit
(© 2014/2017 High Museum)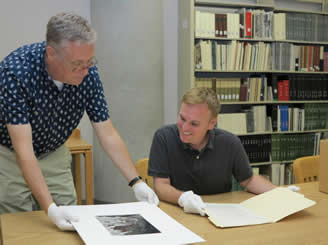 Brett Researching WB Archive at CCP
(© 2012/2017 CCP)
On June 14, 2014, the High Museum of Art in Atlanta, Georgia, opened the most comprehensive and meaningful exhibition of Wynn's work since the mid-1970s. Curated by Brett Abbott and accompanied by a beautiful monograph, Revelations not only offered fresh insights into Wynn's creative legacy, it also served to introduce the transformative power of Wynn's imagery to new audiences.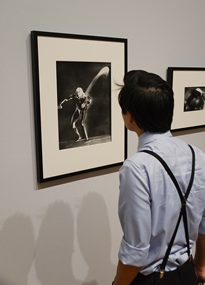 Viewing the Exhibit
(© 2014/2017 John Wilson)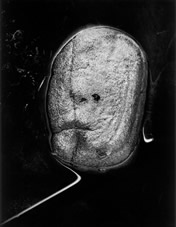 Wynn Bullock:
Rock, 1973
(© 1973/2017 BFP LLC)
Beginning in 2017, this groundbreaking show will travel across the country, giving more people the opportunity to appreciate and engage with Wynn's work.
The first stop will be the University of Maryland Art Gallery in College Park, MD. The show will be on display there from February 1 through April 14, 2017. Free and open to both students and the general public from 11am to 4pm Monday through Friday, the Gallery is only nine miles from downtown Washington and 32 miles from Baltimore. It is the show's east coast venue.
From Maryland, Revelations will travel to the Center for Creative Photography on the campus of the University of Arizona in Tucson. Wynn was one of the five founding artists whose archives established the Center in 1975. In 2012, Revelations curator Brett Abbott was awarded one of the Center's Ansel Adams Fellowships to study the Bullock Archive in preparation for the exhibition and monograph.
CCP was intimately involved with the show's development in several additional ways and a number of photographs in the show come from the Center's Core Collection of Bullock works. CCP represents the western venue for Revelations and is uniquely positioned to offer students, scholars, and the public not only a magnificent display of Wynn's imagery, but also the opportunity to explore the Center's extensive archival holdings that document his life and work. Specific dates have yet to be confirmed, but the show will be on display for several months between May and November, 2017.
The Midwest venue for Revelations will be the Figge Art Museum in Davenport, Iowa. Known for its sponsorship of world-class traveling exhibitions, this excellent regional museum will host the show from January 13 through April 29, 2018 and bring the traveling schedule to a close.
---
Behind both men's work lies a kindred imagination, and as Brett Abbott puts it, a "revelation" we may never fully come to terms with.
~ Collier Brown, editor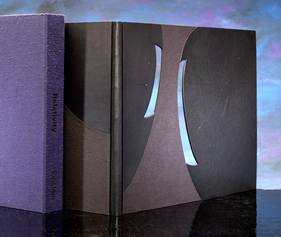 Outside cover of the book (© 2017 21st Editions)
January 2017 is the launch date for the latest publication of Wynn's work. Titled Relativity: Wynn Bullock and Albert Einstein, this superbly handcrafted, limited edition volume is the first in a new series by 21st Editions, the internationally esteemed, award-winning publishing house of fine art photography books.
A phenomenal project in many ways, Relativity consists of only ten numbered copies, each with nine bound and nine loose platinum estate prints and one signed vintage silver gelatin print. The images selected for the book range from well-known favorites to unfamiliar treasures from our family's personal collections. Presenting Wynn's imagery in platinum is a milestone in the history of Bullock photography and offers a fresh way of looking at his work.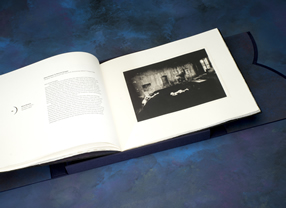 Inside page with
Navigation without Numbers
and Einstein excerpt
(© 2017 21st Editions)
Pairing Wynn's artistic journey with the scientific journey of Einstein represents another opportunity to view and appreciate each man's cultural contributions in new and enlightening ways. Accompanying Wynn's 18 images are excerpts from several of Einstein's letters and a reprinting of his 1905 paper on special relativity. As editor Collier Brown notes in his introduction, the book "presents two great twentieth century thinkers, one a scientist, one an artist, but both on the same quest to perceive reality beyond the limitations of the senses."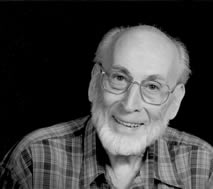 Portrait of Gene
The spark that actually ignited this project was my beloved spouse Gene. In our business partnership, he was the one who made "cold" calls, and in the spring of 2014, he made an initial overture at the suggestion of a friend and colleague who knew 21st Editions publisher Steven Albahari and admired his approach to "the art of the book".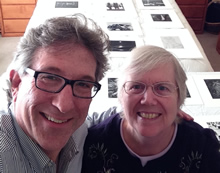 We worked well together
Over the next year and a half, Gene and Steven talked every few months, sharing news of their respective activities, exploring ideas of mutual interest, and developing the foundation of a relationship. In the fall of 2015, Steven proposed doing a book with us and I became an integral part of the conversation. The vision for the book kept evolving in thrilling ways for all of us.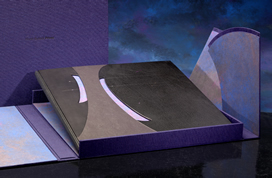 Another view of the book cover
(© 2017 21st Editions)
In February 2016, Steven came out to work with me on the initial selection of images. To our delight, we discovered we were intuitively aligned and the process was graced with an easy, respectful give and take. My continuing collaboration with Steven and his colleagues has been a joyful one and I think every aspect of the book reflects that spirit, from the new handmade paper that was created for it to the extraordinarily beautiful and striking binding that encloses it. Adding to the joy for me is the dedication to Gene who, in Steven's words, "imagined a reality for this book and showed us the way".
For more illustrations and details about this very special publication, click here and here.
To see the book itself, 21st Editions will be featuring it at several expos and book fairs throughout the first quarter of 2017. Click here for a schedule.
Other displays are being planned, and updated information will be posted on our website and included in future newsletters.
---

And then one day, my world was transformed. I was in a bookstore when I came across a small volume of photos by a man named Wynn Bullock. I felt numb with awe when I saw [his] images: photos steeped with mystery, resonating in my heart like a stone dropped to the bottom of a deep, dark well. I was hooked
.
~ Paul Cotter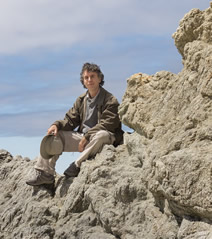 Paul Cotter at Point Lobos
Paul Cotter is a gifted practitioner and teacher of photography based in the East Bay area of Northern California. He is also a fine writer who has a passion for Wynn's work. It is through this shared passion that we met personally a couple of years ago. Since then we've become good friends and mutually supportive colleagues.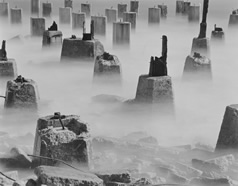 Wynn Bullock:
The Pilings, 1958
(© 1958/2017 BFP LLC)
This past fall, Paul wrote a wonderful piece for his almost monthly blog entitled Albert Einstein, George Harrison & Orville Redenbacher: That's Wynn Bullock, My Favorite Photographer.
In his article, Paul enumerates seven reasons why he loves Wynn: 1) He was seeking more than photos; 2) He challenged perceptions; 3) He followed his instincts; 4) He never stopped exploring; 5) He saw unity in everything; 6) He wasn't interested in fame; and 7) He was a good man.
To enjoy Paul's illuminating article in its entirety and discover Wynn's connections with Albert, George, and Orville, click here.
---
She Loves Me, She loves Me Not
is an exhibition featuring 40 fine art photographs by 12 groundbreaking female photographers. Reversing traditional roles, all of the images depict the male as subject matter. These powerful photographs often reveal deeper relationships with the subject and capture emotion as part of the art form. Spanning 100 years and including many styles and techniques, this exhibition celebrates the careers of gifted women who have made great contributions to photography.
~ from the Center for Photographic Art's exhibition announcement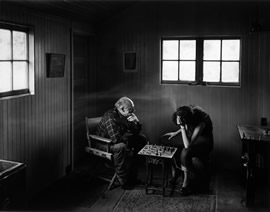 Wynn Bullock:
Chess Game, 1955
(© 1955/2017 BFP LLC)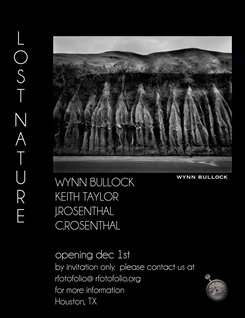 NCV Announcement
(© 2017 Rfotofolio)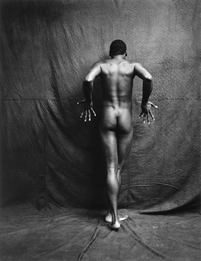 Edna Bullock:
Jeff #9, 1984
(© 1984/2017 BFP LLC)
During the past year, Wynn's work has been featured in three solo shows and many group shows throughout the country.
Currently on display is an exhibition curated by Rfotofolio for the private galleries associated with the NCV enterprise in Houston, Texas. Titled Lost Nature, the show includes ten contemporary prints of Wynn's images, along with several photographs by Keith Taylor, Jerry Rosenthal, and Connie Rosenthal. Available to NCV members, the show may also be enjoyed by the general public through scheduled appointments. To arrange a viewing, please email rfotofolio@rfotofolio.org.
The Ryan Gallery at Art Intersection in Gilbert, Arizona, is also hosting a group show that includes the work of both Wynn and his wife Edna. Winter Exhibition will be on display through January 19, 2017.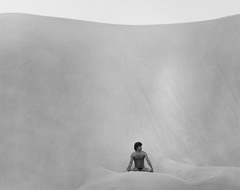 Edna Bulock:
David at Oceano, 1983
(© 1983/2017 BFP LLC)
In addition to the ongoing Arizona exhibition, Edna's work has been on display for several months as part of a show at the Monterey Museum of Art. Drawn from the Museum's permanent collection of photography, the exhibition will continue to be on view until January 17.
A new group show that includes four of Edna's male nudes will open on January 7, 2017, at the Center for Photographic Art in Carmel, California. Curated by Carol Henry and on display through February 19, She Loves Me, She Loves Me Not is an exhibit that celebrates the imagery of women focusing on men. Besides Edna and Carol, the other featured artists are Jodi Cobb, Imogen Cunningham, Judy Dater, Flor Farduno, Dorothea Lange, Mary Ellen Mark, Holly Roberts, Adrienne Salinger, and Joyce Tenneson.
I have been invited to participate in a panel discussion about "Women in Photography" on opening day, and documentary filmmaker Meg Partridge is scheduled to deliver a lecture about her grandmother Imogen Cunningham on January 10. For further details about the show and its accompanying events, click here.
---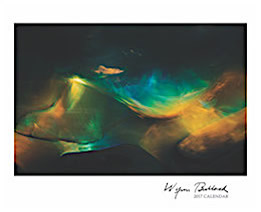 2017 Color Light Abstractions Calendar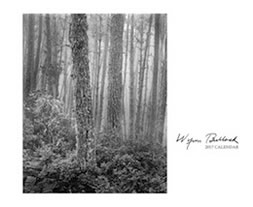 2017 Black-and-White Calendar
Although sales of our new 2017 calendars have been brisk and our inventory is down to less than a dozen of each, there is still time to own your very own gallery of Wynn Bullock images.
To review the contents of both our black-and-white and color light abstraction calendars and to place your orders, click here. The Calendar Home Page of our Online Store includes thumbnails of all the images for both calendars as well as pictures of the bio pages and sample date pages. Buy one or both of our two collectible calendars for yourself and additional ones to share Wynn's imagery with extended family and friends.
---
And though the path divides…and sometimes we must move in and out of different doorways of the world…and cross other vistas of experience…still we are together in the heart of things…patient as seedlings…till we bloom again along the same flourishing byway. Then together we walk onward…beyond our vision…into the unknown…where the path may be steep or narrow…wide or straight…in sunshine and rain…and the promise of tomorrow….
~ from Together We Walk by Peter S. Seymour, a book with which Gene proposed to me in 1972, which we incorporated into our wedding ceremony, and which we read every year as part of our annual marriage renewals.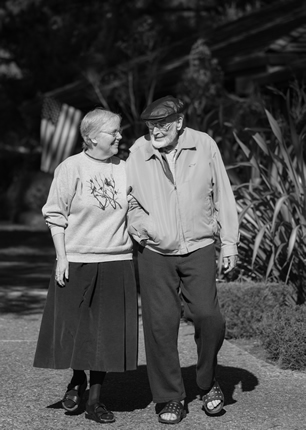 Barbara and Gene at Del Mesa
(© 2015/2017 Paul Cotter.
All rights reserved.)
As all of you are probably aware, this is our first newsletter since October 2015. At that time, Gene had completed the primary chemotherapy treatments for non-smoker's lung cancer and was on a maintenance regimen of chemo. By Thanksgiving, his oncologist reported that the cancer was in partial remission and we celebrated the good news.
The weekend after Thanksgiving, our dear friends Paul and Bonnie Cotter came down from the Bay area for a visit and Paul took a photograph of Gene and me walking together near our home. (To read Paul's beautifully written vignette about this image, click here.)
A couple of weeks later, Gene developed an infection which his immune system couldn't adequately handle. On December 28, we decided to call Hospice. Years earlier, Gene had told me when his time came he wanted to simply go into the hills like some of his Native American ancestors and let the process unfold. Enrolling in home hospice was his walk into the hills and the transition happened very quickly. Right before he drifted into a coma, Gene said, "I feel so calm and I'm ready for the mystery." In the early morning hours of December 31, 2015, he passed away peacefully in my arms.
When Gene and I met in New Orleans on March 23, 1970, our souls embraced, instantly and completely. For the next 45 years, we walked together in joy, living and loving, creating and sharing. Gene was my sweetheart and best friend.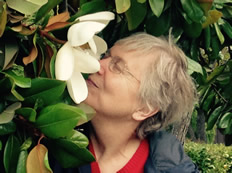 Barb smelling Del Mesa magnolia
He was also my steadfast partner in Bullock photography. The
Revelations
exhibition and the new
Relativity
book are two of the most recent examples of his invaluable contributions. Without his initiative and clear, friendly manner, these projects would not have happened.
Now, I find myself walking in unfamiliar territory. I need to pay attention, hone different navigational skills, explore new paths. Eventually I'll move with greater ease and grace. In the meantime, I'm doing the best I can to balance sorrow with gratitude as I learn to work and hopefully thrive in this strange, new world of mine.
---
Wynn Bullock:

Light Abstraction, 1939

(© 1939/2017 BFP LLC)





In closing, I'd like to share the words of a hymn for which Gene composed
the music and I wrote the lyrics:

What is life, if not a mystery, full of wonders great and small;
Ever pulsing, ever changing, in a dance that touches all.

What is life, if not a journey, into dark and into light;
Ever seeking, ever learning, realizing soul's true sight.

What is life, if not a blessing, inspiration for re-birth;
Ever hopeful, ever open, spreading kinship o'er the earth.

Chorus: Wake up and live! Let your heart soar!
Breathe in joy, so many dreams to explore.

Wake up and love! Love ever more!
Share your love, the world to restore.

Until next time, warmest greetings and best wishes for 2017,


Barbara Bullock-Wilson, Managing Member
Lynne Harrington-Bullock, Member
Bullock Family Photography LLC
---
Go to the Wynn Bullock Photography Home Page

Copyright © 2021 Bullock Family Photography LLC. All Rights Reserved.
Wynn Bullock Photography website and newsletter design and tech by David Gordon