---
CONTENTS:
A Baby, a Book, and Big New Show | Promised Gifts | Letting Go of 100 Prints | Proofing Book Reproductions
Opening Reception with Chris Johnson | The Unknown Henry Miller | The Next Conversation Conference | Ryan Gallery at Art Intersection
---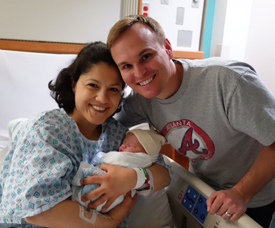 The Abbott family
For Brett Abbott, the curator of photography and head of collections at the High Museum of Art in Atlanta, 2014 has turned into a banner year. On February 28, Brett and his wife Anissa became the proud parents of a baby girl. Scarlett Anissa Abbott is her name and we extend our most joyful congratulations to mother and father as we also welcome Scarlett into the world with our very best wishes.
Around the first of June, the University of Texas Press will release Wynn Bullock: Revelations, the book that will accompany the major retrospective Brett has been working on for the last year and a half. Brett has written a freshly insightful essay about Wynn's creative journey, and I predict this monograph will serve as a key resource on Bullock photography for years to come.
Gene and Barbara Bullock-Wilson
The exhibition that Brett will be putting in final form over the next two months will have a soft opening at the High Museum on June 14. Then on Thursday evening, June 19, the Museum will host an opening reception, featuring a talk by Chris Johnson and after hours viewing of the galleries. Sometime in the fall, in conjunction with the Atlanta Celebrates Photography festival, Brett and I will lead a "conversation and walk-through" of the exhibit. The premiere showing of the exhibition will end on January 18, 2015. It will then travel to a few more venues before its final showing at the Center for Creative Photography in Tucson, Arizona, which has been a supportive partner in this venture, along with the Bullock family estate.
I believe what Brett has been creating for Wynn Bullock: Revelations will prove to be one of the most exciting, surprising, and historically significant views of Wynn's legacy ever to be offered by a major museum. I couldn't be more pleased or grateful with how things have developed, and I hope each of you will have the opportunity to interact with it in one or more of its manifestations. It is truly a landmark project for Bullock photography, and, in the next four sections, I will share some interesting behind-the-scenes stories of what has happened with it since the beginning of the year. Read on!
---
The High is home to the most robust photography program in the American Southeast… The museum began acquiring photographs in the early 1970s, making it one of the earliest American art museums to commit to collecting the medium. ~ from Wynn Bullock: Revelations press release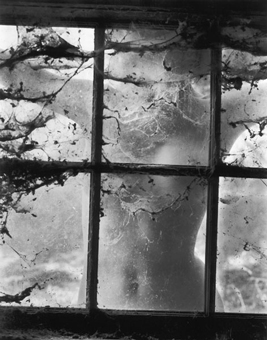 Nude behind Cobwebbed Window, 1955
Prints for the High exhibition are coming from three major sources: the personal and estate collections of the Bullock family (65 black-and-white vintage prints and 10 Color Light Abstraction prints), the Wynn Bullock Archive at the Center for Creative Photography (32 black-and-white vintage prints), and the High's own current permanent collections (3 black-and-white vintage prints).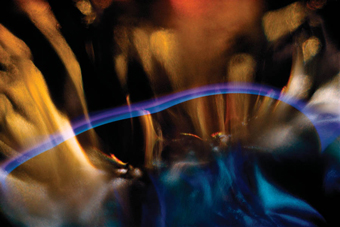 Color Light Abstraction 1007,
1961
We are pleased to share that many of the exhibition prints being supplied by Gene and me and my sister Lynne have also been identified as promised gifts for the High. Gene and I have designated 35 more vintage prints from our personal collections (both black-and-white and color) as additional promised gifts. Over time, the family estate intends to further expand the Bullock holdings at the High with several more Color Light Abstraction prints. All together, these promised gifts will make the Museum the most significant repository of Wynn Bullock works in the eastern United States.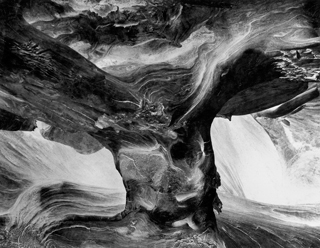 Tree Trunk, 1971
We have embraced this course of action largely because of our respect for Brett Abbott and his depth of understanding of Wynn's legacy in relation to the history of the medium. We also strongly believe in the vision for photography that he is working to fulfill at the High. His goals for regional collaboration, collection development, and education are ones we support. Furthermore, our gifts to the High will provide a presence for Wynn's work in an area of the country where it has been under-represented. Not only that, Wynn's prints will be a meaningful complement to the Museum's existing collections of photographs by such artists as Ansel Adams, Harry Callahan, Walker Evans, Ralph Gibson, Clarence John Laughlin, Richard Misrach, and Edward Weston.
With its long-standing commitment to the art of photography and Brett Abbott's curatorial practices and leadership, we feel sure the High will provide an excellent home for Wynn's work.
---
I have contacted Artemis and asked that they confirm the packing and pick-up for Thursday, Feb. 13.
~ Rebecca Parker, Associate Registrar, Exhibitions, High Museum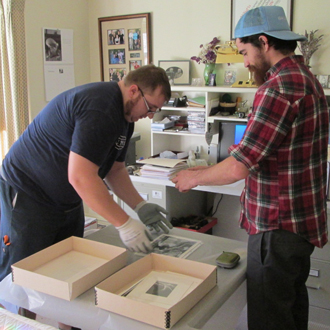 Ben and Andrew Starting to Pack
On February 12, the day before one hundred Bullock family prints were due to be sent to the High Museum, I assembled all the photographs at our house, inspected them one last time, grouped them in archival boxes according to size and purpose (exhibition, loan, promised gifts, etc.), re-checked lists of data, and had a fitful night's sleep.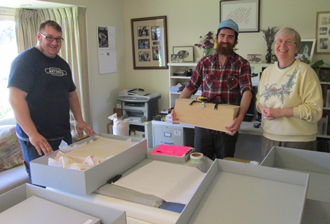 Things are going well!
At 9:00am the next day, two men arrived on our front steps. They introduced themselves as Ben Brown and Andrew Prassas from Artemis Fine Art Services and explained that they had come to pack and pick up some Wynn Bullock photographs for delivery to the High. We showed them to the room where the photographs were and I reviewed what I had done in preparation for their arrival. Sensing my anxiety, Ben did his best to re-assure me with an overview of their procedures. He thanked me for all my careful work and said it was going to make their job go much more easily and smoothly.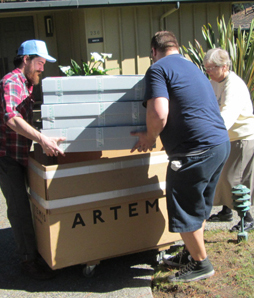 Third and last boxing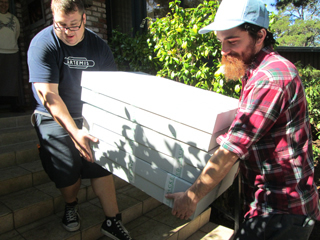 Going down the steps
I didn't begin to relax, however, until Andrew sought me out and told me how much he loved the "photographs of light" that were displayed around the house. Most people are initially mystified by Wynn's abstract color work and don't even see them as photographic images. Andrew had recognized them for what they were and wondered if Wynn had known Rudolf Steiner. Very quickly we found ourselves discussing philosophy, theoretical science, and spirituality. My tension started to thaw.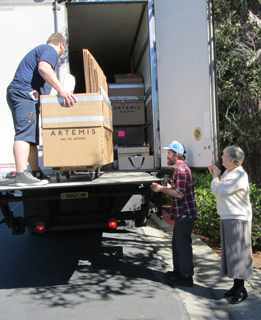 Going into the truck
About 30 minutes later, Ben came to me and said "Your father was way ahead of his time!" He had become captivated by Wynn's black-and-white work, especially his later images of the 60's and 70's. Another interesting discussion ensued.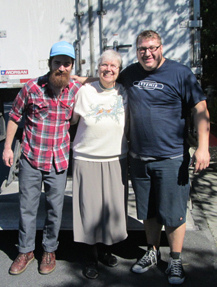 Andrew, Barbara, and Ben
By the time our meticulously packed, triple boxed photographs were ready to be loaded onto the Artemis truck with its climate controls, air-ride suspension, and latest security and tracking devices, Gene and I felt like we had made two new friends. We invited Ben and Andrew to share lunch with us. We learned about their families and their hopes and dreams for the future. We told them more about Wynn and the show at the High. Before they left, we gave Andrew an inscribed copy of our Wynn Bullock: Color Light Abstraction book and Ben a signed copy of the Phaidon Wynn Bullock 55 publication. They asked us to let them know about the opening at the High and said they would be there if they could.
Thanks to Ben and Andrew, letting go of 100 precious Wynn Bullock photographs turned out to be not so hard after all.
---
There's been a delay on the printer's end… The reproduction proofs won't be coming until after the start of my paternity leave… We're on a tight schedule and I'd like you to review them in direct consultation with the book designer…. ~ from a phone conversation between Brett Abbott and me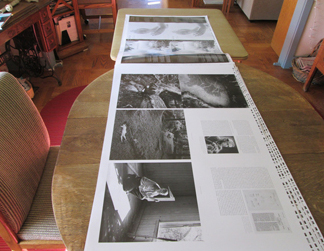 Book proofs
What could I say? Although Brett and I had already established a compatible working relationship and I could feel his confidence, the task loomed large in my mind. Fortunately, I had met Lindsay Starr, the book designer, on our visit last year to the University of Texas Press and it had been a happy connection. This made the prospect less daunting, but only a little…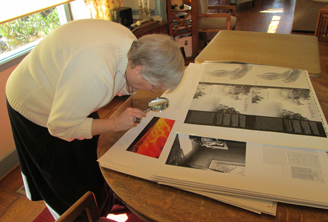 Barbara examining book proofs
The proofs arrived at the end of the day on March 5. The box was a yard long and weighed a ton. My heart sank. I had been expecting a book-sized package. Gene and I unfurled the heavy roll of galley sheets on the dining room table and set up a card table next to it to create a work station.
Although Lindsay had reported that there would be only one set of proofs, upon opening the box, we discovered three. This was such good news! It meant that I could overnight the duplicate sets to Lindsay. We could then each examine the proofs and have a set to refer to as we compared our findings by phone.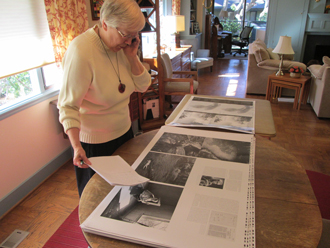 Reviewing proofs on phone with Lindsay
In spite of my initial trepidation, the process turned out to be exciting and fun. With my intimate knowledge of Wynn's original photographs, Lindsay's discerning eye, and the availability of the entire reference set of match prints we had previously sent her, we had all the resources we needed. Of course, it also helped that we found most of the reproductions spot on. Once I was able to relax a bit, it was thrilling to go through the proofs, page after page, and see the beauty of the images in print.
At the conclusion of our review, Lindsay and I were in complete accord. There were only three images that needed tweaking. The changes have now been made and approved. Lindsay reports that the F&G (folded and gathered) proofs are due to be delivered for review on April 11. I can hardly wait!
---
For Wynn, being an artist in the fullest sense meant combining the process of creativity with one of philosophical questioning. He loved the fact that looking deeply inspired him to both create and think. ~ Chris Johnson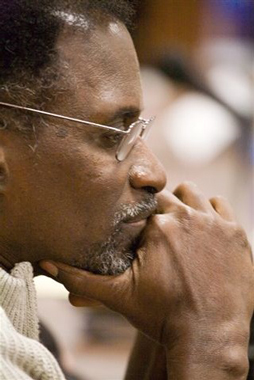 Chris Johnson
© 2015 Jack Wasserbach
When Brett broached the subject of what kind of event should mark the opening of the exhibition, we discussed the possibility of a panel discussion or an illustrated talk. As we mulled over several ideas, we kept coming back to the option of one presenter, someone who was not only a respected professional in the field, but also someone who had known Wynn and could speak knowledgably and insightfully about him from both personal as well as artistic perspectives.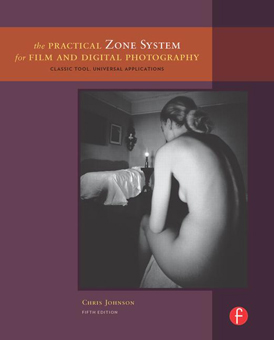 Practical Zone System
book cover
As we brainstormed potential presenters, one emerged above all others in each of our minds: Chris Johnson. For many years, Chris has been an esteemed professor of photography at the California College of the Arts in Oakland, CA. He is the author of The Practical Zone System for Film and Digital Photography, currently in its fifth edition. He has served as president of SF Camerawork, director of the Mother Jones International Fund for Documentary Photography, and chair of the City of Oakland's Cultural Affairs Commission. Recently, he has partnered with former student and award-wining visual artist Hank Willis Thomas on a highly successful and innovative trans-media art project known as Question Bridge: Black Males. Among the institutions that have collected Chris's artwork are the San Francisco Museum of Modern Art, Smithsonian Institution, Oakland Museum of California and Center for Creative Photography.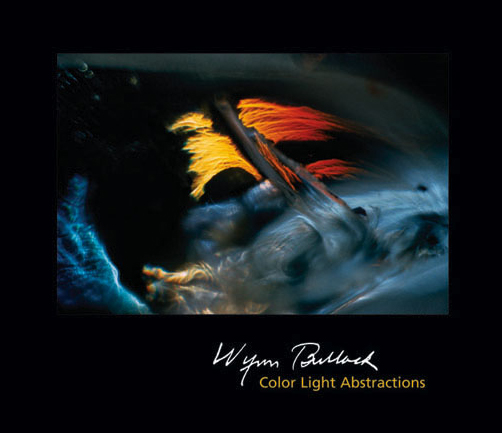 As impressive as these professional credentials are, it is Chris's relationship with Wynn, along his continuing study and scholarship of Wynn's creative journey that made him our first choice for the opening reception. Not only has Chris lectured widely on Bullock photography, he has written about his mentor for several publications, including the reference series Contemporary Photographers. Chris and I co-authored the book Wynn Bullock 55, published by Phaidon Press in 2001, and he also was a valued contributor to the book Wynn Bullock: Color Light Abstractions, produced in 2010 to accompany a 44-print traveling exhibition of the same name.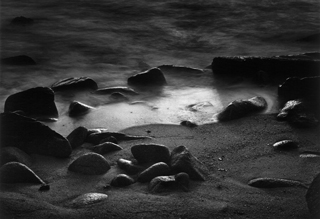 The Shore, 1966
Chris first encountered Wynn's work in 1971 while browsing through a bookstore close to his apartment in the Tenderloin district of San Francisco. As a teen from the rough neighborhoods of Brooklyn, Chris had moved to the West Coast to pursue a career as a folk singer. Not long after he concluded that his musical abilities didn't match his aspirations, he became intrigued with the idea that "seeing could itself be a creative process". It was during this emerging period that he discovered the monograph of Wynn's images published by Scrimshaw Press. The cover photo was The Shore, 1966 and it changed the way Chris thought about and related to the world.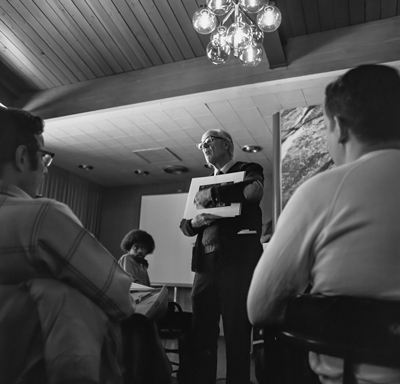 Photo of Wynn and Chris
© 1973 Neil A. Miller
In the winter of 1973, Chris had the opportunity to meet Wynn at an Ansel Adams Yosemite workshop. It was another revelatory experience for Chris. Although he was a youth in his early twenties and Wynn was fifty years older, they both felt an affinity of heart and mind. From that point on, Chris was a welcomed visitor in the Bullock home where many "transformative conversations" were shared. As Chris has written, Wynn "became one of the earliest and deepest influences" on his creative life. Since Wynn's death in November 1975, that influence has continued to be a wellspring of inspiration not only for Chris but also for those whose lives he touches with his insights about his mentor's legacy.
Just a few weeks ago, I met a man named Neil Miller who, upon learning my identity, told me that Wynn had been an important influence in his life as a photographer (happily, this is becoming a fairly frequent occurrence!). As we talked, I told him about the upcoming High exhibition and mentioned that a dear friend and colleague named Chris Johnson was going to be the featured speaker at the opening reception. He said, "I remember Chris. He was a participant in an Ansel Adams workshop I attended in the early 70's. That's when I also met Wynn."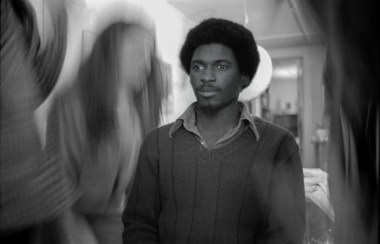 Chris Johnson
© 1975 Neil A. Miller
He then said he might have some pictures from that time. He promised he would go home and see what he could find. A few days later, I got an email from him with four attached files. One was from the winter 1973 workshop and there before my eyes were both Wynn and Chris - the former talking with his customary intensity and the latter in the background sporting an impressive afro and listening with equal intensity.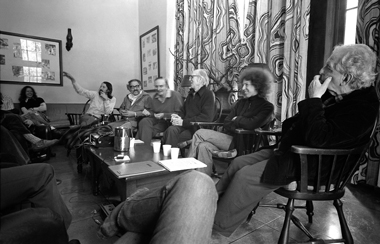 Group discussion at Yosemite workshop
© 1975 Neil A. Miller
The other three files were from the spring 1975 Yosemite workshop, the last Wynn attended as a guest lecturer before his death. One was an unusually revealing portrait of Chris, another was a strikingly poignant image of Wynn and his wife Edna, and the third was a group photo of students and instructors, including Wynn, Frederick Sommer, Linda Connor, Seymour Locks, and Clarence John Laughlin.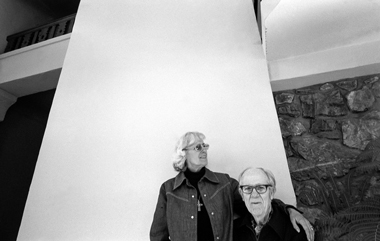 Edna and Wynn Bullock
© 1973 Neil A. Miller
Shortly after I forwarded the four files to Chris, our phone rang and, before I could even say "hello", I heard Chris exclaiming "That's the moment! This is when it happened!! I can't believe there is a picture of it!!!
When our glee abated a bit, Chris shared that he had already started working on his presentation for the opening reception and had decided to begin with the story of the connection he formed with Wynn at the 1973 Yosemite workshop. I could hear the awe in his voice when he said, "Now there is a picture to go with it." He also shared that Neil's later portrait of him was the most beautiful image of himself he had ever seen.
As I write this, I'm still astonished by the serendipity that continues to grace our Wynn Bullock: Revelations project. Meeting Neil is just the most recent in a whole series of marvelous and unexpected gifts. The mystery that Wynn explored with such commitment and wonder in his image-making has in so many ways blessed our efforts to share his explorations with the wider world. What a joyful process it has been…
---
In every photograph of this country which he has taken there is present a note of gratitude for the privilege of being alive and seeing the world, not as a machine, not as a drudge, not as a professional, but as a dreamer divinely possessed. ~ Henry Miller from an article on Wynn Bullock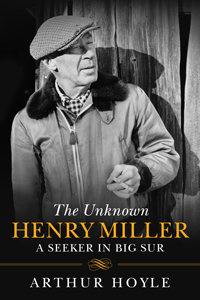 During the time that author/artist Henry Miller lived in Big Sur, he and Wynn were good friends. A book about Miller has just recently been released by Skyhorse Publishing. Written by Arthur Hoyle, the book is titled The Unknown Henry Miller: A Seeker in Big Sur. The image for the book cover was selected from a series of photographs that Wynn made for a magazine feature on Miller in the mid-1950s. Henry always referred to the picture as "his favorite portrait". In addition to the cover photo, the book includes other photographs taken by Wynn.
Next month Arthur Hoyle will be the featured speaker at two book signing events. The first will be take place on May 17 at the Henry Miller Memorial Library in Big Sur and the second will be held on the 18th at River House Books in the Crossroads Shopping Center in Carmel.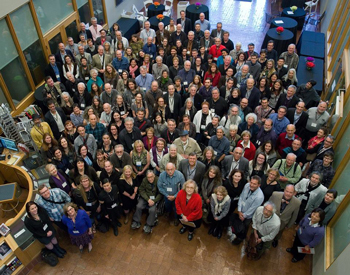 The Next Conversation Conference
© 2014 Center for Creative Photography
In February, Gene and I spent a wonderful four days attending the second "Conversation" hosted by the Center for Creative Photography in Tucson, Arizona. This event brought together photography curators, gallerists, image-makers, museum directors, publishers, editors, bloggers, book sellers, digital experts, estate managers, auction leaders…and educators from all over the country and beyond.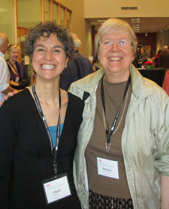 Chiara Dall'Olio and
Barbara Bullock-Wilson
© 2015 Gene Bullock-Wilson
We enjoyed viewing a provocative new film by Harvey Wang titled From Darkroom to Daylight which explored how the change from chemical to digital processes has affected photographers and their work. And we sat in on a number of informative workshops, including "What is an Archive"; "The Past, Present, and Future of the Contemporary Photobook"; "What is the Place of Photograph in Museum and the Academy"; and "How Has the Market for Photographs Changed Since the Turn of the Twenty-first Century?"
We also spent time becoming acquainted with new staff members at CCP as well as its expanding services and programs. Beyond all this, we had a fabulous time connecting with long-standing friends and associates as well as meeting new contacts such as Chiara Dall'Olio from the Fondazione Fotografia Modena in Italy, photographer Neil Miller (see the section on Chris Johnson), and photo educator and image-maker Martha Madigan. It was this opportunity to network with people across the whole spectrum of photography that was perhaps the most valuable benefit that the conference offered.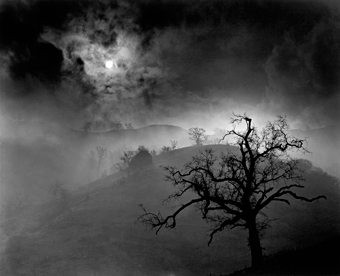 Stark Tree, 1956
Art Intersection in Gilbert, Arizona, is a vibrant center devoted to photography and related visual arts. It offers a full schedule of exhibitions, workshops, and special events, along with image-making facilities that are available for rent as well as workshop use.
Edna Bullock:
Lillie, 1976
Last fall, we participated in a beautifully curated exhibition at the center called Lineage & Legacy. The show featured the work of Wynn Bullock and Imogen Cunningham, along with photographs by Wynn's wife Edna and Imogen's son Rondal Partridge.
Early this year, founder/director Alan Fitzgerald decided to expand his center's offerings to include ongoing representation of a select group of artists. He is dedicating one of the galleries at the center to this effort and has named it the Ryan Gallery in memory of his and his wife Sheila's son who, before his untimely death at age 24, was an up-and-coming photographer. We have accepted Alan's invitation to participate in this new program and we are pleased to announce that Ryan Gallery will represent both Wynn's and Edna's work.
Whenever you are in the Phoenix area, Alan and his staff would be happy to meet you and share more about Bullock photography as well as the work of the other artists they have chosen to represent.
---
Color Light Abstraction 1015,

early 1960s

Many of you have written asking about the cessation of our monthly "Featured Image" commentaries. It delights me that they have become a popular offering on our website and I'm touched that you have missed them. Soon our work on the Wynn Bullock: Revelations project should ease up and I'm hoping to begin writing some new commentaries on Wynn's images by the end of April. With all that's ahead of us, it's probably unrealistic to resume a monthly schedule, but I'll do my best to produce at least 4 to 6 a year.

In closing, I'd like once more to invite all who can to join us in Atlanta on June 19 for the opening reception of Wynn's big new show. We would love to share the festivities with you.

Until next time, warmest greetings and best wishes,


Barbara Bullock-Wilson, Managing Member
Gene Bullock-Wilson and
Lynne Harrington-Bullock, Members
Bullock Family Photography LLC