---
CONTENTS:
Discovering Wynn Bullock | Holiday Shopping | Wynn Bullock: Revelations – The Exhibition | Wynn Bullock: Revelations – The Book
Two Additional Exhibitions in 2014 | 2013 Exhibition Highights | A Quartet of Featured Images | Santa Cruz to Singapore
---
Early this month, we received a special message for our Wynn Bullock Guestbook. It was from a gentleman named Yew Mee Foo in Malaysia who had never heard of Wynn before. Here is what Mr. Yew had to say: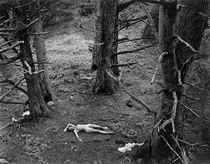 Woman and Dog in Forest, 1953
Yesterday drop by a bookstore saw a photography book which cover is a nude girl lay on the forest with 3 trees trunk. The photo really stop me and make me look at it for a while, then i see the Photographer named "Wynn Bullock" and totally have no idea who he is. And the book been wrapped where i not able to flip through it. But at last i decided to buy the book because of the main cover photo that capture my attention. After reach home i unwrap the book and it make me unstoppable to read the whole book and all the photos inside really impress me. This is the photography book that i been looking for all this time. And finally i know who is Wynn Bullock, he not only a great photographer but a great philosopher to me. His photographs not only a great arts but send a very strong deeply message within itself. So glad i can meet Wynn Bullock in my life. He is definitely the one that i am searching for.
Helping people discover and become inspired by Wynn's life and work is what we are all about. And when we read a message like Mr. Yew's that comes from his heart and goes directly to ours, we are inspired ourselves.
---
I've ordered four 2014 calendars – one for me and three for photographer friends. They will be excited and surprised to receive such a beautiful gift for Christmas. Wynn's photography is truly a gift. ~ Chris Shinn
Cover of the 2014 Calendar
Over 50% larger than last year's calendar and printed on premium stock, the first edition of our gorgeous new 2014 Wynn Bullock Calendar sold out within three weeks of its release! A second round of calendars is now being printed and fresh copies will be available for shipping on December 16. If you would enjoy having 12 of Wynn's images to look at throughout the coming year, we encourage you to click here to place your order now.
We also offer a wide array of other gift items, including several books, two collectible vintage posters, and a wonderful DVD about Wynn's creative journey. To browse through the selections and place your orders, click on the "Online Shopping" button that appears at the top of every main page on our website.
---
Despite early acclaim, the true breadth and depth of Bullock's career has remained largely in the shadows. Wynn Bullock: Revelations offers the most comprehensive assessment of the photographer's extraordinary career in nearly 40 years .
~ Excerpt from a press release issued by the High Museum of Art in Atlanta, Georgia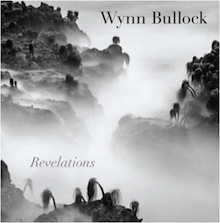 Cover of the new monograph
from the University of Texas Press
In June 2014, the High Museum of Art, in collaboration with the Center for Creative Photography and the Bullock family estate, will become the first major American museum to mount a retrospective of Wynn's work since the mid-1970s.
This landmark exhibition and the catalog that will accompany it have formed a primary area of focus for us throughout most of this year. Both Brett Abbott, the curator of photography at the High, and his assistant Maria Kelly have been wonderful to work with. Sharing their deep understanding and appreciation of Wynn's creative journey has been a richly exciting and rewarding process.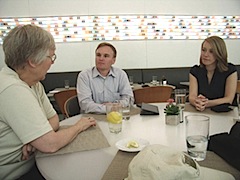 Barbara, Brett Abbott, and Maria Kelly
Now that most of the planning for exhibition has been completed, preparation activities are moving into high gear. Out of the 110 photographs selected for display, 75 are coming from the Bullock family estate. Over the next couple of months, we'll be organizing, preparing, detailing, and shipping 65 vintage black-and-white exhibit prints to the Museum. We will also be producing the 10 Color Light Abstraction exhibit prints chosen for the show and shipping them.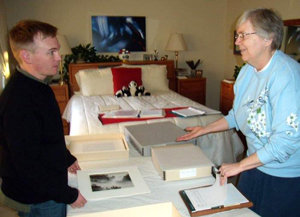 Brett Abbot and Barbara discussing prints
Once the Museum receives our prints as well as the ones being loaned by the Center for Creative Photography, all the photographs will be matted and framed. The Museum will also be turning its attention to the development of the educational components for the exhibition. We'll be continuing to work closely with Brett and Maria on this aspect of the show.
This fall, the High issued an advanced press release announcing the Wynn Bullock: Revelations project. To read the full release, click here (pdf).
On October 19, the Atlanta Journal-Constitution published an interesting article about Wynn's 2014 retrospective that included parts of an interview with Brett. To read this article, click here.
---
The book presents 110 images, including some from the Bullock estate that have never been published before. An essay by the High's Curator of Photography Brett Abbott explores the nuances of Bullock's approach to photography and its fascinating relationship to the history of science and philosophy. The volume also includes an illustrated chronology, a bibliography, selected collections, an exhibition history and a plates list…. Wynn Bullock: Revelations shines new light on this major photographer. ~Excerpts from the book's jacket cover.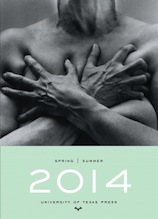 The UT Press Catalogue
As noted in the previous section, the High exhibition will be accompanied by an important new monograph published by the University of Texas Press. Brett generously invited me to work closely with him and his assistant Maria Kelly on all parts of the book, especially the back sections for which I supplied much of the information. I particularly enjoyed putting the chronology together and finding special photographs to go with it.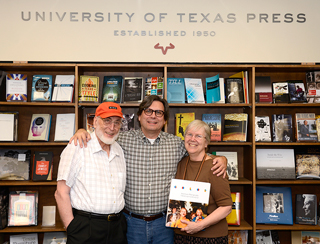 Gene, Dave Hamrick, & Barbara
In October, Gene and I had the opportunity to personally meet Dave Hamrick, the director of UT Press as well as Lindsay Starr, the book's designer. What a joyful visit it was! By the end of the afternoon, we knew the book was in exceptionally caring and capable hands and felt more excited than ever to see it in print.
We were thrilled to learn that Dave and his staff had chosen Wynn Bullock: Revelations to be the lead title in their Spring/Summer 2014 Catalog. They asked for permission to use one of Wynn's images on the cover of the catalog which we happily granted. To view the catalog, click here. Once you are on the UT site, by clicking on the image of the catalog itself, you can bring up the entire contents of the catalog, including the first four pages devoted to our book.
Both Amazon and UT Press are currently offering great pre-release deals on the book. To place an order with Amazon, go here. To secure a copy of the book directly from the publisher, click here.
---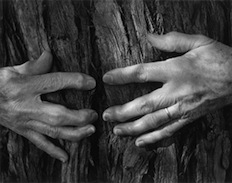 Woman's Hands, 1956
Color Light Abstraction 1185
Wynn Bullock: A Fascination with Light will open January 3, 2014 at Fujifilm Square's Photo History Museum, located in the Roppongi district of Tokyo, Japan. Featuring 23 of Wynn's black-and-white photographs from the permanent collections of the Kiyosato Museum of Photographic Arts, this exhibit will run through March 31. To view the exhibit pamphlet, click here (pdf).
The exhibition Color! American Photography Transformed which premiered this fall at the Amon Carter Museum of American Art in Fort Worth, Texas, will have its second showing at the Dixon Gallery and Gardens in Memphis, Tennessee, from January 19 through March 23, 2014. Through the work of 75 photographers, each represented by a single key image, a fascinating story is told. Wynn's contribution to this ongoing history of color photography in America is the abstract color imagery he created from 1959 to 1965. His image Color Light Abstraction 1185 is the one featured in this exhibit and in the large, hardcover catalog that accompanies the show.
---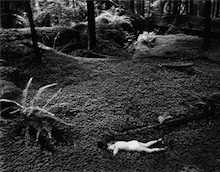 Child in Forest, 1951
I recall the very moment I saw the work of Wynn Bullock. Seeing the image,
Child in Forest, 1951
, projected in a darkened lecture hall, literally woke me up to an experience that still resonates for me today. At the time, I didn't have the appropriate vocabulary to be able to articulate my reaction, but I felt a visceral response to this iconic image, the questions it raised touched a deep spiritual void. The intersection of life and death and nature's ultimate mysteries seemed to be answered in a visual metaphor that somehow couldn't be verbalized. In the end it taught me that art has the ineffable power to transform and redeem us all.
~ Carol Panaro-Smith, curator of the exhibition "Lineage and Legacy" at Art Intersection Gallery in Gilbert, Arizona.
Wynn's work has been featured in 11 different exhibits this year. Here are some highlights.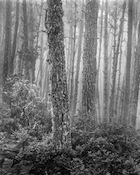 Del Monte Forest, 1956
Thoughts of the Forest: Photographs by Manabu Miyazaki, Takeshi Shikama, and Wynn Bullock will be on display through December 23 at the Kiysato Museum of Photograph Arts in the Yamanashi Prefecture in Japan. The show includes 35 of Wynn's prints from the Museum's permanent collection which is the largest and most comprehensive holding of Bullock photography outside this country. Click here to view a visitor leaflet for the show.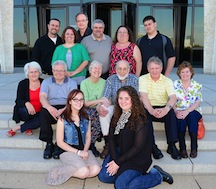 Family reunion at the Amon Carter Museum
Before moving to the Dixon Gallery and Gardens in Memphis, the exhibition Color! American Photography Transformed will continue to be on display at the Amon Carter Museum of American Art through January 5, 2014. This past October Gene and I, along the 12 other Wilson clan members, met in Fort Worth shortly after the opening of the show. Curator John Rohrbach treated us to a personalized, in-depth tour of the exhibit which was enjoyed by all.
The Family of Man Museum in Clervaux, Luxembourg, reopened this past July after carrying out extensive renovations to its facilities and conducting significant restoration work on its historic collection of prints. The entire exhibition of The Family of Man, including two of Wynn's most well-known images, is now available to be freshly enjoyed.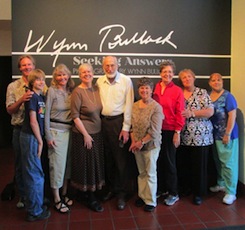 A group gallery tour led by Barbara and Gene
Opening on April 12 and running through June 30, 2013, the exhibition Seeking Answers: Photographs by Wynn Bullock at the de Saisset Museum on the campus of Santa Clara University was a great success. The opening reception was well-attended and included a gallery tour conducted by the curator Lindsey Kouvaris and me. A second special event took place on May 15 during which Lindsey and I engaged in an evening of stories and conversation with an attentive and enthusiastic audience. Over the course of the show, Gene and I conducted several additional gallery tours for family, friends, and other visitors. Thanks to Lindsey's curatorial efforts, the exhibit was one of the most thoughtfully and beautifully presented shows of Wynn's work to be mounted in many years. To view a set of pictures taken on various visits to the show, click here.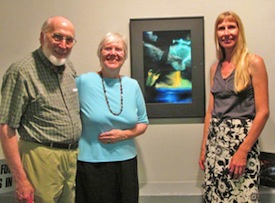 Gene, Barbara, and ASU photo instructor
& show organizer Liz Allen
Two special shows were displayed concurrently in Arizona this fall. The first was the fifth presentation of selected prints from our Color Light Abstraction traveling exhibit. Hosted by Northlight Gallery on the campus of Arizona State University in Tempe, our show became the focus of a class project for the students of photography instructor Liz Allen. All facets of the show from uncrating the framed prints through curating and installing the exhibit to packing up and returning the crates were handled by Liz and her students. At the opening, which was also part of the students' learning experience, Gene and I, along with our daughter Karan whose home is in nearby Mesa, had the opportunity to interact not only with members of Liz's class, but with many other University students, faculty members, and wider community visitors as well. Sharing Wynn's work with students is a particular joy for me as it helps keep his creative legacy alive and vital, a source of inspiration for young artists as they pursue their own paths.

Images by Wynn Bullock, Imogen Cunningham, Edna Bullock, and Rondal Partridge
Lineage and Legacy was the second Arizona show. Featuring the work of Wynn, Imogen Cunningham, Wynn's wife Edna, and Imogen's son Rondal Partridge, the exhibit took place at Art Intersection Gallery in Gilbert. Art Intersection is a relatively new photography center that provides a wide variety of educational programs, well-equipped work spaces, and a full schedule of interesting exhibits. The Center's supportive and talented staff members were marvelous to work with and they hosted an opening weekend of festive events, including a reception, an exhibition tour led by Imogen's granddaughter Meg Partridge and me, and a Gallery dinner. Meeting Meg and exchanging stories of what it's like to manage a historically significant photography estate was one of the highlights of these events. Another was sharing the show with our daughters Karan and Lisa and their families and friends who all live in the greater Phoenix area. To access an album of photographs showcasing this exhibit, click here.
A listing of five other group exhibitions may be found on our Exhibition History page.
---
Mysteries lie all around us, even in the most familiar things, waiting to be perceived. ~ Wynn Bullock
Since our March newsletter, I have written and recorded four new Featured Image commentaries. I had intended to produce an additional five before the end of 2013, but doing one a month turned out to be more than I could handle this year. Others will come in due time as I continue to practice being more flexible in relation to self-expectations (Gene, I really am getting better!). Meanwhile, here are excerpts from our featured four.
Color Light Abstraction 1075 (Early 1960s) – "For Dad, bringing home tokens of nature for further contemplation and appreciation became a life-long practice, and the keepsakes that had the most meaning for him were things that testified to universal forces and the essential processes of life, death, change, and transformation…. Like the swirl of driftwood on the front stoop and the sea-washed stones in the bowl of water, Color Light Abstraction 1075 and its fellow images are testaments to the play of universal forces and the fundamental, essential processes of existence. They are gifts Dad brought home from his journey into the depths of light and the mystery we call life."
Erosion, 1959 – "For me, Erosion is an image that expresses much of what Dad's creative journey was all about. You can clearly see the surface of the land above and beyond the eroded forms as well as the cloudy sky and grit-lined road. Together with the bushes growing out of the earth, these elements are reminders of what is normally visible in a landscape. Then there is the exposed earth itself – the roots and rocks and soil that exist beneath the surface – all that is usually hidden from view…. More than this, the eroded patterns suggest a line of figures or 'monk-like forms' as Dad annotated in his negative log. In its depths, the earth has energy, it has spirit. It is alive and we are kin to it."
Del Monte Forest, 1969– "At the end of the 1960s and into the early 1970s, Dad returned to an exploration of humanity's relationships with the natural world. However, unlike his photographs of the 1950s, which were more literal depictions of human beings and their artifacts, his later work was more abstract and metaphorical. He created images in which traces of humanity could be seen in trees, wood bark, rocks, and other natural forms."
Under Monterey Wharf, 1969 – "In his creative work, what was important to Dad was learning more about essence; being open and alert to whispers – glimmers – that invited him to journey beyond ordinary reality and probe more deeply the mysteries of life and the universe. It was this perpetual attitude of wonder and discernment that enabled him to make images such as Under Monterey Wharf...."
Note: Remember all the commentaries are available in both printed and audio formats.
---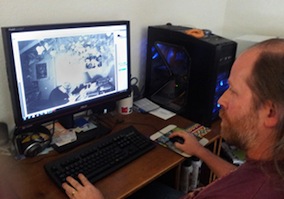 Erik Peterson
Erik Peterson, owner of ESP Color Services in Santa Cruz, California, is a member of the core team of fabulous professionals with whom we continually work. For over five years, Erik has served as our file manager, helping us create a digital library of master image files, fulfill reproduction requests, design our beautiful calendars and notecards, and guide us through the ever-changing digital world. He also has provided essential services to his fellow team members: David Gordon, webmaster; Rick Forschino, printer; and Sandy Lewis, mounter and over-matter.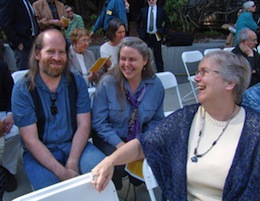 Erik, Michelle, and Barbara
Early in 2014, Erik and his wife Michelle Merrill will be moving to Singapore where Michelle has been granted a one-year, renewable post-doctoral position in environmental and sustainable studies at Nanyang Technological University. We are saying farewell to Erik and Michelle with mixed emotions, delighted to share their excitement in this new adventure and sad to see good friends go so far away.
We aren't, however, saying good-bye to a valued colleague. Thanks to today's technology, we will be able to work remotely with Erik via email, Dropbox, and Skype. Our first big project will be to design our 2015 calendars. And you read it correctly – we are planning to produce two calendars next year in celebration of the High Museum show. One will feature twelve of our favorite Wynn Bullock black-and-white images and the other will be devoted to Wynn's Color Light Abstractions. In our next issue, we'll have more exciting news to share, so stayed tuned!
---
Christmas at Sandy's, 1956




As 2013 comes to a close, we want to express our gratitude to each of our wonderful team members; to our dealers who show such dedication in representing Bullock photography; to the museum curators and staff as well as the publishers and their staff we have had the great fortune to partner with; and to all of you who support and encourage us in so many ways.

Until next time, warmest holiday greetings and best wishes,


Barbara Bullock-Wilson, Managing Member
Gene Bullock-Wilson and
Lynne Harrington-Bullock, Members
Bullock Family Photography LLC