---
Contents: De Saisset Museum Exhibition | Other Shows | The High Museum
Wynn Interview on Film | The Photograph as Symbol | Featured Images
---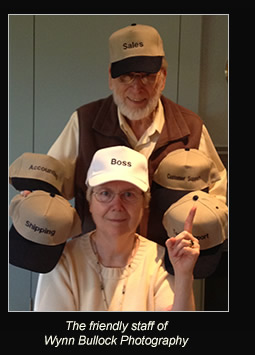 In our June 2012 newsletter, we wrote about the many hats we wear during a typical work week. Our nephew Jere Wilson and his wife Kathleen from Terryville, CT, spent several days with us last fall and witnessed firsthand what we had described. Employed in separate departments of a large law firm, they were quite impressed with the marked differences between their situation and ours.
Not too long after they returned home, we received a surprise package from them. In it were six beautifully made caps, each with a different label: "Accounting", "Boss", "Customer Support", "Sales", "Shipping", and "Tech Support". Our oldest daughter Karan Brady happened to be with us when we opened this delightful gift and immediately started taking pictures with her smart phone. Gene insisted I wear the "Boss" hat while he juggled the rest.
Since the beginning of 2013, the hat Gene and I have both been wearing most often has been "Customer Support". Interest in Wynn's work is burgeoning and we've been working overtime with gallery representatives and museum curators here and abroad on a number of group and solo exhibitions. With this newsletter, I'll give you the highlights of all the exciting things that have been happening. Read on!
---
SPRING EXHIBITION AT THE DE SAISSET MUSEUM
" As long as I can remember, I have been filled with a deep desire to find a means of creatively interacting with the world, of understanding more of what is within and around me…. When I photograph, what I'm really doing is seeking answers to things." ~ Wynn Bullock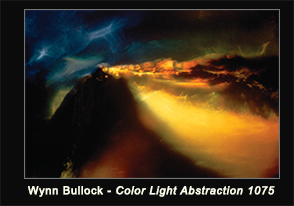 Opening April 12 and running through June 30, the exhibition Seeking Answers: Photographs by Wynn Bullock will be on display at the de Saisset Museum at Santa Clara University. A member-only preview will be held on Thursday, April 11 from 6-7pm during which curator Lindsey Kouvaris and I will lead a gallery tour. This will be followed by a free, public reception from 7-8:30pm.
A second special event has been scheduled for Wednesday, May 15, at 7pm. Titled "Wynn Bullock: Stories and Conversation", this informal presentation will feature Lindsey and me in an open discussion about Wynn, his imagery, and the evolution of the exhibition. There will be ample opportunities for questions and comments from those in attendance.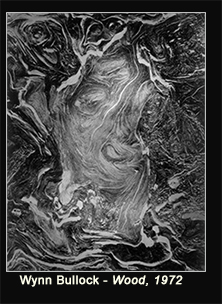 In her description of the show, Lindsey shares the following perspective:
"Best known for his striking black & white images of landscapes and figures in nature, Wynn Bullock's career was marked by an aptitude for experimentation and a quest for deeper understanding. Though he was active alongside well-known California photographers Ansel Adams, Imogen Cunningham, and Edward Weston, Bullock's interest in developing and working with new photographic techniques set him apart from the 'straight' photography of his peers. This exhibition features approximately fifty black-and-white photographs and six color light abstractions that speak to the breadth of work in his portfolio and call attention to his ongoing interest in abstraction."
Seeking Answers is the third solo show of Wynn's work to be hosted by the Museum. The first exhibition took place in 1972 and its most notable feature was a set of twenty color light abstraction photographs which Wynn subsequently gifted to the Museum. A sampling of these images was reproduced in a small catalog which accompanied the show. Shortly after Wynn's passing in November 1975, the color collection was again exhibited as part of a month-long memorial celebration of his life.
Unstable and fragile, Wynn's early type-C color prints are no longer deemed suitable for display by the Museum and are now being carefully preserved in dark storage. To allow for on-going exhibition possibilities, the Bullock estate is donating 20 archival color prints to the Museum's permanent collection. The six prints Lindsey has chosen to include in the new show are coming from this group.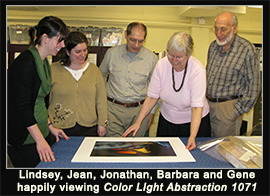 Over the past several months, it has been a joy to work closely with current staff in renewing the strong connections that were initially forged with the Museum forty years ago. Focusing on the arc of abstraction and experimentation that can be traced from Wynn's early work through to his last images, Seeking Answers offers a fresh view of Wynn's creative legacy. It has been exciting to participate in the development of this third de Saisset exhibition and we look forward to beginning the process of sharing it with others opening night.
---
OTHER 2013 EXHIBITIONS
"Bullock made his mark on the history of photography with his 1951 Child in Forest. In it, the little girl lying nude in the forest is the photographer's daughter. His work could be said to symbolize the preciousness of all life. Moss in the forest, plants, and human beings - all life is born of light and connected to it." ~ Yuko Yamaji, curator of the upcoming exhibition Thoughts of the Forest at the Kiyosato Museum of Photographic Arts
KIYOSATO MUSEUM OF PHOTOGRAPHIC ARTS
Thoughts of the Forest: Photographs by Manabu Miyazaki, Takeshi Shikama, and Wynn Bullock is the title of a multi-faceted exhibition that will be held at the Kiyosato Museum of Photographic Arts in the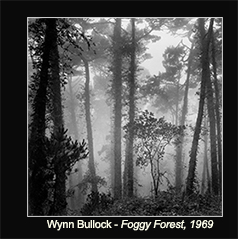 Yamanshi Prefecture in Japan. Opening on July 6 and running through December 23, the show has been scheduled to coincide with the Prefecture's 28th National Cultural Festival whose theme this year is "The Pride of Yamanashi: Nature, Traditions, and Cultural Events."
Thoughts of Life is the first part of the show and will introduce 25 new images by Miyazaki, one of Japan's foremost wildlife photographers and a self-described photojournalist of the forest. The second part, Thoughts of Water, will feature 30 platinum prints by Shikama, a resident of Yamanashi Prefecture who has photographed forests throughout Japan with his large-format camera.
Thoughts of Light is the third part of the exhibit. It will present 35 of Wynn's vintage photographs from the Museum's permanent collection which is the largest and most comprehensive holding of Bullock photography outside this country. In a press release for the exhibition, curator Yuko Yamaji quotes Wynn as saying "Light to me is perhaps the most profound truth in the universe." She describes his imagery as "extolling the mysticism of the forest and its tranquil energy" and writes that "it is a rare delight to experience the delicately detailed photographic expression that…[his] vintage black-and-white prints achieve."
THE FAMILY OF MAN MUSEUM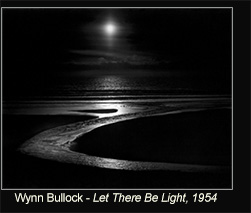 In 1964, the American government gifted the world-renowned Family of Man exhibit to the Grand Duchy of Luxembourg, the birth country of the show's curator Edward Steichen. After extensive conservation work, three interim exhibitions in France and Japan, and the construction of a museum within Clervaux Castle, the original exhibit was finally given a permanent home in the Castle in 1994. In 2003, UNESCO added a listing of the exhibit to its Memory of the World Register.
Working with curator Anke Reitz, we have been supplying anecdotal information as well as assisting in the conservation work needed for the large prints of Wynn's two images in the show: Child in Forest, 1951 (4x5 feet) and Let There Be Light, 1954 (10x12 ½ feet). The original, historic print of the latter image was in four separate panels, each one approximately 3 feet wide and 10 feet high. When the exhibit was initially gifted to Luxembourg, one of the panels was missing. For the 1994 installation, the decision was made to produce a single new print matching the overall dimensions of the original four panels. Now Anke and her colleagues want to restore the original three panels and display them with a newly created fourth panel. It has been a fascinating process to help them implement this plan.
A grand re-opening of the Museum is being organized for this summer. When specific dates have been set, we'll post them on our website.
MUCH CLOSER TO HOME
Opening March 30 at the Santa Cruz Museum of Art and History, Photo ID is a museum-wide photography exhibit centered on the broad theme of identity. Loosely sectioned into three sub-themes of "self, social, and gender", the show will present a wide-ranging selection of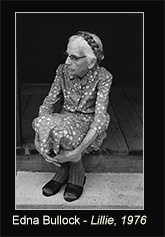 photographs by many artists. One of the more unusual displays will be a series of self-portraits by school children combined with historic postcards and other photographic materials reflecting the students' relationships with their home communities. Among the other work to be exhibited, there will be three images by Wynn and two by his wife Edna who became a photographer after he died. The show is scheduled to run through July 7.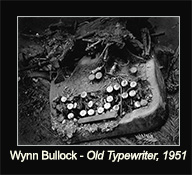 The Museum of Photographic Arts in San Diego's famed Balboa Park is celebrating its 30th anniversary in that location with the exhibition 30X: Three Decades. The show consists of 30 photographs, one for each year of the Museum's collecting history and Wynn's Old Typwriter, 1951 was chosen to represent the year 1990. Already on display, this show will run through October 13.
---
WORK IN PROGRESS AT THE HIGH MUSEUM OF ART
Wynn Bullock: Revelations ~ the title of a new exhibition and book being developed by Brett Abbott, curator of photography and head of collections at the High Museum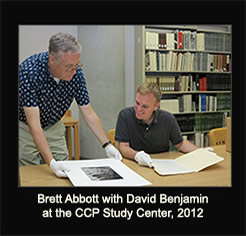 One of the most exciting and significant activities in our lives right now is the major monographic exhibition/book project being led by Brett Abbott, curator of photography and head of collections at the High Museum in Atlanta, Georgia. A collaborative venture involving the Center of Creative Photography at the University of Arizona in Tucson and the University of Texas Press, the project in terms of scope and magnitude is the first in many years to consider Wynn's creative legacy in relation to its contributions to the history of photography.
Last year the Center awarded Brett one of its two annual Ansel Adams Research Fellowships to research the Wynn Bullock Archive and photograph collection at CCP. In addition to his two study visits to the Center, Brett has had two intense working sessions with us in California and we have made two trips to Atlanta to support and assist in his development of both the exhibition and book.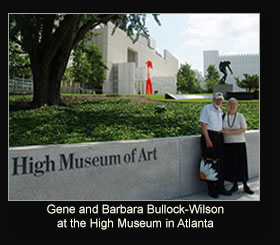 During the first three months of 2013, the project has advanced considerably. Image selection has been completed and initial drafts of the all the book sections have been submitted to the publisher. Reader reviews are currently taking place and comprehensive editorial work will soon commence.
Although specific dates have yet to be set, the 110-print exhibition is slated to premiere at the High sometime during the summer of 2014, along with the release of the book. The show will then travel to other venues, including the Center in Tucson.
As the project continues to develop, we will provide updates in future newsletters.
---
"CONVERSATIONS WITH THE MASTERS"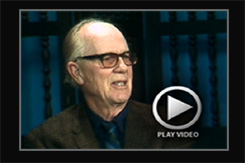 Lumière Gallery in Atlanta, GA, is currently making available on its website rare video footage of an interview with Wynn.Conducted by Steve James of the former Eikon Gallery in Monterey, CA, this interview on Wynn's approach to photography is beingoffered to viewers for the first time since its initial airing in 1971.Other interviews in this exclusive series feature Ansel Adams, Brett and Cole Weston, and Beaumont Newhall. A second interview with Wynn is being prepared for future viewing. In it, Wynn talks about the development of his first major monograph which had been newly published in 1971 by Scrimshaw Press.
---
1ST EDITION COPIES OF WYNN'S BOOK
THE PHOTOGRAPH AS SYMBOL
" The last photographs of Wynn Bullock display intellectual growth as well as aesthetic development. They are, more than a culmination of his career, another new beginning. The Photograph as Symbol is a…testament affirming the creative process that is never-ending." ~ Jonathan Clark
The first major title of The Artichoke Press, this collector's item is now considered a classic in the realm of photographic literature. Published posthumously in 1976 and initialed by Wynn before his death, the book is the product of a close collaboration between Wynn and printer-publisher Jonathan Clark who devoted himself to creating an elegant presentation for both Wynn's text and images.
Since 1976, only half of the limited edition of 200 numbered copies has been bound and released. Now, in cooperation with Jonathan, we are pleased to make additional copies of the original publication available for purchase.
Consisting of six carefully-written paragraphs, along with seven tipped-in varnished letterpress reproductions printed by hand from copper engravings, this handcrafted book is a work of art itself and may be found in many of the leading libraries and museums throughout the world.
Further details about this rare and beautiful volume may be found on our website, along with contact information for ordering.
---
A TRIO OF FEATURED IMAGES
" In printing, I don't want to distort the reality of the image, but I don't want to distort the reality of my feelings for it either. The two go hand in hand. I have no qualms about altering the image by burning and dodging. I'm not a purist in that way. I am a purist in that I don't want the manipulation to show. As soon as it does, the magic is destroyed. " ~ Wynn Bullock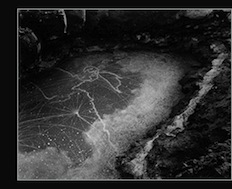 With this newsletter, we have three Featured Images to share. All the commentaries which accompany the images are presented in both written and audio versions. Clicking on either the thumbnails or image titles in this section will take you to the respective Features and closing those pages will bring you back to this newsletter.
January's Featured Image is Point Lobos Tide Pool, 1957. In my commentary, I share the story behind the making of this serendipitous image as well as the significance of Point Lobos State Reserve in Wynn's creative journey. Included with this Feature are several additional images Wynn made at Point Lobos as well as some snapshots of family events at the Reserve.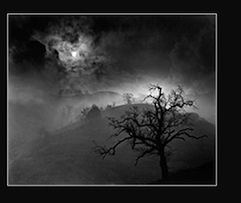 Stark Tree, 1956, is our selection for February. Another of Wynn's iconic images, it is a photograph that required a lot of darkroom work to create. In this commentary, I describe the small, rustic space behind the one-car garage where Wynn produced wondrous prints for more than twenty years. Quoting liberally from the book Darkroom which includes a chapter on his craftsmanship, I also share the concepts and processes beyond technique that he believed were essential to him as an image-maker.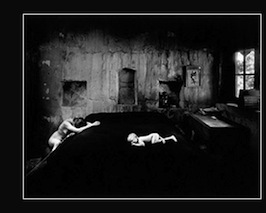 Our March feature is Navigation without Numbers, 1957. One of Wynn's most published, exhibited, and collected photographs, this image has a fascinating back story which I relate in both text and added pictures. The story also provides a perfect opportunity to talk about Wynn's approach to titling his images and explains why, in this instance, he departed from his customary practice.
In addition to the first three Featured Images for 2013, you might also want to check out the final three for 2012. Published after our last newsletter, they are Seed Pods, 1969; Point Lobos Rock, 1973; and Christmas at Sandy's, 1956.
---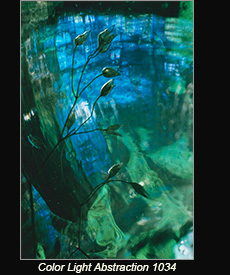 Since introducing our online Guestbook last fall, several people have contributed comments. We invite you to check them out and send us one of your own. We would love to hear from you.
Until next time, warmest greetings and best wishes,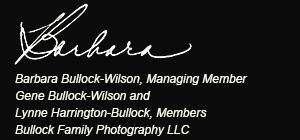 ---