---
Contents: A "Typical" Week | New on the Website | Featured Images | Current Exhibits | News from UC Santa Cruz
---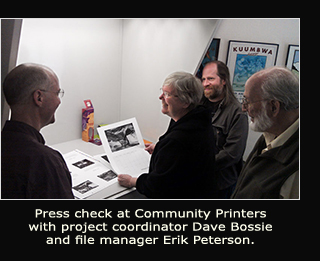 One of the things we enjoy about the work we do is the daily - and often unexpected - variety it offers. Waking up each morning, we never know quite what to expect. Sometimes it is an inquiry about an original photo of Wynn's that had been retrieved from under the mattress of an elderly friend; other times it can be a message from a young photographer in England who has just discovered "the amazing photographs of Mr. Bullock".
In conducting the business of our photography estate, we wear many hats - among them curator, researcher, archivist, product developer and manager, correspondent, bookkeeper, promoter, marketer, writer, and student. Engaged in such diverse activities as developing exhibits, handling permission requests, fulfilling orders, and managing gallery relationships, we continually discover new challenges as well as unanticipated rewards. And collaboration with members of our fabulous team of resource people as well as professional colleagues never fails to give us new avenues to pursue.
We are grateful to be involved in such meaningful and absorbing work. We love what we do, and through our periodic newsletters, it is a joy to share some of it with you.
---
A "TYPICAL" WEEK FOR BULLOCK FAMILY PHOTOGRAPHY
"Thank you so much for the wonderful visit in Carmel today! We are all getting very excited about the upcoming exhibit of Wynn's work. The exhibit will be gorgeous, yet different, and still provide the educational emphasis we all thought was important." ~ Rebecca Schapp, director of the de Saisset Museum at Santa Clara University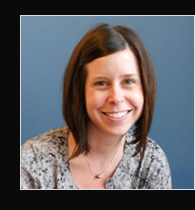 Although any week of the year could illustrate why we find our work so interesting and rewarding, a recent week in May is fresh in our minds and serves our purposes nicely.
The first notable event was a visit from Rebecca Schapp, the director of the de Saisset Museum at Santa Clara University, along with her colleagues Lindsey Kouvaris (photo), Curator of Exhibits and Collections, and Jean MacDougall, Collections Manager.
The purpose of the meeting was to advance plans for an exhibition scheduled for spring 2013. While viewing photographs, we began focusing on a theme which would trace the arc of Wynn's early abstract imagery through his color light abstractions to his last body of abstract black and white work. This represents an intriguing perspective that has not been explored in previous exhibitions and we're eager to see how plans will continue to progress.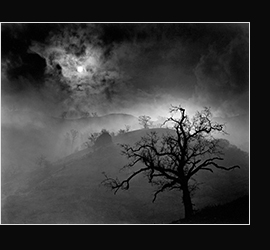 As the week unfolded, it was marked by several other interesting events and activities. We exchanged emails with a woman from Canada who is serving as the co-executor of her aunt's estate. She contacted us seeking advice on what to do with several original photographs that she had recently discovered among her aunt's belongings. The group included a framed print of Wynn's Stark Tree.
We also corresponded with a granddaughter-in-law of the man who cared for our family's garden as I was growing up. She and her husband had recently been given two of Wynn's photographs by her father-in-law who was downsizing from his home to a smaller apartment. She was seeking information about the two images they had just acquired and it was thrilling for us to re-connect with relatives of a man whom our family had treasured for many years.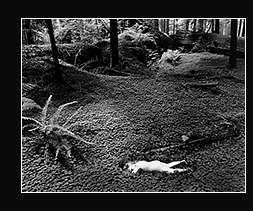 We received a permissions request from Aperture Foundation regarding a book they are producing entitled Aperture Magazine Anthology, The Minor White Years, 1952-1976. In 1953, White published a "Portfolio" of Wynn's work that included an essay by Wynn and six images. It was so early in Wynn's photographic career that the feature appeared under the name "Wynne Bullock".
The request to reproduce the essay, along with Wynn's image of Child in Forest, prompted us to find and review our copy of the magazine. We were struck anew by the passionate, unreserved nature of his writing. The essay provides a fascinating glimpse into Wynn's thoughts and feelings at an early stage in his creative journey and we are pleased Aperture has selected it to be part of their new book.
In the middle of the week, we went on a driving tour of Palo Corona Regional Park, part of an historic central coast ranch that is now permanently protected as public conservation and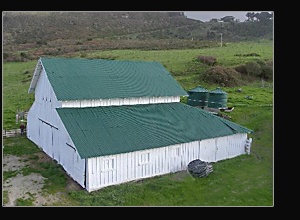 park lands. Although Wynn had known the Fish family who owned the 10,000-acre ranch for many years, this was our first time on the property. During the tour, we shared that Wynn had taken photographs there for Dick Mack, an outdoorsman who occasionally led groups into the back reaches of the ranch to hunt wild boar with bows and arrows. I recounted a time when Dick delivered some nicely aged, marinated boar steaks from the ranch which became the centerpiece for a memorable, but definitely not universally acclaimed, family dinner. The tour guides were delighted with this new information and invited us to contact them again so that our tales could become part of the archives of the ranch.
Other highlights for the week included discovering an online forum in England that has a wonderful on-going thread on Wynn; attending an informative illustrated lecture on Yousef Karsh; processing several orders for DVDs and estate prints, one from as far away as Cambodia; noting new Facebook fans from around the world, including Poland, Germany, Italy, and Japan; writing and recording the Featured Image for May (always a free-flowing adventure); investigating presentation and packing materials for our new line of notecards and calendars (there will be much more information about these in our next newsletter); keeping up-to-date with current and future exhibitions; responding to numerous additional phone and email communications; and, last but not least, starting work on this newsletter (a process that continues to evolve until our webmaster clicks the "Send" button).
Every week is a new adventure and the next one is just around the corner.  I can hardly wait!
---
A NEW WEBSITE FEATURE: EXHIBITION HIGHLIGHTS
"Bullock was profoundly impressed by the innate power of Edward Weston's straight photography. But he was always open to new ways to reveal the deeper meanings he sought."
~ from an article by Jan Sjostrom in the Palm Beach Daily News, March 26, 2012

"The shots are giddy with discovery about light and color and their endless permutations…. The exhibit…serves as an example of the continual rediscoveries that broaden our understanding of what it means to be an artist."
~ from a review by Scott Eyman in The Palm Beach Post, May 13, 2012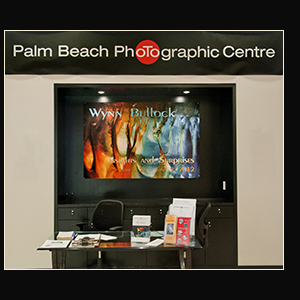 We are adding a new feature under our "Viewing Galleries" called "Exhibition Highlights". Here you will find accounts in pictures and text of significant solo exhibitions of Wynn's work that have taken place since 2010.
In addition to developing a visual archive of major shows, the primary aim of this feature is to offer opportunities for our website viewers to experience exhibitions that they haven't been able to visit personally, revisit those they have, and enjoy a variety of related stories and materials. Included in our highlights will be such items as anecdotal information about the exhibited work, behind-the-scene looks at exhibit planning and preparation, installation shots, wall panel texts, published articles and reviews, photos of opening events, and guest book comments.
We are inaugurating this new feature with an account of our most recent show, which was held at the Palm Beach Photographic Centre from March 21 to June 9. Unlike many exhibits of Wynn's work, we personally curated this exhibit and oversaw its installation. We also participated in the opening festivities,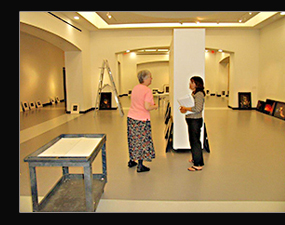 including a well-attended panel presentation led by Tim Wride, curator of photography at the Norton Museum in West PalmBeach. In addition to Gene and me, other panel participants were Brett Abbott, curator of photography at the High Museum in Atlanta, GA; Gordon Brown, retired Kodak workshop and education coordinator; and Ray Merritt, photography collector and curator.
As soon as we can compile them, we will add accounts of the first exhibit of Wynn's work in mainland China at the See+ Art Space/Gallery in Beijing; the 2010 premiere showing of the traveling exhibit of Wynn's Color Light Abstractions hosted by the Center for Photographic Art in Carmel, CA; and the subsequent showings of that exhibit at the Center for Creative Photography in Tucson, AZ and at Spectrum Gallery in Fresno, CA.
Once these are online, we will continue to post accounts of future solo exhibitions as they occur.
---
OUR THREE FEATURED IMAGES FOR SPRING
" For me, Color Light Abstraction 1024 lives in that rarefied creative space reserved for the highest levels of photographic art achieved only by a precious few. " ~ Andy Ilachinski in his guest commentary for April's Featured Image
Since our last newsletter, three new Featured Images have been posted on our website. Clicking on either the thumbnails or image titles in this section will take you to the respective images and closing the pages will bring you back to the newsletter.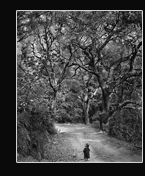 Our selection for March is Child on Forest Road, 1958. This is one of Wynn's most well-known and beloved images. Over the years, other artists have asked permission to use it as part of their own creative work. It has appeared on the album cover of Life by Gladys Knight and the Pips and the CD cover of On the Road to the Garden by musician/composer Johnny Blackburn. Writer Ursula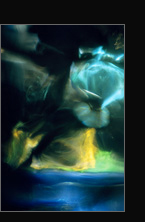 LeGuin chose it as the cover image for her book of poems Wild Oats and Fireweed (Harper and Row, 1988). In my commentary, I relate an interesting anecdote about Ursula's efforts to persuade her publisher to use the image, including the poem she wrote about it that secured his agreement.
Color Light Abstraction 1024 (1965) is April's Featured Image. This is how guest commentator Andy Ilachinski introduces himself. "By way of background, I am both a physicist and photographer, with a strong predilection for metaphysical musings.That I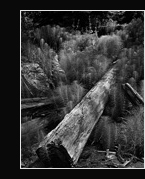 should have had a lifelong interest in Wynn Bullock (I write this commentary at the ripe 'old' age of 52) should come as no surprise." Andy goes on to share his responses to Wynn's work in general and CLA 1024 in particular with eloquent insight and heartfelt admiration.
Our third image for spring 2012 is Log and Horsetails, 1957. During Wynn's lifetime, it was one of the most frequently reproduced images in magazine articles and photography books about his work. In addition to the deep personal connections to the image that I share in my commentary, the feature offers two pop-ups. One presents several published comments about this quintessential Bullock photograph and the second displays a picture of horsetail plants that Wynn made to elaborate on the image in his lectures about the concepts of space/time and opposites.
" While reading a photo e-zine, I came across one of Wynn's quotes that I now use as part of my signature block: 'What you see is real - but only on the particular level to which you've developed your sense of seeing. You can expand your reality by developing new ways of perceiving.' Intrigued by the quote, I searched 'Wynn Bullock' and found a whole new world of photography to appreciate. His understanding of the concepts of 'time and space' was far ahead of the thinking of that era."
~ Kent Nelson, photographer and fellow seeker
---
CURRENT EXHIBITS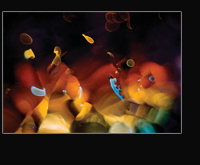 In Sharp Focus: The Legacy of Monterey Photography opened with a gala preview on June 15 at the Monterey Museum of Art in Monterey, CA. This show, which will be on display at the La Mirada venue through September 30, examines the work of Group f/64, an association formed in the early 1930s by seven northern California photographers, including Ansel Adams, Edward Weston, and Imogen Cunningham. Complementing images by these artists are works by succeeding generations of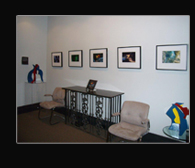 noted California photographers including Morley Baer, Martha Casanave, Rod Dresser, Dick Garrod, and John Sexton. Wynn Bullock is represented in the exhibition by three photographs, including a very rare original Type C print of Color Light Abstraction 2006 (1961).
Wynn Bullock images are featured prominently in Designed by Nature, a new exhibit of sculpture and photography at Lumière Gallery in Atlanta, Georgia. A nice selection of estate prints of both Wynn's black & white and abstract color work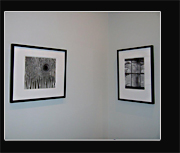 will be on display until August 18, along with photographs by Al Weber, Robert Weingarten, Bob Kolbrener, Peter Essick, Tom Murphy, Robert Glenn Ketchum, and Philip Hyde. The sculpture of David Hayes completes the exhibition.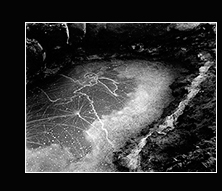 In Focus: Picturing Landscape is an exhibition currently on display at the J. Paul Getty Museum. Drawn exclusively from the Museum's permanent collection and running through October 7, the show brings together the work of twenty photographers, spanning the medium from the mid-1800s to the current decade. The Getty has also produced a book titled Landscape in Photographs that includes all twenty-two images in the show, plus a selection of landscape images by several additional photographers. Wynn's photograph Point Lobos Tide Pool, 1957, is featured in both the show and the book.
Some of Wynn's black & white photos may also be seen at the Weston Gallery in Carmel, California, along with selected monographs of his work.
---
THE BULLOCK FAMILY PHOTOGRAPHY ARCHIVE AND THE RE-DEDICATION OF UCSC'S MCHENRY LIBRARY
As many of you know, we are in the process of establishing The Bullock Family Photography Archive as a core part of the University Library's Special Collections division at the University of California Santa Cruz.
This Archive consists of three major components: an extensive compilation of Wynn's original photographs spanning his entire creative career, including the largest institutional collection of his abstract color work; a comparable set of his wife Edna's original photographs (she enjoyed her own remarkable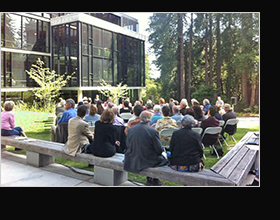 20-year career as a creative photographer after Wynn's death); and a wealth of associated archival materials, highlighted by all I've created and assembled during 40 plus years of working with both my parents and their legacies.
UCSC is in the process of raising funds to acquire Wynn's prints and we're donating the other two segments. When completed, the UCSC Archive will complement and extend the first major archive of Wynn's work that was established in 1975 at the Center for Creative Photography in Tucson, AZ (Wynn was one of CCP's 5 founding artists).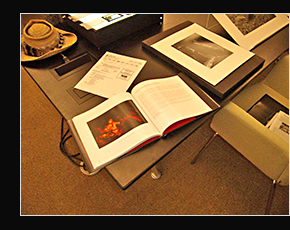 We can't imagine a more fitting home for our family archive than UCSC. The focus of its outstanding and extensive Photography Collection is California-based artists, especially from the central coast region.The central California coast is where Wynn and Edna lived and worked for most of their photographic careers. Edna led workshops through the UCSC Extension Service for over a decade and UCSC is my alma mater, where I was a member of its first graduating class.
Having a major repository of their work in a highly regarded California educational institution was a cherished dream for both Wynn and Edna, and our UCSC archive will join other significant collections from such friends and fellow artists as Edward Weston, Ansel Adams, Brett Weston, Pirkle Jones, Al Weber, and Morley Baer.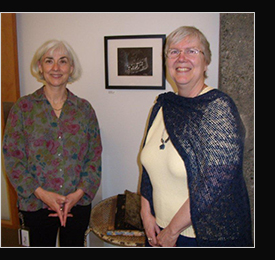 Over the last several years, the University Library has undergone extensive renovation and expansion. In terms of our project, this makeover couldn't have been more timely or beneficial. The new Library provides state-of-the-art facilities that include greatly expanded spaces for Special Collections, advanced technology for digital preservation, and vastly improved access to electronic holdings and resources.
What this means for The Bullock Family Photography Archive is that its contents will not only be physically available for exhibitions, research, and viewing; they will also be digitally preserved, making them accessible to students, scholars, and the public around the world.
On April 27, the new McHenry Library was officially rededicated. As part of this multi-faceted celebration, tours were offered to several key sections of the Library. Christine Bunting, head of Special Collections (shown in the photo to the left with me), created many wonderful displays for her area that reflected the diversity and depth of UCSC's permanent holdings. Prominent among these displays were works from our own developing archive, including a couple of framed prints of Wynn's, one of Edna's portraits, and the Wynn Bullock: Color Light Abstractions book. Gene and I were also on hand for part of the time and enjoyed sharing information about Bullock photography with several interested visitors.
---
QUESTIONS, COMMENTS, SUGGESTIONS
As always, any questions or comments about Bullock photography are welcome. If you'd like to suggest titles to be considered for our 2013 collection of Featured Images (next year we'll return to horizontal images) - or you would like to propose becoming a guest commentator - please let us know.
If you would like to learn more about our Archive Project at UCSC, we have lots of information to share. And if you would like to actually become a part of this grand enterprise, there are many ways to do so: contributions of stories, photos, and other materials relating to Wynn's and Edna's lives and work; referrals and connections to potential funding sources and donors; and last, but definitely not least, fully tax-deductible donations both large and small.
Whatever your interests, whatever you have to share, we'd love to hear from you. Follow this link to send us your message.
---

Until next time, warmest greetings and best wishes,


Barbara Bullock-Wilson, Managing Member
Gene Bullock-Wilson and
Lynne Harrington-Bullock, Members
Bullock Family Photography LLC