---
Contents: Palm Beach Exhibition | Other Museum and Gallery Activity | Featured Images | Updates
---
Here it is the middle of February and we're just getting around to extending our New Year's greetings to each of you. As the rest of 2012 unfolds, we hope it will bring you much joy.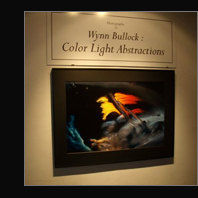 Our new year began with two lovely bits of news. The first was an announcement that the Wynn Bullock Color Light Abstraction exhibition hosted last year by Spectrum Gallery of Art in Fresno, California, was selected as one of the city's top 20 cultural events of 2011 by Donald Munro, arts and culture critic for The Fresno Bee. In his review of the show last year, Munro wrote:
"...there's a sense in these works of the passage of time...of slivers of the present piled up in bursts of light and color. There's a sense also of space...a depth of field and volume...that makes you feel as if you could fall into the images. I like to think that Wynn Bullock, who spent so much of his career trying to capture the dimensions of our lives, would be happy if we did just that."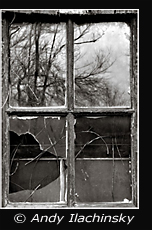 The other wonderful item has to do with the recent discovery of Wynn's color work by Andrew Ilachinsky, a physicist "by training and profession" and a photographer "by temperament and inner muse".
Although a long-time admirer of Wynn's black & white imagery, Andy had not been aware of his color work until recently and contacted us to order a copy of Wynn Bullock: Color Light Abstractions. It turns out that Andy is a very gifted and thoughtful image-maker whose approach to photography and life is remarkably similar to Wynn's. After perusing the book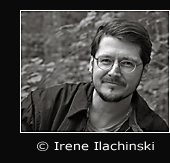 and watching the DVD of Wynn Bullock: Photographer, Andy wrote a heartfelt and perceptive blog post on his thoughts and feelings about the man he never met but "who continues to pave the way" for his own creative journey.
Well-worth many visits, Andy's photography website (www.sudden-stillness.com) is a rich resource of images and ideas. And we are delighted to share that Andy has agreed to be the guest commentator for this April's Featured Image, Wynn's Color Light Abstraction 1024 (1965). We are hoping that this will be just his debut with us and that more will follow over the years.
---
UPCOMING EXHIBITION AT THE PALM BEACH PHOTOGRAPHIC CENTRE
"I am so happy that you are "resurrecting" Wynn's photos; they seem to be more relevant now than ever. He was ahead of his time." ~ Gordon Brown
Born out of our visit to the Palm Beach Photographic Centre in the spring of 2011 and first mentioned in our April/May 2011 newsletter, the idea of a significant exhibition of Wynn's work has been taking shape over these many months.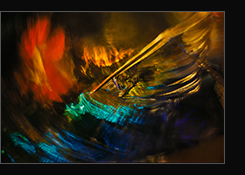 At the time of our visit, the Centre's founding directors Fatima and Art NeJame had reminded us that it had been fifteen years since the last Bullock show was hosted at their previous location in Del Ray Beach. They expressed great excitement about the prospect of bringing Bullock photography back to Florida and showcasing it in their beautiful and much larger facilities in West Palm Beach. They were especially enthusiastic about what we had been doing to re-introduce Wynn's abstract color imagery to the world and wanted to support that effort.
Since the first of this year, Gene and I have been focusing our primary energies on the development of the show for Palm Beach. W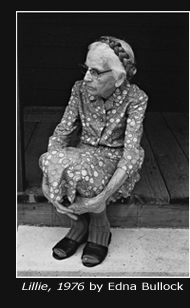 e are pleased to share that Wynn Bullock: Insights and Surprises is now in its final form. The centerpiece of the show will be our 44-print traveling exhibit of Wynn's Color Light Abstractions. This will be the exhibit's fourth national showing and the first on the East Coast.
To provide a meaningful context for the color work, the Palm Beach show will also include a fine selection of Wynn's vintage black & white photographs as well as a representative collection of his images from our family's new black & white estate print program. In addition, there will be a small, yet revealing, group of vintage photographs by Wynn's wife Edna, who began her own notable career as a creative photographer at age 61, a year after Wynn's death in 1975. For many, her work is an unexpected continuation of the Bullock story.
The opening reception for the show has been scheduled for the evening of March 21 from 5:30-7pm. Gene and I will be in attendance to greet people and sign copies of the Color Light Abstraction book. Two of our children and their spouses will also be there to celebrate the work of their grandparents.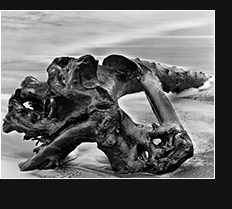 Immediately following the reception, A Conversation on Bullock Photography will take place. Informal in nature, this is intended to be a lively and informative presentation with ample time for questions and comments from the audience. It will be facilitated by Tim Wride, Curator of Photography at the Norton Museum of Art. Joining Tim will be Brett Abbott, Curator of Photography at the High Museum in Atlanta, GA; and Gordon Brown, photography educator and author, who was also a friend and colleague of Edna's for many years. Gene and I will complete the group of participants. It had been planned for Dr. Richard Zakia, another knowledgeable admirer of the Bullock legacies, to also be part of the Conversation. Sadly, ill health will prevent him from attending and he will be missed.
Wynn Bullock: Insights and Surprises will be on display at the Palm Beach Photographic Centre until June 9. If you can make it to the reception and presentation on March 21, Gene and I will be very happy to see you. And if you are able to visit the show before it closes in June, send us your feedback. We'd love to hear from you!
---
OTHER MUSEUM AND GALLERY ACTIVITY
"Our conversations were a highlight of my trip, allowing me to come away with a far clearer sense of Wynn's color photography."
~ John Rohrbach, Senior Curator of Photographs, Amon Carter Museum of American Art
Amon Carter Museum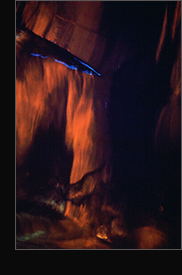 In the fall of 2010, John Rohrbach of the Amon Carter Museum in Fort Worth, Texas, wrote to us, explaining that he was "struck by Wynn Bullock's color abstractions" he found on our website and was seeking more information about them. Through subsequent correspondence, we learned that John was working on a major exhibition and book project on the history of color photography in America and that he wanted to explore how best to represent Wynn's innovation in the field.
John came out to see us in the spring of last year and we enjoyed extensive discussions and viewings of Wynn's abstract color imagery. Since then, our correspondence has continued, along with John's work on his project. Just this month, the Museum approved the purchase of one of the very few original color prints that Wynn made in the 1960s.
This is the first documented sale of an original Type-C print (definition) from our family collections. Understanding the very special care and handling these fragile photographs require, John has assured us that it will be exhibited under the most controlled conditions and be properly preserved within the Museum's permanent holdings. Knowing the work will be well-cared for and wanting to further support John's historically significant project, Gene and I have decided to donate a second original print to join the one the Museum is acquiring.
John is projecting that the opening of his exhibition and the release of his book will occur sometime in the fall of 2013.  We are eagerly looking forward to celebrating those events with him.
Center for Creative Photography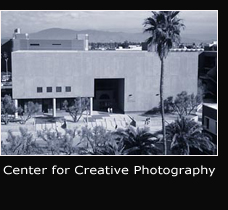 Earlier this month, Center for Creative Photography's Director Katharine Martinez announced that Brett Abbott, Curator of Photography at the High Museum of Art in Atlanta, Georgia, has been awarded one of the two Ansel Adams Research Fellowships for 2012. Brett will be researching the Wynn Bullock Archive and photograph collection at the Center as part of a major retrospective exhibition and book project he is pursuing.
As was mentioned earlier in this newsletter, Brett will be one of the guest participants in the opening events at the Palm Beach Photographic Center on March 21. We are immensely pleased by Brett's interest in Wynn's life and work and are looking forward to a fruitful collaboration with him as his project plans develop.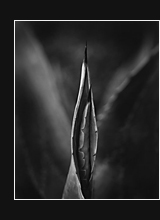 Weston Gallery
Wynn's black & white photographs are currently being featured in the "Elements of Silver" show at the Weston Gallery in Carmel, California. Other artists whose work is being displayed include Ansel Adams, Rod Dresser, Rolfe Horn, Pirkle Jones, Roman Loranc, Sonya Noskowiak, Brett Weston, and Edward Weston.
Gallery Director Richard Gadd will be taking a set of Wynn's prints with him to the annual AIPAD Photography Show in New York. This year's dates are March 29-April 1. If you are in New York that weekend, stop by and say hello to Richard. He'll be happy to see you and show you what he's brought with him.
Musée The Family Of Man, Château de Clervaux, Luxembourg
Many of you may not know that the only surviving edition of the famous Family of Man exhibition is permanently installed in a castle in Luxembourg. Edward Steichen, who curated the exhibition in the mid-1950s for the New York Museum of Modern Art and oversaw its travel around the world, helped arrange for it to have an on-going life in the country of his birth. (Clervaux Website)
In preparation for the Palm Beach show which will include the story of Wynn's two images in the Family of Man exhibition (Let There Be Light, 1954, and Child in Forest, 1951), we called the Musée for some background information and were put in touch with Anke Reitz, the curator for the collection. In talking with her, we learned a number of interesting things.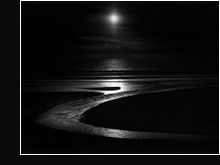 The installation at Clervaux opened in 1994. In the original New York MoMA show, Wynn's image of Let There Be Light was displayed as a four-panel reproduction with an overall measurement of 120 x 152 inches (that's 10 x 12 1/2 feet!). Mysteriously, when the show was given to Luxembourg, one of the four panels was missing. The decision was made to have a new complete reproduction made with the same dimensions.
The size of Child in Forest as originally determined by Steichen for the show is 50 x 63 inches or a little over 4 x 5 feet. I'm not sure how I would respond to it that size, but someday I hope to find out!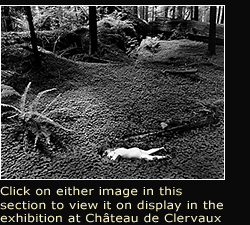 In 2003, the Family of Man exhibition was added to UNESCO's Memory of the World Register in recognition of its historical value. The Musée takes its responsibility for the care and preservation of this international treasure very seriously, and in 2010 they closed the entire show so that the exhibition rooms could be renovated and the print collection completely restored.
As part of this process, they are re-considering how they want to display Let There Be Light. Their current thinking is to restore and show the three original panels they have and reproduce the missing one. They also are looking at new ways to present the show with stories that will add meaning for visitors as they journey through the collection. Anke found our call quite serendipitous and is looking forward to working with us on the stories we can share about Wynn's images.
The re-opening of the exhibition is now planned for the middle of 2013. If you are thinking of taking a trip to Europe next year, keep that in mind!
---
FEATURED IMAGES FOR JANUARY AND FEBRUARY 2012
"It was light that led Dad to photography and it was photography that led him ever closer to light."
~ from my commentary for January's Featured Image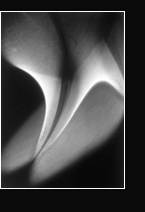 There are now two new Featured Images posted on our website. Clicking on the thumbnails in this section will take you to the respective images and clicking on the return arrow on your navigation bar will bring you back to the newsletter.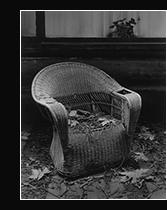 Our selection for January is Light Abstraction, 1939. This image was made during Wynn's student days at the Art Center School in Los Angeles. It is a very early expression of his inherent fascination with light, not as an illuminant, but as a beautiful living form and force in its own right. It also is a testament to the beginning of a creative arc that found fuller and deeper expressions in his Color Light Abstractions of the early 1960s and his later black and white abstract work of the early 1970s.
Old Chair, 1951 is this month's Featured Image. It is one of a remarkable group of images Wynn produced that year, including Child in Forest, Driftwood, Old Typewriter, and Pebble Beach Forest. Contemplating these images, it is easy to understand why 1951 is the year Wynn marked as the beginning of his maturity as a creative photographer. In my commentary I include quotes through which he describes the profound and exciting changes he was experiencing at that time.
---
WEBSITE AND PRODUCT DEVELOPMENT UPDATES
In addition to working on the Palm Beach show, our other major project for the beginning of 2012 has been the continuing development of our new Wynn Bullock Card Collection, the annual book series we're calling Wynn Bullock: Photographs and Stories and our yearly photo calendars. We hope by the next issue of our e-newsletter we'll have at least a couple of these items available on our website, along with the first series of archival, editioned estate prints that we will be offering for sale through our online store.
Our intrepid and endlessly creative webmaster David Gordon has been busily adding as well as re-configuring sections of our site to manage all our new and expanded offerings. We're excited by all the enhancements we're making and we hope you will be, too.
As always, any questions or comments about Bullock photography are welcome. And if you'd like to suggest titles to be considered for our 2013 collection of Featured Images (next year we'll return to horizontal images) - or you would like to propose becoming a guest commentator - please let us know. We'd love to hear from you.
---

Until next time, warmest greetings and best wishes,


Barbara Bullock-Wilson, Managing Member
Gene Bullock-Wilson and
Lynne Harrington-Bullock, Members
Bullock Family Photography LLC