---

Contents: MFA Boston | Featured Images | Exhibitions | New Publications | Auction | Site Updates

---

If it seems like a long time since you've heard from us, you're right. The past three months have been a whirl of significant events and activities for both Bullock families.

My sister Lynne and her husband Gil helped moved their daughter Morgan Marie Harrington back home from Bloomington, Indiana, where she had spent a post-graduation year continuing her vocal studies, performing in concerts, and working as an assistant to renowned ballerina and Indiana University professor Violette Verdy. Shortly after her return to Sonoma, Morgan began an intensive 6-week summer workshop in San Francisco with the Opera Academy of California. Dedicated in their support of Morgan and her budding operatic career, Lynne and Gil commuted regularly to the city to attend several of the public Master Classes, recitals, and opera productions sponsored by the Academy. Although born several years after her grandfather Wynn died, Morgan embodies their kinship with her deep red hair, rigorous personal standards, and artistic nature.

For Gene and me, the highlight of our summer was a long-overdue trip to Massachusetts to get acquainted with 4-year-old Cameron Rokes, our first great grandchild; visit with our many New England-based relatives and friends; and participate in several work-related activities such as consulting with Saundra Lane and Karen Haas at the Museum of Fine Art in Boston (see below), meeting with Jason Landry, owner of Panopticon Gallery where an image of Wynn's was being featured in the exhibition Kids Are People Too, and spending a fruitful evening with photographer Harold Feinstein, his wife Judith Thompson, and their studio manager Cherie Burton.

Other significant events for us included the successful culmination of a three and half year lease/purchase agreement on our home as well as emergency laser surgery in my right eye to repair retinal damage. I have to admit the latter was quite a scary experience and it's taking my brain more time than I expected to deal with the floaters and light forms that persist after such an incident. Thankfully, the situation is gradually improving and it feels good to be back in touch with all of you!
---
"It was wonderful to work with you during your recent visit…." ~Karen Haas, Curator of The Lane Collection at the Museum of Fine Arts, Boston
VISIT WITH SAUNDRA LANE & KAREN HAAS
AT THE MUSEUM OF FINE ARTS IN BOSTON
During the 1960s, the late William H. Lane and his wife Saundra began building a collection of fine photography. By the end of the 1970s, their acquisitions numbered in the thousands and included the entire photographic estate of Charles Sheeler, the most significant single collection of Ansel Adams' work, approximately three-quarters of Edward Weston's photographic estate, and a very much smaller, but nonetheless key collection of 64 Wynn Bullock photographs.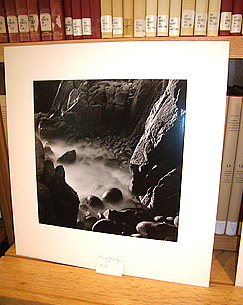 This latter set of prints is actually the largest private holding of Wynn's work that we know of, outside our families' personal collections.
With her passion for photography undimmed by her husband's death in 1995, Saundra has continued to expand the collection following her own interests and sensibilities. Currently totaling over 7,000 prints, The Lane Collection is today one of the largest and most outstanding private collections of photographic art in the world. It is now housed on long-term loan at the Museum of Fine Arts, Boston, and managed by the Collection's full-time curator Karen Haas.
One of our on-going projects with Bullock Photography is to identify all the primary institutional and private collections of Wynn's and Edna's work, document the contents of those collections, and share standardized title and date information in order to facilitate unambiguous identification of the individual images (Wynn was an especially inconsistent and forgetful record-keeper). Knowing that Gene and I were going to be in the Boston area this summer, we contacted Karen Haas to acquaint her with our project and ask if we could arrange a meeting with her and Saundra to review the WB holding.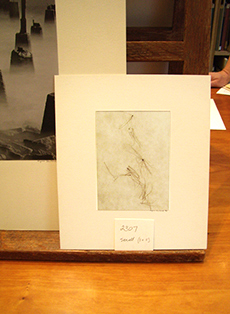 Karen responded with pleasure and excitement over the mutual benefits of such a meeting and made the necessary arrangements with Saundra who was going to have to bring the set into the Museum from her home in northern Massachusetts. Although almost all of The Lane Collection had long since been delivered to the Museum, Wynn's photographs had remained with Saundra. The prospect of seeing the whole Bullock set for the first time added to Karen's excitement.
Both Karen and Saundra proved to be cordial, respectful, interested colleagues. When we walked into the study room, about half of the collection had already been set out, waiting for our inspection. Since I had been an absent college student when the Lanes were engaged in collecting Bullock photography, I had many questions. They, in turn, had their own and we enjoyed a lively exchange of information and stories.
Among the many delightful wonders of the day was seeing a few images I had never seen before. I love these kinds of discoveries, even when I find the images to be less than stellar. This, however, was not the case here, and I have to admit feeling a bit of envy with regard to a couple of the prints.
There is still work to be done to complete the documentation for all 64 Bullock photographs in The Lane Collection and, as we do so, we look forward to continuing the warm, collaborative relationships that were established this summer.
---
"…some things appear to stay, other things appear to come and go, but time is constantly moving all of these things past us with a precious significance that can be felt more than described." ~ Chris Johnson, Professor of Photography at the California College of the Arts in his guest commentary for The Shore, 1966
A QUARTET OF FEATURED IMAGES
Since our last newsletter, we have posted four Featured Images on our website. Clicking on the thumbnails in this section will take you to the respective Featured Images on our website and clicking on the return arrow on your navigation bar will bring you back to the newsletter.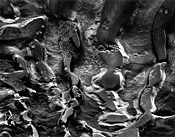 June's selection was Point Lobos Tide Pools, 1972. Created the year before his declining health ended his image-making, this photograph exemplifies Wynn's quest to go beyond conventional ways of seeing and understanding. While the title connects us to the known, the image itself takes us into new realms. Because of the unusual character of this image, our fabulous webmaster David Gordon was inspired to develop a new facet to June's visual presentation.
The Shore, 1966, was July's Featured Image. The commentary was written and recorded by Chris Johnson who now has the distinction of becoming the first person to accept our standing invitation for guest commentators. As a young man who left Brooklyn to pursue his dreams in California, Chris met and developed a deep kinship with Wynn in the early 1970s.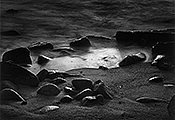 Over the years he has written and lectured insightfully about Wynn's life and work, and I had the pleasure of collaborating with him as the co-author of the book Wynn Bullock 55, published by Phaidon Press in 2001. Last year, Chris was a contributor to the book Wynn Bullock: Color Light Abstractions that we produced to accompany the traveling exhibition of Wynn's abstract color imagery and this summer the Center for Photographic Art invited him to present an illustrated lecture titled "An Approach to Meanings in West Coast Photography". To listen to the audio recording of Chris's talk, click on this link: http://www.photography.org/newsandevents.php . To learn more about some of Chris's activities as a photographer, filmmaker, writer, and educator, please visit his website at www.chrisjohnsonphotographer.com.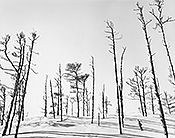 For last month's Featured Image, I chose Florence, Trees and Sand Dunes, 1959. This photograph is one of many that my father took during family outings and vacations. For me, looking through a monograph of Wynn Bullock images is like turning the pages of a precious family album and I tell several stories of our camping experiences and the good times the four of us shared together as Lynne and I were growing up. Here again, David worked his magic to add a bonus element to the presentation.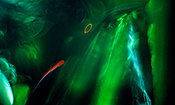 Back in February, we selected one of Wynn's abstract color photographs to illustrate some of the range and depth of his innovative image-making. In my commentary, I took the opportunity to reflect on why he decided to switch from black and white to color at the end of the 1950s and what this major body of work meant to him. For September, we have chosen to feature a second abstract color photograph. Color Light Abstraction 1017 (1964) is the frontispiece image in our 2010 monograph of Wynn's color work, and this time my commentary focuses on how he created these striking images more than fifty years ago using handmade tools, simple equipment, and inexpensive materials.
---
EXHIBITIONS
Over this summer, The Tokyo Metropolitan Museum of Photography has been hosting an exhibition of prints from their permanent holdings titled Photographs of Children. Wynn's photograph Child and the Unknown, 1955, is showcased both in this exhibit and the accompanying catalog.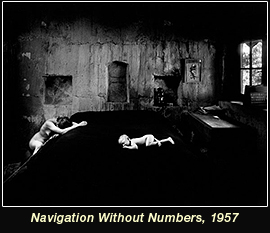 Currently on display at the Center for Creative Photography in Tucson is the exhibition Creative Continuum: The History of the Center for Creative Photography. First shown last year at the Phoenix Art Museum, the show celebrates the Center's thirty-five plus years of preserving important photographic works, sharing those works through exhibitions and publications, and supporting photographic scholarship. As one of the five artists whose archives established the Center, Wynn's photographs are prominently featured in the exhibit.
Another current exhibition is Shared Vision: The Sondra Gilman and Celso Gonzalez-Falla Collection of Photography. On display from September 17 to January 8, 2012 at the Museum of Contemporary Art in Jacksonville, FL, both the show and catalog includes Wynn's iconic photograph Child in Forest, 1951.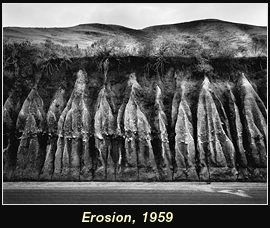 Opening on September 24 and running through February 12, 2012 is the exhibit Western American Art South of the Sweet Tea Line III at the Booth Western Art Museum in Cartersville, GA. The show features estate prints of two of Wynn's rarer images: Cannery Row, 1966 and Rattlesnake in Tin Can, 1972. Both images were specifically requested by the exhibit's curator and were made available to the Museum through the courtesy of Lumiere Gallery.
From October 1 to December 31, the California Museum of Photography at UC Riverside will display Seismic Shift: Lewis Baltz, Joe Deal and California Landscape Photography, 1944-1984. This exhibit is part of The Getty Foundation's initiative "Pacific Standard Time" which is supporting dozens of Southern California cultural institutions to tell the story of the birth of the Los Angeles art scene. Six of Wynn's photographs are included in this show, including Twin Oaks, 1956, one of our 2011 Featured Images. Four of the six images will also be featured in the exhibit catalog.
---
NEW PUBLICATIONS
"The meaning of the photograph is open-ended in that it suggests connections that can be both psychological and natural, if not spiritual, as in Wynn Bullock's famous Tide Pool, 1957, an image that sets up a chain of associations from the microscopic to the heavenly." ~ Lyle Rexer in his essay for An Enduring Vision
In addition to the inclusion of Wynn's images in the exhibition catalogs described above, his work is also included in the following two new publications:
An Enduring Vision: Photographs from the Lane Collection, authored by Karen Haas with a Foreword by Malcolm Rogers, the Ann and Graham Gund Director of the MFA, Boston, and an essay by Lyle Rexer, MFA Publications, Museum of Fine Arts, Boston, 2011. Thoughtfully prepared and beautifully presented, the book was in production while we were working with Karen Haas and Saundra Lane in June. Wynn's well-known image Point Lobos Tide Pool, 1957 was selected to represent the Lane's collection of his work.
112 Photographs with an Introduction by Karola Kraus and text by Susanne Neuburger, Art Photography Fund and Museum Moderner Kunst Stiftung Ludwig Wien (MUMOK), Vienna, 2011. This international collection of images includes Wynn's Let There Be Light, 1954.
---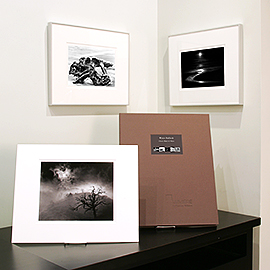 AUCTION ANNOUNCEMENT
Lumiere Fine Art Photography Gallery in Atlanta, GA, has donated a special limited-edition, pigment print portfolio of five classic Wynn Bullock images to the George Eastman House 2011 Benefit Auction.
Led by Denise Bethel, senior vice-president and director of the Photographs Department at Sotheby's New York, the live auction will take place on October 3.
More information may be obtained at this page on the Eastman House website http://auction.eastmanhouse.org/2011/index.php#a1.
---
UPDATES TO OUR WEBSITE
Recently we re-formatted our navigation bar and added a Featured Image Index page as well as a Newsletter Index page. Now you will be able to access all the past Featured Images and Newsletters whenever you have the interest or need.
As always, any questions or comments about Bullock photograph are welcome. And if you'd like to suggest titles to be considered for our monthly Featured Images section - or you would like to propose becoming a guest commentator - please let us know. We'd love to hear from you.
---
Until next time, warmest greetings
and best wishes,

Barbara Bullock-Wilson, Managing Member
Gene Bullock-Wilson and
Lynne Harrington-Bullock, Members
Bullock Family Photography LLC