| | | |
| --- | --- | --- |
| | We dedicate this month's newsletter to Gladys Rihel and Valerie Hayes, two wonderful women who were part of our beloved network of family and friends. Although they never met, both Gladys and Val had a lot in common. They dealt with life's challenges with strong, positive spirits; they had big hearts that embraced everyone with warmth and kindness; and they had a zest for adventure. They were also enthusiastic supporters of Bullock photography, always interested in what we were doing. We will miss their encouragement and will remember them with joy. | |
---
DISCOVERING WYNN'S WORK
"…that is a very famous photograph by the master photographer Wynn Bullock."
~ John A. Wilson, Jr
We always enjoy stories about how people discover Wynn's work. Here's one that was recently sent to us by our nephew John Wilson in Houston, Texas. John works in the patient satisfaction department of a large local hospital and pursues his passion for photography whenever he gets the chance.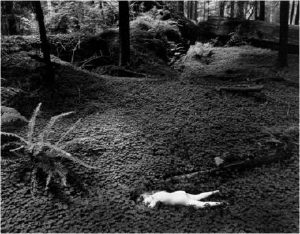 "I was making head shots for a client today, a young man named Joe, 16 years old, who wants to be an actor. His mother was there, too. She had been corresponding with me through email and calling Joe 'her superstar', so you get the level of her devotion.
"I'm shooting away in my small apartment, and she is seated behind me watching. She is really very nice, pleasant, and getting into the shoot with Joe and me. At one point I send Joe to my bedroom to change shirts and she notices the print of Child in Forest that you sent to me.
"She says 'Is that one of yours?' 'Oh no!' I say, 'that is a very famous photograph by the master photographer Wynn Bullock.'
"So I tell her all about Wynn and my Aunt Barbara, who happens to be the child in the photo. She is fascinated, so I hand her the two books you gave to me, Wynn Bullock 55 and Realities and Metaphors. I finish the inside shots of her son, while she quietly begins looking through the books. Then I tell Joe we need some outdoor shots and she comes with us. But 5 minutes after we start working on the outside, she is gone. 'Joe, where's your Mom?' I ask. He doesn't know. We continue shooting.
"When we get back inside, Joe's mother is sitting in a chair completely engrossed in the photography of Wynn Bullock. 'I love these photographs', she says. She points out her favorites, is captivated by the color abstracts, and is reading all the captions and asking questions.
"It was very cool. Her 'superstar' was getting his photograph taken and she was inside absorbed in Wynn's photos! I loved it and just had to share."
---
WYNN BULLOCK IN THE MEDIA
"From Barbara Bullock-Wilson's essay about her father Wynn Bullock's amazing photographic exploration into light abstraction to Heather Winterer's poetry of the body, the theme of Family assumes many forms in this issue of CC."
~ Ben Spencer, Executive Editor of Cadillac Cicatrix, an online journal of art, prose and poetry.
Wynn's abstract color imagery is the featured artwork in the Spring 2011 issue of Cadillac Cicatrix,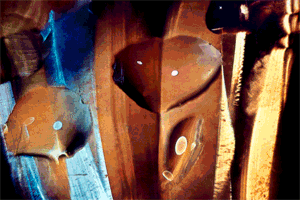 a semiannual online journal of art and literature described as "expansive and imaginative" by NewPages and "pretty cool" by Poets and Writers Magazine. A gallery of 14 Color Light Abstractions is accompanied by an introductory essay by me as one of Wynn's daughters and includes information about the traveling exhibit of this remarkable body of work that our family produced last year.
An interesting sidelight of Issue 5's theme "A Focus on Family" is that Ben Spencer, CC's executive editor, is the son of Michael Spencer who curated the 2010 premier showing of the traveling exhibit for the Center for Photographic Art in Carmel, California, last May. The show was Ben's first exposure to Wynn's color work and was the inspiration for his decision to feature it in the next issue of his innovative journal. (We thank Cadillac Cicatrix for letting us use their rotating slideshow image above.)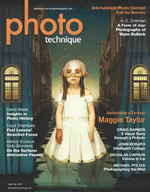 A. D. Coleman's insightful article "A Form of Joy: Photographs of Wynn Bullock" appeared in the January/February 2011 issue of photo technique magazine and we are now happy to offer it in PDF facsimile format.
Click here to download a beautiful six-page pdf of this illustrated article by A. D. Coleman.
---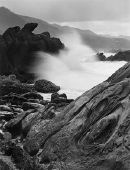 UPCOMING EXHIBITION
Wynn's image Point Lobos Wave, 1958, will be included in an exhibition titled Deep Water at the National Gallery of Victoria in Melbourne, Australia. It will also be published in the exhibition catalog.
Featuring works from the Museum's permanent collections, the show opens April 2 and will run through September 11. If you plan to be in Melbourne while the exhibit is on display, we invite you to check it out.
---
FEATURED IMAGE OF THE MONTH
"True, it is called photography but it seems to me some other name should be applied to something so subtle, so tractable, so emotional. Bullock is a pioneer in this work…and has achieved a control of his medium heretofore unknown. We'll be hearing much from him."
~ from a review of a 1941 exhibition of Wynn's experimental work at the Los Angeles County Museum of Art written by Elaine St. Maur, art critic for the Los Angeles Examiner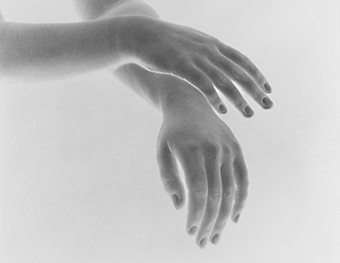 For March, we've chosen Early Solarization, 1940, one of Wynn's early images, made during the time he was studying photography at the Art Center School in Los Angeles. It exemplifies the kind of work with which he began his career as a creative photographer. Wynn was 36 when he enrolled at Art Center and in 1941, a year after he completed his two-year course at the school, he was honored with his first solo show by the Los Angeles County Museum of Art. His early experimental photographs were very well-received as the above quote reveals. To access the Featured Image page on our website, click here.
If you have a specific image you'd like to learn more about, let us know. From time to time, my sister Lynne and other family members will join me in providing the commentaries, and occasionally we'll invite special guests to offer their stories. If you've had a special experience with one of Wynn's photographs or a deeply felt response to an image and would like to propose doing one of our features, we'd love to hear from you.
---
Until next time, warmest greetings
and best wishes,

Barbara Bullock-Wilson, Managing Member
Gene Bullock-Wilson
and Lynne Harrington-Bullock, Members
Bullock Family Photography LLC