February is the month for Valentine cards and special expressions of love. After reading our January newsletter, a number of you wrote to us in celebration of the good news we had to share. We wrapped ourselves in the light and warmth of your supportive comments and, while it is still February, we send each of you a heartfelt Valentine in return.
---
MEETING HUA'ER
"That day we are so happy." ~ Hua'er, Director of See+ Art Space/Gallery, Beijing
"One of the best days of our trip." ~ Amber Y.Q., Hua'er's friend and interpreter
On January 24, 2011, Gene and I had the joyful experience of meeting Hua'er, the photography dealer who is representing Bullock photography in China with the help of exhibit curator A.D. Coleman and his native-speaking wife Anna Lung. As the director of the See+ Art Space/Gallery, Hua'er had come to Los Angeles to participate in the Photo L.A. Exposition and, as a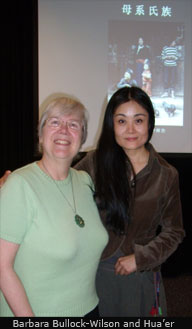 writer/photographer/anthropologist, she had come to the Museum of Art at Pomona College to deliver a slide lecture on her 10-year study of a small, remote matrilineal village in southwest China. Speaking very little English, she had as her companion and interpreter long-time friend Amber, a documentary filmmaker who lives halftime in the Canadian province of Ontario and the other half in Shenzhen.
In preparation for our meeting, we had studied Chinese etiquette and protocol. We had read that "the Chinese may seem unfriendly when being introduced. They are taught not to show excessive emotion….The accepted form of greeting is the handshake, even among Chinese….The Chinese do not like to be touched, particularly by strangers….Do not hug, back slap or put an arm around someone's shoulder."
The moment we walked into the hall at Pomona where Hua'er was scheduled to talk, a tall, strikingly beautiful woman sprang from her chair, called out "Barbara!", and rushed over with tears in her eyes to enfold me in her arms. It felt like we were two beloved friends reuniting after long years of separation. The afternoon flowed on from there in ever-deepening connection.
Following her lecture presentation, Hua'er led a group of interested faculty, students, and visitors through her section of China: Insights, a seven-artist exhibition curated by Coleman, who is not only working to introduce western photography into China, but is also bringing Chinese photography to the attention of the western world. Offering a variety of perspectives on a country grappling with the tensions between rapid change and persistent tradition, the show runs through April 10, and we encourage you to see it if you are in the area.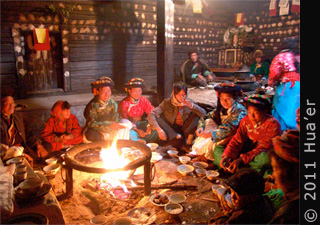 In order to reach the rural village of twenty-eight households that has been the focus of her anthropological studies for the past decade, Hua'er has to make a nine-hour train ride, two-hour hike, and lastly a trek with horse and guide over twelve mountains. Hearing Hua'er discuss her experiences with the people of the village, we learned much about her character, intelligence, and heart.
When she finished the informative walk-through of her photographs, Hua'er and Amber spent the rest of their afternoon at Pomona with us, looking at the Bullock prints we were hand-delivering to her to take back to China. Hungry to absorb all she could about the man whose art she had fallen in love with many months ago, she listened with probing eyes and gentle touch as Amber recorded our myriad stories of images and family history.
All too soon, the afternoon was over. Touched by the wonder and power of Wynn's photographs – in Hua'er's words "masterpieces that work deep into our soul space, reminding us of desire or prayer" – the four of us hugged each other one more time. After her return to Beijing, Hua'er wrote "I look forward to see you again!"
We can hardly wait.
---
OPENING FESTIVITIES AT SPECTRUM ART GALLERY
"I'm not sure if I've ever seen color until today – thank you!"
"Wonderful! Bends my mind to new places." ~ Comments from the Gallery Guest Book.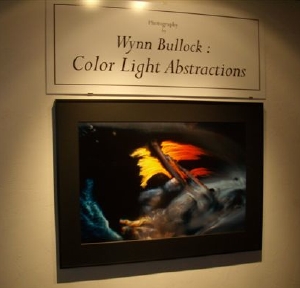 The third showing of our traveling exhibition of Wynn's Color Light Abstractions opened Wednesday, February 2 at the Spectrum Art Gallery in Fresno, CA. The next morning as Gene and I were preparing to depart for the three-hour drive from our home to the Gallery, we received a phone call from Steve Dzerigian, Spectrum co-founder and guardian angel of our exhibit, asking us if we could arrive earlier than planned as the arts host of the local NPR station wanted to do a 30-minute interview with me. Moving more quickly than usual, we made it in time for the "live" conversation and were delighted that evening when some of the visitors reported they were there because they had listened to the broadcast.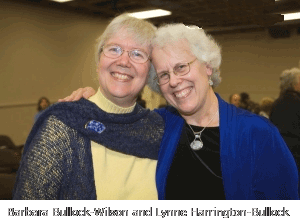 ArtHop takes place the first Thursday evening of every month, and it's when galleries all over Fresno hold their opening receptions. Scheduled from 5 to 8pm, Gene and I, along with my sister Lynne and her husband Gil, arrived early to find people already filling up the Gallery. From then on, there was a steady flow of viewers until a very pleased, but exhausted staff person finally put up a Closed sign on the door well after 9pm.

In addition to the beautiful job that Terry Hayden did as curator of the show, what impressed the four of us most was the high level of interest people showed toward the work. The evening wasn't just a social occasion; people wanted to be engaged. They spent time really looking at the images and asked lots of good questions. Another aspect of the evening we enjoyed was the mix of ages. Many young people came and then stayed, mesmerized by images that were created a generation or more before they were born.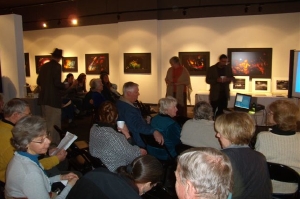 The following evening (Friday the 4th) Spectrum sponsored a special public presentation featuring a conversation with Lynne and me moderated by Steve Dzerigian as well as a screening of the Thom Tyson film Wynn Bullock: Photographer. Once again, the Gallery was full to overflowing with people intrigued by the imagery and wanting to learn more about it. After the film showing, Lynne and I signed books and DVDs, along with exhibition announcements and Gallery newsletters for several students who couldn't afford to make a purchase but who wanted a keepsake of the evening nonetheless.
---
WYNN BULLOCK IN THE MEDIA
"…there's a sense in these works of the passage of time – of discrete moments built upon each other, of slivers of the present piled up in bursts of light and color. There's a sense also of space – of a depth of field and volume, thanks to all those layers of glass, that make you feel as if you could fall into the images. I like to think that Wynn Bullock, who spent so much of his career trying to capture the dimensions of our lives, would be happy if we did just that." ~ Donald Munro
A week after the opening events at the Spectrum Gallery, Donald Munro, arts columnist for The Fresno Bee, wrote a significant article about the exhibition. Read the full text here.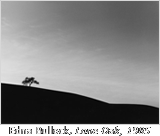 As an early step in the development of the Bullock Family Photography Archive at the University Library at UC Santa Cruz, Gene and I have donated the first set of 25 original Edna Bullock photographs from our personal collection.
An article about our Archive project is included on page four of the latest issue of the Library's newsletter (pdf) which you may download here.
---
WESTON GALLERY AT AIPAD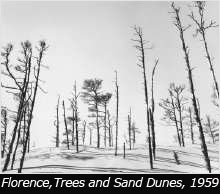 As a member of The Association of International Photography Art Dealers, The Weston Gallery will be in New York from March 17 through 20 at the annual AIPAD show. This is one of the largest and most prestigious photo events of the year.
Weston Gallery Director Richard Gadd will have several Wynn Bullock prints to share with show attendees and, if you plan to go, we hope you'll stop by the Weston Gallery booth. Richard will be pleased to see you there.
---
FEATURED IMAGE OF THE MONTH
"I feel they are some of the most important photographs to have been taken thus far…. The choice your father made to pursue such an original avenue for his work is so rare when I think of the other well known photographers of that era…it really is so fascinating." ~ Ziggy Evitts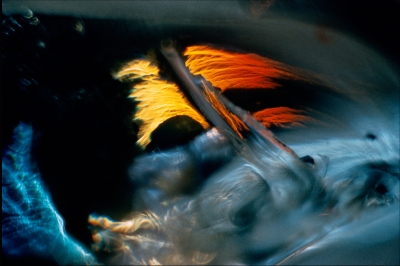 We've chosen one of Wynn's abstract color photographs as our second featured image of the month to illustrate some of the range and depth of his innovative image-making. Color Light Abstraction 1071 (1960) was among his personal favorites. As the cover image of the 2010 monograph that showcases his color work, 1071 is on its way to becoming a signature image, just like Child in Forest is for Wynn's black & white work of the 1950s. Click here to access the Featured Image page on our website.
If you have a specific image you'd like to learn more about, let us know. From time to time, my sister Lynne and other family members will join me in providing the commentaries and occasionally we'll invite special guests to offer their stories. If you've had a special experience with one of Wynn's photographs or a deeply felt response to an image and would like to propose doing one of our features, we'd love to hear from you.
---
Until next time, warmest greetings
and best wishes,

Barbara Bullock-Wilson, Managing Member
Gene Bullock-Wilson
and Lynne Harrington-Bullock, Members
Bullock Family Photography LLC